Gianluca Maria Farinola, Full Professor of Organic Chemistry at the Università degli Studi di Bari Aldo Moro in Bari, Italy, will be President of the Società Chimica Italiana (SCI, Italian Chemical Society) from January 2023 to December 2025. He succeeds Gaetano Guerra, Professor of Industrial Chemistry at the University of Salerno, Italy, who will contribute to the Executive Committee of the Society for three years as the Past-President. The Executive Committee also includes two Vice Presidents.
Gianluca Farinola spoke to ChemistryViews about his vision for SCI and the main goals of his presidency. It is important to him that SCI advocates cultural development, sustainable growth, and social well-being in Italy and Europe. Chemists can help address major challenges such as the energy transition, climate change, protection of the environment and cultural heritage, emerging diseases, and food production, and ultimately promote peace and justice. For SCI to make effective contributions to these challenges, it is necessary to strengthen and enlarge the Society and, at the same time, to develop a more targeted and diverse communication with the public and policymakers.
A primary goal is to increase the number of SCI members and their professional diversity. Currently, most members are from academia, so chemists from other public research institutions, industry, education, and the private sector will also be encouraged to participate.
As stated, the effectiveness and intensity of communication and outreach is an important task to increase general awareness of the role of chemistry. This starts with high school students, through the organization of Chemistry Olympiads, and should reach the entire society through all possible channels. "SCI should represent Italian chemists with a unified voice, contributing to key policy decisions where our competencies and approach are relevant," Gianluca Farinola says.
He is also very keen on SCI's contribution to strengthening the identity of the community of European chemists through SCI's participation in EuChemS and Chemistry Europe.
Overall, Gianluca Farinola sees the next three years as another step in building a larger and stronger SCI, to make the actions of Italian chemists even more impactful towards sustainable progress and in coordination with the larger family of the European chemical societies.
Gianluca M. Farinola completed his Ph.D. in 1996, was Assistant Professor since 1996, Associate Professor since 2003, and has been Full Professor of Organic Chemistry at the University of Bari Aldo Moro since 2015. He has been a visiting researcher at the University of Münster, Germany, at the University of Strasbourg (Institut de Science et d'Ingégnerie Supramoléculaire – ISIS), France, and at the University of Angers and CNRS (MOLTECH-Anjou laboratory), France. In 2019, he was appointed  Adjunct Professor at the Department of Biomedical Engineering at Tufts University, Medford, Boston, USA.
He has been the President of the Organic Chemistry Division of the Italian Chemical Society (SCI) from 2017 to 2019, the President of the Division of Organic Chemistry of EuChemS from 2018 to 2021, the Vice-President of SCI from 2020 to 2022, and he is a member of the Scientific Advisory Board of the Chemical Sciences and Materials Technologies (DSCTM) of CNR (Italian National Research Council),
He is the recipient of the Ciamician Medal of the SCI in 2003, and the "Innovation in Organic Synthesis Award" of the Interuniversitary Consortium CINMPIS in 2008, and has been appointed a Chemistry Europe Fellow (Class 2018/2019).
Gianluca Farinola's research focuses on the design and sustainable synthesis of multifunctional molecular, polymeric, and supramolecular photo-/electroactive organic materials for applications ranging from organic photonics and electronics to biology. Recent investigations also focused on the use of biological polymers, for example, melanins, biosilica, and functional macromolecules (e.g., photoenzymes) from microorganisms as active materials for applications ranging from optoelectronics to biomedicine, also exploring the possibility to incorporate living organisms as active components in devices.
---
Selected Publications


Also of Interest
The new President of the Italian Chemical Society (SCI) is Professor Gaetano Guerra, University of Salerno
EuChemS Organic Division President Gianluca Farinola about his fascination for organic chemistry and the importance of young scientists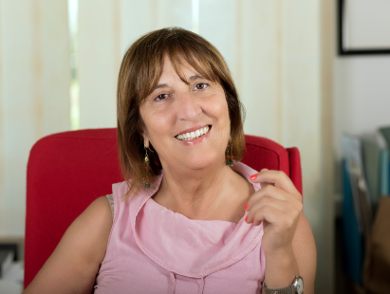 Interview: The Power of Chemistry for Humanity
ChemistryViews
President of the Italian Chemical Society, Angela Agostiano, about her vision for chemical societies and the societal importance of chemistry