I am a Ph.D. student in the frame of the European Training Network (ETN) Magicbullet::Reloaded at Heidelberg Pharma Research GmbH, a mid-size pharmaceutical company based in Germany. As I am starting my third year of my Ph.D., I feel that it is the right moment to look back on my Ph.D. so far and analyze the problems I have had during this time. The more I investigated the difficult situations, the ups and downs (some of which were very painful), the more it becomes clear to me that all of them had a common root: too high expectations. I tended to set the level of expectations so high that the only outcome possible was disappointment.
Starting with High Expectations
When I started my Ph.D., I was sure that a good Ph.D. student is already a strong scientist. Thus, I had very high expectations for myself and, as a natural consequence, disappointment was right around the corner. It is not possible to be a great scientist if you do not give yourself the chance to grow. During your Ph.D., there are infinite chances to do that, but you must be open to it. When you believe that you should already know everything in theory and practice related to your early-stage Ph.D. project, you get stressed when you recognize that you actually do not, instead of being curious to check it out! This can be a trigger for negative feelings like fear of consequences or a sense of guilt. Your mind is locked with no space for new information, and that is definitely a loss.
Once I had drastically changed my attitude it became easier to benefit from the learning opportunities. With time, I have learned to adjust my thoughts whenever I noticed that I was falling into the old patterns again. What really helped me through this process was my supervisors' approach. None of them has ever told me, not even a single time, that "I should have known that already!". Their proactive approach towards understanding and solving problems has really inspired me. On top of that, the possibility of hearing their stories and experiences from when they were Ph.D. students just like me made me believe we shared the same struggles and I still have plenty of time and space to grow.
Learning from Mistakes
I was also setting very high expectations for all my experiments. I assumed I could not make even the smallest mistake, thus, I started to predict the experiment results even before performing them. This attitude was a huge source of stress for me. Looking back, I know that since I am human, I am far from perfection, and it does not matter how much attention I pay, I will make mistakes, and this is normal. What is more important is to learn from mistakes and hopefully to not repeat them twice … or three times.
Additionally, waiting for a specific type of result shifted the focus from the entire experiment's process to only the end of it. Therefore, I lost out on the information hidden in the observations along the way, which could be very useful.
A game changer for me was talking about my troubles with other Ph.D. students. Conferences, retreats, or even the "Science Pub Quiz" in Heidelberg allowed me to meet so many Ph.D. students who were experiencing the same frustrations. This encouraged me to discuss my struggles with them which again made me wonder: What if making mistakes and experiencing failure it is part of being a scientist? What if we just need to make mistakes, analyze them, and next time do better?
Dealing with the Language Barrier
My expectations were very high for my life in Germany as well. There, I wanted to recreate the same kind of friendships that I had in my home country Italy (friendships that took years to establish), and I also wanted to have a good connection with all my colleagues.
Before moving to Germany, I lived in Ireland and Spain for my Erasmus experiences. Since on these two occasions, I was lucky and I easily found someone to connect with, I imagined I could experience it again. There are several reasons why this did not work out, the one that stands out above all others is the language barrier. In Germany, it is far more important to talk in German if you want to make friends and colleagues to spend time with outside of work. I expect this to be the same in other countries where English is not the native language. This is understandable but very hard to deal with.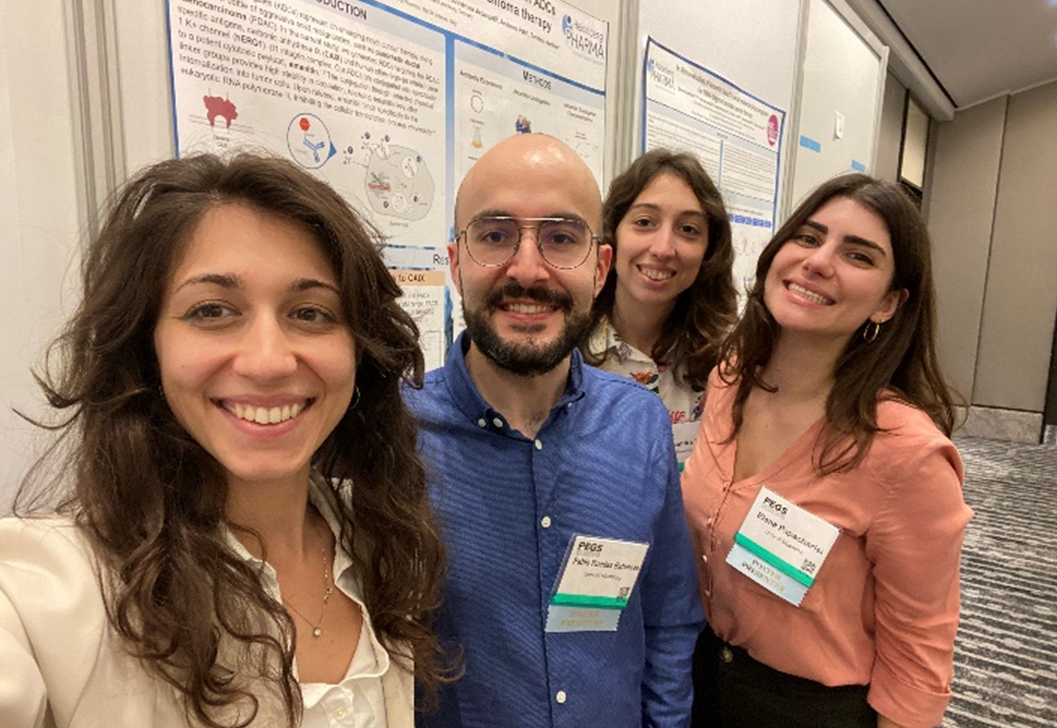 First in-person conference in Barcelona, Spain, with other Ph.D. students.
I ended up wanting to talk in German so badly that I rushed the whole language-learning process. As a result, I was constantly getting frustrated by the fact that I could not speak German fluently. I cannot recall the exact moment when I stopped suffering because of it, because possibly I still do sometimes. However, I can say what I would have preferred to have done differently and what has changed my perspective. It would have definitely helped to start a language course some months before arriving in Germany. It seems a simple suggestion but when you are planning to move to another country, there are so many things to be organized that it is easy to overlook some of them.
At work, when the meeting strictly concerns me, we talk in English, otherwise, the language of choice is German. I do understand the reasons, but I would have felt more included if all of them were in English. That might also have sped up my learning process as a Ph.D. student in a company, because there is still information I cannot pick up in German.
The words of my wise eighteen-year-old sister changed my perspective: She pointed out that I was actually learning German for myself. "Learning a new language is always a good idea, especially for your brain," she said, and she could not be more right. Thinking that I did not have to prove anything to anybody by talking in German gave me back the fun to learn it. I am still struggling with it; it is a different language than my mother tongue Italian, but at least I am having fun making mistakes in German and I can grow from it.
Respecting Your Time and Abilities
The overall message is: Be kind to yourself. The time during a Ph.D. is not easy at all, but there is no point in putting yourself down—on the contrary, it can be useful to learn to respect your time and abilities. Especially your abilities, since they are what makes you unique! You are the only one able to make things happen in your way!
Finally, I do not believe it is possible to not have expectations at all in life, but learning to set them to reasonable levels—yes, that is possible.
---
Stories about obtaining a Ph.D. in a foreign country, facing challenges, and experiencing positive changes
Ph.D. Journeys Abroad – Creating a Second Home
Experiences with overcoming loneliness during a Ph.D. abroad and finding one's community (will be published in December 2022)
Ph.D. Journeys Abroad – Overcoming Impostor Syndrome: Why Did I Feel Like It Was Just Me?
Stories of feeling out-of-place during a Ph.D. abroad, overcoming doubts, and finding connection on social media (will be published in January 2023)
Ph.D. Journeys Abroad – The Challenges of Starting a New Life Far from Home
How finding one's strength and accepting help can help to overcome the pressures, doubts, and stresses a Ph.D. abroad brings with it (will be published in February 2023)