Is it a good idea to leave a stable job for a Ph.D.? Do I want to accept such a challenge to move to another country? Should I have started earlier? Am I not too old to start it now? Where is a good place to do it? These were some of the many thoughts I had before I finally decided to embark on my journey.
I studied biotechnology in Argentina and after finishing my degree I worked in industry for a few years. I did not start my Ph.D. immediately after my studies, and, therefore, I did not follow the "conventional" path like most of my friends. I had always dreamed of doing something like this, but in all honesty, I had a comfortable life, a good job, and my family and friends nearby. At that time, it seemed that I did not need anything more, but there was a voice inside me saying, "There is still something left to be discovered." Over the years, that voice got louder and louder until I decided to step out of my comfort zone. Despite all my doubts and uncertainties, at that moment there was a force inside me ready to face this challenge, and I started looking for Ph.D. positions in Europe.
This process was not easy at all. I had many interviews. I was based in Buenos Aires, and the time difference between Argentina and Europe was huge! I still remember getting up at 4 am, making coffee (a very strong one!), and doing the interviews before heading to work. It was a long process … but I learned a lot from each interview.
The supervisors I had interviews with were really nice, and I felt encouraged by them—only my background was often not fully suited for the chosen projects. It was a great opportunity to learn that sometimes even though you have experience, maybe it just does not match that particular project. So, if you are not selected, you do not have to take it personally. After all, if it is a dream, we need to work for it. And this was my situation—I was so motivated that nothing could stop me, and I kept on fighting for my dream.
Finding the Right Opportunity
Finally, after many months of interviews, my dream came true! I found the right opportunity! Look at me now, I am doing my Ph.D. at the biotechnology company Takis Biotech in the city of Rome in Italy. I am now part of the Marie-Sklodowska-Curie European Training Network (ETN) Magicbullet::Reloaded, which is an international network composed of 15 Ph.D. students who all work in cancer drug development.
However, I was faced with many challenges even before I arrived. Not to mention that the process took place during the pandemic, which made everything even more difficult.
From the moment I was selected until I could come to Italy with a work visa, it took me almost seven months before I could actually start my Ph.D. Several delays caused by bureaucracy issues became a threat to everything, including the possibility of obtaining the fellowship itself. This put me under a lot of pressure because previously I had also left my job for this opportunity, and I was waiting for something without knowing if I would be able to start at all. Despite all the difficulties, my supervisor and I stood firm during the whole process, and we finally received a positive response from the authorities. At that moment, with my visa ready, I was able to prepare my luggage and start this new adventure!
The Language Barrier
I arrived in Italy filled with enthusiasm and curiosity to discover a new workplace, people, and a different culture, but the reality was very different from what I had expected. I had a hard time in the beginning, especially because of the language barrier. Even though I had several experiences abroad, in this precise situation, not being able to talk Italian left me out of nearly all conversations in my social and professional life. It was a big shock for me, and I suffered a lot from not being able to communicate with others. It made me feel out of place and also not part of the group for a long time. I wondered more than once: Was it a good decision to come? Is there something wrong with me that I cannot integrate? I started to doubt myself, because in my previous experiences in different groups, I had never felt like this before.
Luckily, I met a few people who, like me, were new to the city and were going through the same difficulties. This helped me to not feel so alone anymore. When I finally learned Italian, I adapted very well to my workplace. My relationship with all my colleagues had a huge positive change and I made many good friends there and outside of work. This brought a lot of psychological relief; I was able to put much more positive energy into my work and other activities. When you feel good about yourself and your environment, you can work much better and be much more productive.
Struggles Are Part of the Process
I then met the other members of the Magicbullet::Reloaded consortium in person, and I did not only find an incredible group of scientists but also a group of wonderful people. After our first meeting, I kept in touch with many of them. Through video calls, we had many talks (with a beer or a glass of wine) in which we shared our feelings and experiences.
Surprisingly, I discovered that many of us were going through similar situations. People from different parts of the world working in different countries all were having similar struggles. This helped me a lot too, to understand that the problems I was having were more common than I thought. On top of that, I remembered that I already had difficulties when I changed jobs back in my own country while having a lot of support from my friends and family. So, how had I not realized that changing jobs and moving to a different country with a new language all by myself would not cause additional headaches from time to time? After realizing this, I was able to change my attitude and stop blaming myself. I finally understood that all my struggles were part of the process of settling down.
Now, I do believe that the key to facing all these changes is to not close ourselves off. It is crucial to talk about what we are going through! Many times we think that being strong means doing things on our own, and when we cannot do it ourselves, we imagine there is something wrong with us. The truth is that when we act this way, we lose the opportunity to talk about our feelings and find valuable advice that can really help us. In my case, I felt fully understood only after I shared it with people living the same experience: other Ph.D. students.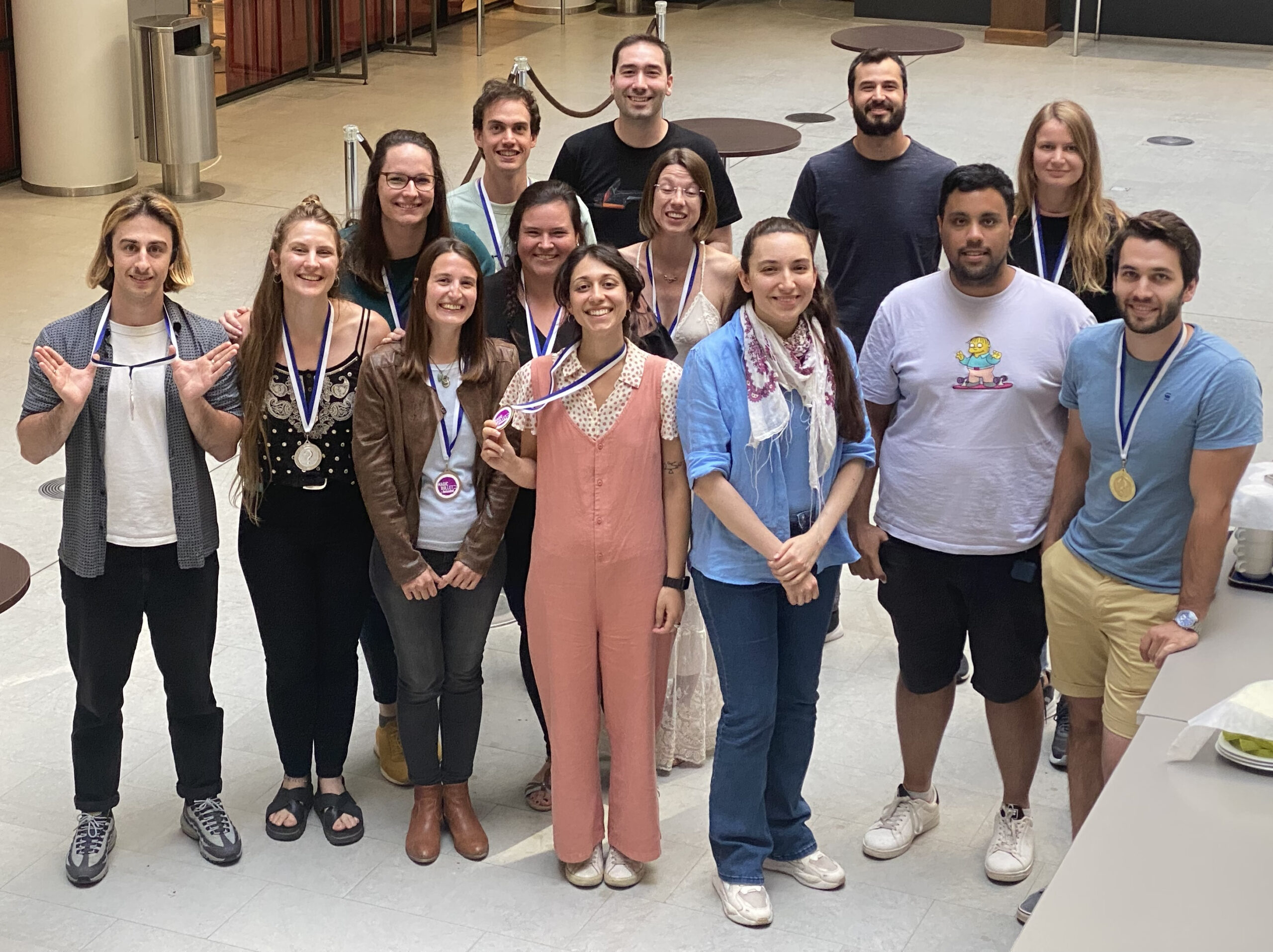 Ph.D.students from the Magicbullet::Reloaded group during a network meeting in Helsinki.
Empathy and Networks Are Important
Over the last two years, I have had the opportunity to live in three countries and five different cities. It has truly been a whirlwind of emotions. This time has taught me to see the bright side in each situation and how to be more empathetic with others. I have always been aware of how important it is to create a good work environment, but in this particular situation, where the language barrier made me feel very lonely at the beginning, it made me appreciate even more how important it is to give a new person an opportunity to integrate into a group. Just asking someone how they feel or inviting them for a coffee can be incredibly helpful. Small gestures can make a big difference! I have also learned that changes in life require patience and that it takes time to adapt to new environments. In fact, it took me a year until I began to feel comfortable in my workplace and in the city.
As a part of the Marie Curie network, the Ph.D. students are required to do a short stay in another group. It is a great opportunity to experience different professional working research environments and meet new colleagues. Such a research network can be very important, as working in close collaboration we can share our knowledge, receive helpful scientific and personal advice and, as a result, push our projects forward. In my case, I moved to Germany as a part of my Ph.D. project not long ago. Again, a new country with a new workplace—but luckily, this time, I got to know my friends sooner, which made the process much easier and more enjoyable.
Challenge, Know, and Respect Yourself
When I had to face my biggest struggles, it was extremely difficult not to have my family and friends close. I am now very aware that nothing replaces the hugs of your loved ones. But taking this opportunity has proven to me that I am much stronger than I believed. I did not give up on my dreams at the first "no" or when facing the difficulties related to this incredible experience. I still miss my country, my family and friends, but I believe that this experience expanded my comfort zone a lot. It provided me with the opportunity to build a network of relationships, no matter the time or distance! It introduced me to many very special people, who over time became wonderful friends. I built such strong connections that today I cannot imagine my life without them, and I know that in the difficult moments, there is always someone there for me. Whether in a message or a call, I will always get a lot of support.
Contrary to what I believed at the beginning, I am glad I started this journey. When I look back on all the difficulties but also the positive things, everything has another meaning to me. I can say that this Ph.D. gave me many things I have never imagined. It gave me the opportunity to see the world with different eyes, and from a broader perspective. I grew a lot: professionally, because it opened many doors and showed me a new world of possibilities, and personally, because it made me challenge, get to know, and respect myself, open up to my emotions, and be vulnerable. I will carry all these lessons with me wherever I go.
Accepting an opportunity such as mine will change you in so many ways. You will never be the same person you were before, but if you are lucky and persistent, it can make you a better person and open up your mind. In my opinion, always choose the challenge, it is worth it!
---
Stories about obtaining a Ph.D. in a foreign country, facing challenges, and experiencing positive changes
A look at problems during a Ph.D. abroad and the importance of realistic expectations
Experiences with overcoming loneliness during a Ph.D. abroad and finding one's community
Stories of feeling out-of-place during a Ph.D. abroad, overcoming doubts, and finding connection on social media