The Wolf Prize is a prestigious international award, similar to the Nobel Prize, given to one to three scientists across six disciplines for exceptional achievements. The Wolf Prize in Physics and Chemistry are often considered the second most prestigious awards after the Nobel Prize. About 40 % of the Wolf Prize winners are also Nobel Laureates. Nobel Prize recipients are not eligible for the Wolf Prize. Some recent examples:
2022 Wolf Prize Laureate Carolyn R. Bertozzi — 2022 Chemistry Nobel Prize Laureate
2020 Wolf Prize Laureates Emmanuelle Charpentier and Jennifer Doudna — 2020 Chemistry Nobel Prize Laureates
The Wolf Prize has been awarded annually by the Wolf Foundation since 1978 and comes with USD 100,000 in prize money. The award ceremony is held at the Knesset, Israel's Parliament. The announcement for the 2023 Wolf Prize recipients will occur on February 7 at 5:00 PM (CET+1). Until then, you are invited to make guesses as to who will win the prize this year.
Voting is closed.
Proposed were Benjamin Ebert, Chuan He, Paul Knochel, Benjamin List (2021 Nobel Prize in Chemistry), Stuart L. Schreiber, Bert Weckhuysen, Vivian Yam, and Richard Zare.
Chuan He was among the winners!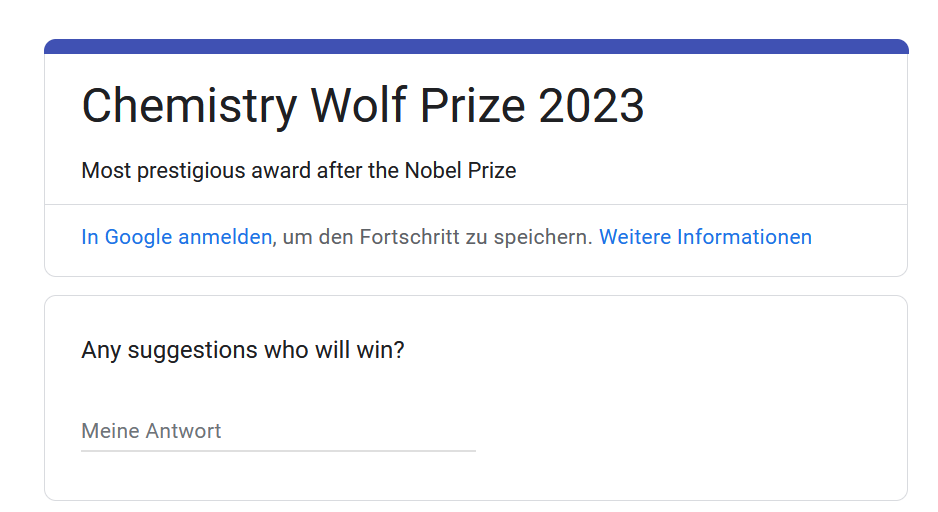 Also of Interest
2022 Wolf Prize in Chemistry:
Bonnie L. Bassler, Princeton University, USA,
Carolyn R. Bertozzi, Stanford University, USA, and
Benjamin F. Cravatt III, Scripps Research, USA, honored