The Société Chimique de France (SCF, French Chemical Society) is geographically organized into 15 regional sections. Each of them works in association with young chemists within a Club de Jeunes (regional young chemists' network). The Clubs de Jeunes are composed by students, PhD students, Postdocs and researchers under 35 years in academia and industry areas, all members of the French Chemical Society. Each Club de Jeunes has its own way to operate and organize scientific meetings, actions to promote chemistry in schools and for the general public, etc. Young chemists within the SCF are very active and represent nearly one-third of the entire society. However, they were not well recognized and visible out of France, in Europe, or worldwide.
Armed with youth, drive, and will, the Clubs de Jeunes decided to work together in order to be stronger and more visible, and created the Réseau des Jeunes Chimistes de la SCF (RJ-SCF, French Young Chemists' Network) on July 18, 2014.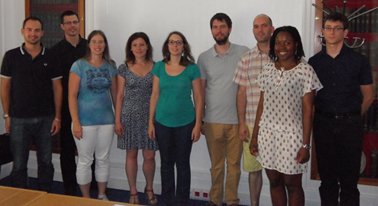 First meeting with the representatives of the regional Clubs de Jeunes in July 2014.
(From left to right: Pierrick Ondet, Gregory Chatel, Marie-Aude Hiebel, Claudia Addamiano, Camiller Oger, Maxime Rossato, Raphaël Lebeuf, Audrey Diouf-Lewis, Gaëtan Montegut)
The RJ-SCF was officially adopted by the Executive Board of the SCF on December 2, 2014 after the annual seminar of the society, where all the representatives of the Clubs de Jeunes (constituting the RJ-SCF Board) actively participated.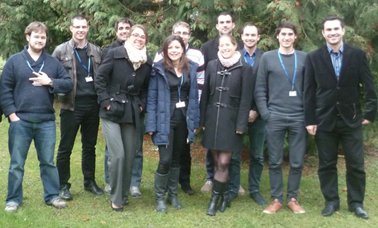 Board of the RJ-SCF at the Annual Seminar of the SCF in December 2014.
(From left to right: Alexander Lowe, Gregory Chatel, Mathieu Carrié, Fernanda Haffner, Claudia Addamiano, Sébastien Rolle, Marie-Aude Hiebel, Guillaume Rioland, Pierrick Ondet, Julien Bergès, Moussa Zaarour)
Since July 2014, the board of the RJ-SCF is composed of:
President: Dr. Gregory Chatel (Université de Poitiers),
Vice-President: Dr. Marie-Aude Hiebel (Université d'Orléans),
Secretary: Claudia Addamiano (Université Paul Sabatier, Toulouse),
EYCN representative : Dr. Camille Oger (Université de Montpellier),
one representative of each regional Club de Jeunes: Guillaume Rioland, Gaëtan Montegut, Audrey Diouf-Lewis, Sébastien Rolle, Massinissa Ayad, Maxime Rossato, Julien Berges, Dr. Raphael Lebeuf, Moussa Zaarour, Pierrick Ondet, Mathieu Carrié.
The logo competition organized by the RJ-SCF during last September and October attracted a strong participation of young chemists throughout France. The selected logo was presented during the Christmas season.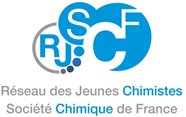 The logo selected by the board of the RJ-SCF after a logo competition.
The RJ-SCF will be involved in several activities in 2015, such as the National Meeting of the French Chemical Society (SCF'15), especially to promote chemistry to the general public and present the network to young participants. It will also organize some regional scientific congresses and projects for students from primary to high school level. In collaboration with the CNRS (National Center for Scientific Research), the RJ-SCF will encourage PhD students in chemistry to apply to the competition "Ma thèse en 180 secondes", an interesting exercise of communication to present their subjects of PhD in exactly three minutes.
Another objective of the RJ-SCF is to work with other young chemists' networks, particularly via the European Young Chemists' Network (EYCN).
If you are interested in further information, please send an email or see the website and social networks (Facebook, Twitter, LinkedIn) of RJ-SCF.