The JungChemikerForum (JCF, Young Chemists' Forum), the organization of the young members of the Gesellschaft Deutscher Chemiker (GDCh; German Chemical Society), has over 10,000 members, accounting for approx. 30 % of the total society. The JCF has existed since 1997.
The chair of the national board (Bundessprecher) Michael Linden from the University of Gießen; the Deputy Bundessprecher André Augustin from the Technical University of Braunschweig; and Torsten John from the University of Leipzig and Carmen Schrapel from the University of Stuttgart – both members of the national board (Bundesvorstand) – talked with Vera Koester for ChemistryViews.org about the work and aims of the JCF as well as their personal motivations and ideas for the future.
What got you interested in the work of the JCF?
Michael Linden: My interest in the JungChemikerForum emerged as soon as I realized that there is more to chemistry than the chemistry in labs. I love the spectrum of connection between university, society, industry, schools, and STEM (science technology engineering mathematics) fields. In my opinion, this is also the area that holds the most important potential for upcoming challenges.

Carmen Schrapel: I am interested in gaining experience and making contact with industry and other young people, and to further develop myself; in summary, to broaden my horizons.
André Augustin: I kind of grew into this. I was in the student council (Fachschaftsrat) and when I was too old for that, I started working in the Regional Forum (Regionalforum) of the JFC. I always thought that the work, especially with other people, was a lot of fun.
Torsten John: When I finished high school in 2009, I received a one-year free membership in the German Chemical Society (GDCh) for my achievements in my final chemistry exam. This brought me in contact with the JCF from the first day of my studies, which is rather unusual.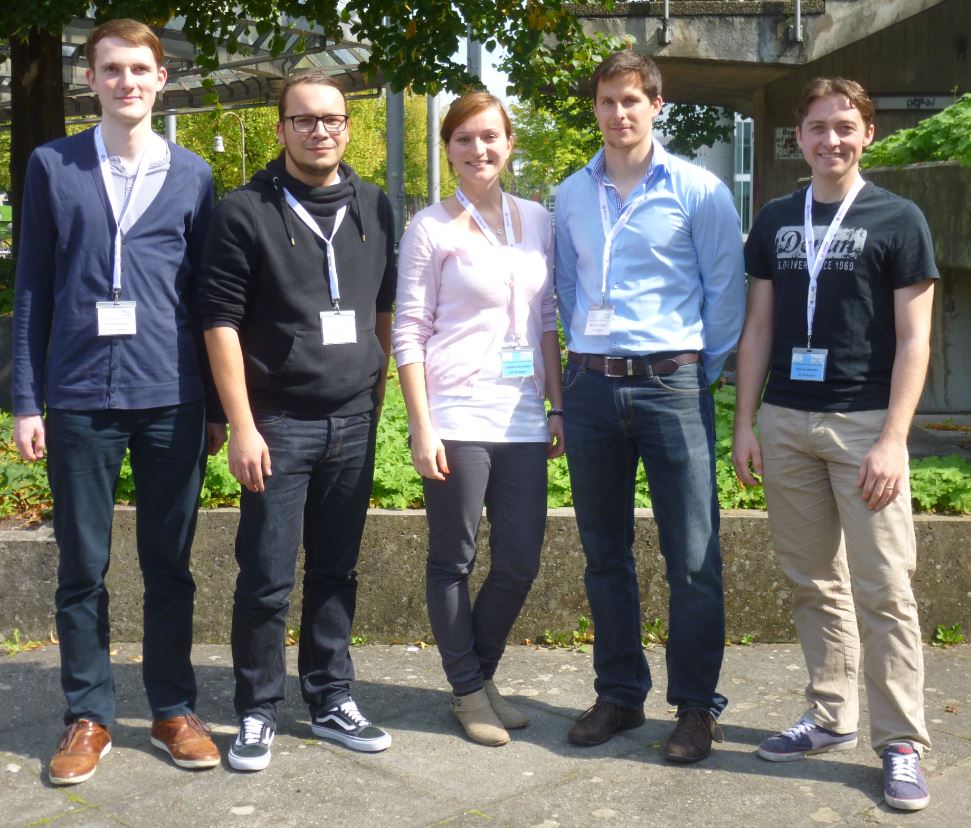 The JCF national board 2014/15: Torsten John, André Augustin, Carmen Schrapel, Michael Linden, Florian Pfeiffer (from left to right). (© JCF Stuttgart)
Is the work of the society still current?
Torsten John: Socio-political commitment and volunteering in general is still very important nowadays. It is natural for me to do more than just study. My work for the JCF opened up new options to me for networking and soft-skills training.
André Augustin: The bachelor/master's system puts many students under pressure, but everyone should take advantage of the opportunities given to them to engage with other topics alongside their studies. It benefits society as well as each individual in particular.
Michael Linden: In general, I am afraid that the civic work for our society – or better said, civic work in our society – is vanishing, although this is the value that a society and our democracy is based on. Working as a volunteer gives you the possibility to experience new things not directly related to your current career or studies. You learn new things and solve problems you never expected to solve, but it is still work and you are committed.
What is working in the JCF local sections and the national board like? What tasks do you do?
Carmen Schrapel: The foundation of the work of the JCF is the regional forums (Regionalforen) in which all young chemists of the corresponding region can participate.
Torsten John: The JCF consists of more than 50 such local sections most commonly in university cities or industrial centers. Every local section has its own special events and organizes public lectures, excursions to industrial workplaces, symposia, and job fairs. Each year, one of the local sections hosts our international spring symposium with more than 300 participants specifically directed towards young scientists presenting their research. In addition to this, all local section representatives and the national board members meet to discuss their work twice a year.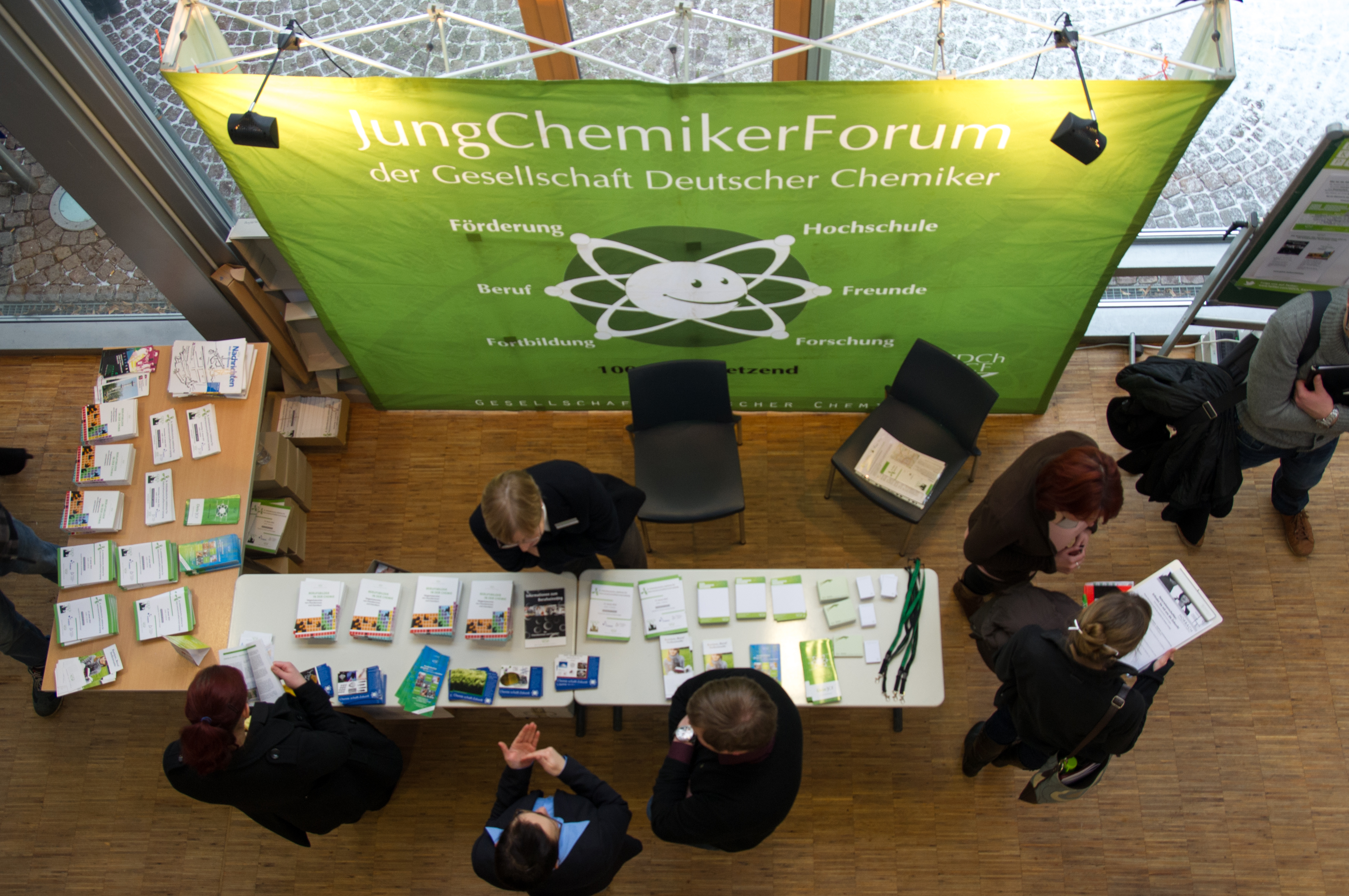 Booth of GDCh and JCF at the Middle Germany Job Fair organized by the young chemists. (© Denise Schneider, JCF Leipzig)
Carmen Schrapel: Each local section is represented by three members. Two of them are entitled to elect the national board (Bundesvorstand), which consists of the national representatives and at least four other board members.
André Augustin: The national board members are usually master's and PhD students.
Torsten John: The national board with its five members represents the young chemists in our society and industry, and we are the contact people for the local sections. We organize national events, connect with our European and international partners, promote science in schools and kindergartens, and are the voice of the young chemists in Germany.
In particular, I organize all the finances of the board as treasurer and keep in touch with the EYCN, the European Young Chemists' Network.
Carmen Schrapel: The national board has one or two representatives in the EYCN.
What skills do you need?
Michael Linden: In our network you need all kinds of skills; you can give what you are able to give. However, the most important skill to work in the JCF is communication, as you will leave the typical world of chemistry and come in contact with a variety of groups and people.
Torsten John: Every chemistry student or any other young member of the GDCh is encouraged to actively participate and to shape our network. The main requirement is to be motivated and to be willing to invest some time. If you like to plan and organize projects and events, the JCF offers a perfect platform, and if not, you will learn these skills when you get involved with our projects.
How much time do you need?
Torsten John: Your commitment to the JCF requires time, but you decide to what extent you want to be involved. Our aim is for you not to feel like you are working and that you enjoy doing things that you want to do. As a member of the national board, I sometimes need to invest a whole week when we visit our industry partners and other times only two hours per week. It depends on the upcoming events. We can also distribute our work in accordance with busy times during our studies and job.
Michael Linden: The statement "give as much time as you want" is generally speaking rather critical. This strongly depends on the task you have taken over and the commitments related to it. As chair of the national board (Bundessprecher) I have spent and still are spending a lot of time – happily though.
What do you like about the JCF and what would you like to change?
Torsten John: Having our own strong network of young chemists within the chemical society is quite unique in the world. We are one of the largest young chemist organizations with more than 10,000 members, and we make up about one-third of the whole society. I like that the JCF can plan and arrange its activities independently with its own budget. This gives us freedom for new and innovative event formats within the limits of our bylaws.
I would like it if more of our 10,000 young members were to realize the opportunities within our network and get motivated to actively participate in our events. The stronger our young chemists' network becomes, the more we can improve and influence the things around us.
What goals do you have?
Torsten John: The JCF with its more than 50 local sections has reached a significant size and needs to establish some best-practice guidelines to develop further and to transfer the knowledge and experience it has gained to the following generations. We are an organization with young volunteer members and have, therefore, a frequent fluctuation in our local representatives and national board. This development process was already introduced this year by the national board at our first retreat meeting (Klausurtagung) of all local sections with the national board.
Michael Linden: The "Klausurtagung" Torsten mentioned was an event I wanted to see happen and was really needed in the community. Andreas Diehl, JCF Frankfurt, and I have initiated and organized it. I think, we have to ask ourselves whether we are still addressing the right questions. Moreover, future work could point to a more intense international collaboration with the EYCN or ACS (American Chemical Society), for instance. Another goal could be something like a summer school or road show for chemists and to tackle problems during studies or graduations.
Torsten John: Personally, I want to strengthen our contact with other European and international young chemists to enable more collaborative projects. It is also important to establish an extra budget for very active local sections and special events so as not to discourage motivated students from realizing their projects.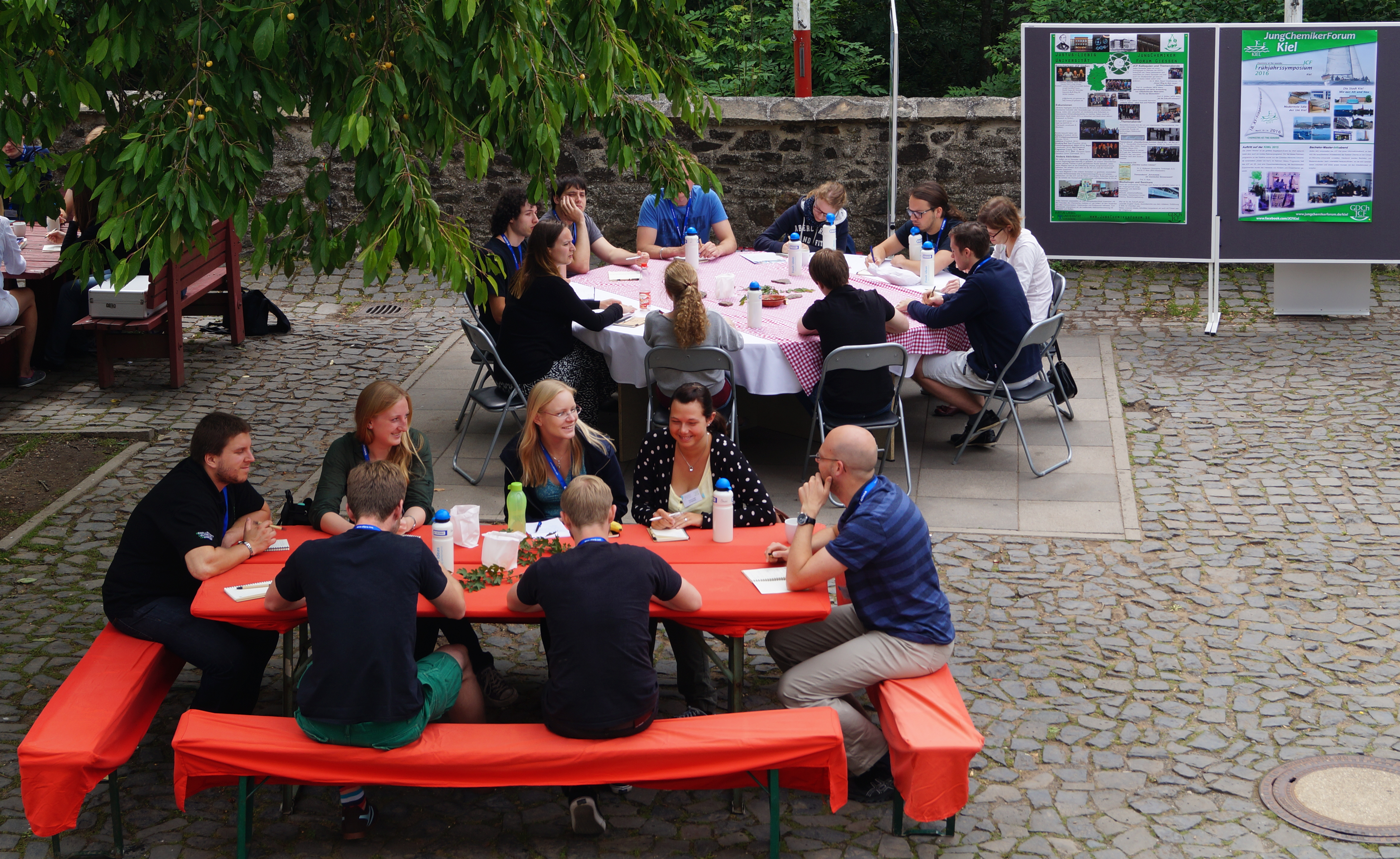 German Young Chemists discussing their work and brainstorming for new ideas at the "Klausurtagung". (© SoS Events)
What kind of international cooperations do you have?
Carmen Schrapel: The JCF is part of the EYCN and wants to strengthen the exchange of ideas and joint events within Europe. The EYCN is younger than the JCF. Therefore, our opinion is often asked for. And, of course, we are happy to share our knowledge and experiences with them.
Torsten John: The JCF/GDCh and the Younger Chemists Committee (YCC) of the Northeastern Section of the American Chemical Society (NESACS) have also organized an annual exchange program of students between Germany and the US since 2001. This is a successful example of cooperation across the Atlantic Ocean with a group of students who can learn about a foreign culture and educational opportunities and network with students of another country.
Along with some smaller young scientist networks, we cooperate with the young German Physics Society (jDPG). We encourage our local sections to organize joint events like lectures or excursions that can be interesting for both chemists and physicists. This can reduce the workload for each organization while benefitting more people.
What advice would you give students who want to become active in a society such as the GDCh?
Torsten John: Lots of students start to think about soft skills or networking one or two years before they finish their PhD, but that is often too late. Our time at university is the time during which we meet lots of people from different backgrounds, and it is helpful to not only build up a personal but also a professional network. Nobody needs to plan it like a to-do list; it simply happens if you get involved in projects and go to events with other students outside of your own studies or research.
Michael Linden: If you are open to new things and willing to learn a lot, the GDCh is a great place in which to be active. You should definitely try it.
What would you like to be doing five years from now?
Torsten John: In five years, I will have finished my PhD in Biophysical Chemistry, and I want to work in science or in the management of science and society. The JCF will have developed further, and at least two successions of national boards will have taken place, since we can only be re-elected twice. This guarantees fresh ideas and prevents gridlocked structures.
Michael Linden: Graduating, finding the job and career that are right for me. I hope that I have the chance to change something and become happy. Make the world a better place.
André Augustin: That is indeed a good question, and to be honest, so far, I don't have a plan what I will be doing in five years from now. So hopefully, I will have successfully finished my PhD-studies and may be a postdoc in the UK or USA. But who knows, in the end, everything comes out differently than planned.
Carmen Schrapel: In five years from now, I will have finished my PhD and will be working in R&D in a chemical company, or maybe in the management. I will still be in contact with the JCF and part of some GDCh divisions. And I will raise a family – a girl and a boy – both future chemists, of course!
What do you do in your spare time?
Torsten John: I like to go canoeing and kayaking during the summer. And I enjoy spending time and walking outdoors, especially in Australia, where I studied during my master's degree.
Michael Linden: In my spare time I play sports as a way to maintain balance. At the moment I'm also trying to experience new things. Life is too short to let opportunities go by.
André Augustin: Most time I spend with my family and friends. Especially when I have time with my little nephew, I realize that there is more in life than "the world of chemistry". Enjoying time with my friends on concerts, festivals or even in an Irish pub lets me forget all the busy days. I also like staying the whole day in bed watching my favourite series.
Carmen Schrapel: Mostly, I come home late, so I do some sports and enjoy the evening. But I love to paint and to read a good book, mostly crime stories.
Do you have a favorite website?
Michael Linder: ChemBark, ChemistryViews.org, JCF, and GDCh … there are some, unfortunately, there is not the one. I think there is potential for an active and vibrant communication platform.
Torsten John: I like the science writing tips on ChemistryViews.org and web pages like LinkedIn or Research Gate for networking with my professional contacts and scientific friends.
In addition to these, I want to highlight edx.org. This online platform provides a huge number of interesting open online courses (MOOCs) for free from top universities and motivated lecturers. It is a great opportunity to learn about subjects that are not taught at one's own university or topics that interest you but are maybe unrelated to your actual studies.
André Augustin: As Torsten already mentioned, researchgate.net is a great platform to network with colleagues from all over the world. So, I can stay in contact with my scientific friends from Oxford or somewhere else. Also the JCF, GDCh, RSC and ACS websites provide a lot of interesting information for PhD students like me. And of course, I wouldn't want to miss ChemistryViews.org.
Carmen Schrapel: Besides the JCF and the GDCh homepages, I like Xing, ChemistryViews, pubs.acs.org, pubs.rcs.org, and Latterly Magazine for good journalism.
Thank you very much for the interview.
---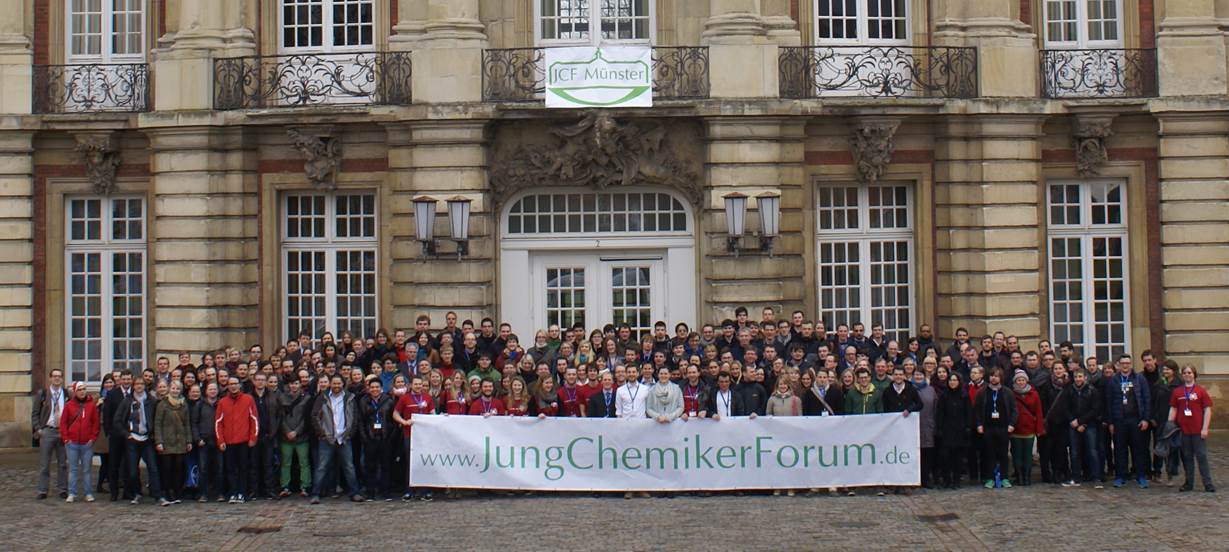 © JCF Münster