2011 is the International Year of Chemistry (IYC 2011) and the centenary of Marie Curie's Nobel prize in Chemistry. Therefore, ChemViews will introduce interesting women throughout the year.
Maria Gavrilescu is professor at the Gheorghe Asachi Technical University, Iasi, Romania, and amongst others author of highly cited review articles on environmental and pharmaceutical biotechnology.
Please tell us a bit about how your career has developed?
I graduated in 1981 from the Faculty of Chemical Technology of the Technical University of Iasi, Romania, with a chemical engineer diploma in organic chemical technology. After graduation, I worked for two years in a chemical plant since, in those days, the law dictated that all graduates should work as trainees in industry. Even though I was familiar with the industrial environment from as early as high school, working at the plant was a real "baptism of fire".
After that I worked as a researcher at the Chemical-Pharmaceutical Research Institute – Research Center for Antibiotics in Iasi, where I fulfilled my training as a specialist in the fields of chemical engineering and biotechnology. During this time, I also elaborated and defended my PhD thesis, "A study of the flow of heterogeneous systems in gas-lift reactors", under the supervision of Professor Radu Tudose, a member of the Romanian Academy and one of the most prestigious specialists in the field of transfer phenomena and unit operations in chemical engineering.
At the end of the '90s I became associate professor at the Department of Environmental Engineering and Management at the Technical University of Iasi. A few years later I was made full professor, an academic title which cemented my scientific career and allowed me to further build upon the experience gained in research and in the industry. More importantly, I collaborated with a lot of people who supported me, and who served as role models.
Naturally, this is a brief summation of my career, and there are many things to add. It's been 30 years since my graduation, and thinking back I am happy with my achievements, though things will not stop here. Personally I measure my achievement in the acquired skills, knowledge and insight into my field of research, and science in general.
I've recently come across an interesting quote, which I consider representative to my evolution as a scientist: "Look at each day as a new opportunity to be your very best. Set high goals, be honest, never say no, and work with people who share your passion for doing their best."
What do you enjoy most about your career?
My work and my life are complex enough that I can't really find any one specific thing. I am usually very active and my schedule is always full. This is in no small part due to the dynamic nature of my field of research.
Environmental engineering and management gained substantial importance in Romania after 1995, and this gave me the opportunity to apply my skills and experience in biotechnology and chemical and biological process engineering to a relatively new set of problems for my country as well as worldwide. I also worked in a dynamic sector with many professionals, and I learned a lot about dedication and commitment.
To conclude: I suppose the greatest aspect of my career is its ever-challenging nature. No two consecutive days are the same. There is a lot of variety in my work, from supervising PhDs, to collaborating with the international scientific community. Challenging the status quo and trying to make things better, faster and more consistent is what drives me.
You have published many review articles on current topics which are among the most cited articles of the journals which published them. How do you find these topics?
Paper writing is one of the more challenging activities for a scientist. Writing a good review is particularly difficult, since the author should provide an integrated and personalized view on the chosen topic, while also establishing and substantiating its weight and relevance within the whole inventory of the research area. Therefore, I consider that a good review should be written by authors with considerable experience and a strong portfolio of published research papers.
The topics of my reviews are chosen so that they are appropriate for my own investigative efforts within the space of my field of research.
What were your first steps in publishing?
Ma first paper was published in 1983 after my graduation in the Bulletin of the Polytechnic Institute of Iasi under the supervision of Professor Emil Dumitriv. The subject was taken from the research part of my diploma project and treated the catalytic disproportionation of toluene to benzene and xylenes.
During the preparation of my PhD under the supervision of Professor Radu Tudose, I published multiple papers in journals from the country and abroad. I would like to mention a couple of these.
First, Acta Biotechnologica, which, back in the 1990s, was published by the German Academy of Sciences. The Managing Editor was Dagmar Fiedler, whom I've had the pleasure of meeting in person and who proved to be a very nice lady and at the same time an accomplished professional.
The second journal is Bioprocess Engineering, founded and edited by Professor Heinz Brauer in 1986, of which I was invited to be part of the scientific committee. This was one of the first international recognitions that I received.
Today, I work on the Environmental Engineering and Management Journal, of which I am Managing Editor. We launched the journal in 2002 and since then we've had our first impact factor (0.885) in 2009.
How did you decide to become a chemist?
I discovered my passion for chemistry in the later part of the gymnasium (pre-high school educational stage). I was fortunate to have good teachers and mentors in high school and at the university. Some of my high school teachers encouraged me to pursue a career in chemistry, more specifically in chemical engineering. When I began my undergraduate studies at the Technical University of Iasi in 1976, the industrial chemistry sector was developing fast in Romania and abroad, together with the associated research sector. Therefore, chemical engineering offered the perspective for a successful career.
What has been your biggest influence/motivation?
I believe that ambition and determination are the main driving forces during formative years. The challenge of achieving the goals I set for myself drives me forward. More than anything, I enjoy working with motivated people who want to make a difference in science. I've also been fortunate to meet many professionals at European conferences and universities, with whom I've had numerous collaborations and scientific exchanges, including where PhD students are concerned.
I should also mention that I wouldn't have been as successful in my career if I had worked alone. The collaboration with the academic staff from my university and from other institutions, as well as the support of my family, were essential to the advancement of my career.
How do you combine family and job?
Managing my work and family commitments is challenging, but ultimately a matter of priority and discipline. Nowadays it's easier: my son is a PhD student, and together with my husband (who is a professor as well), provides a lot of much-needed help. I'm a very lucky woman!
Do you think there are still differences between men and women in chemistry?
Women have contributed to science from its earliest stages. One of the best examples is Marie Curie, who was the first woman to win a Nobel Prize in 1903 (in physics) and became a double Nobel Prize winner in 1911 (in chemistry).
Although the involvement of women in science has increased in recent decades, women aren't often enough seen in leading scientific positions. About 30 % of doctorates in chemistry and 24 % in chemical engineering are awarded to women. I don't really have an explanation for this, since in my country women are well represented in the scientific commmunity.
Career opportunities in science are determined by complex aspects not easily described through statistics alone. These aspects may refer to the structure of the scientific community, or of society at large, and may adversely affect the status of women in the educational and labor market, and in the political framework.
What advice would you give other women thinking of embarking on a scientific career?
Women are generally resourceful and on par at least with men when it comes to learning and research activities. High self-confidence and a desire to acquire a strong professional identity and a high professional and social status based on financial independence should be enough of a driving force for anyone.
What do you do in your spare time?
In whatever free time I can spare, I read and listen to music. I like classical music and '60s and '70s rock. I also spend time with my family. I love the discussions I have with my son, which make me feel his age. We are close friends with common concerns.
What would you like to be doing ten years from now?
First and foremost, I would like to be healthy. I will continue to give new sense to my progress and achievements, based on a more mature knowledge and new expectations. In ten years I will have officially retired from my profession, but I'll continue to be an active person, of course.
Thank you very much for this interview.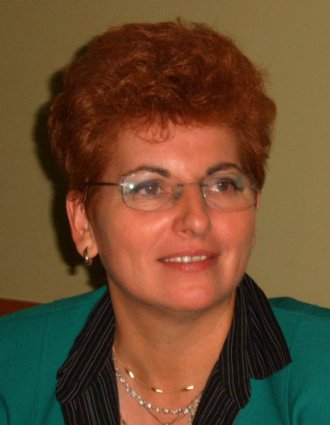 Maria Gavrilescu is professor at the Department of Environmental Engineering and Management – Faculty of Chemical Engineering and Environmental Protection of the 'Gheorghe Asachi' Technical University of Iasi, Romania, where she teaches courses in Chemical and Biological Process Engineering, Process Synthesis and Analysis, Integrated Pollution Prevention and Control, Sustainable Industrial Production, and Environmental Risk Assessment and Management.
She supervises doctoral thesis in the fields of Chemical and Environmental engineering.
Gavrilescu has authored more than 300 books and articles in the fields of chemical and environmental engineering, pharmaceutical and environmental biotechnology, pollution prevention and cleaner production, and risk assessment and management.
She has also managed or participated in 18 national and 7 international research projects and 25 research projects with industrial companies. She is the Managing Editor of Environmental Engineering and Management Journal.
More Information
Maria Gavrilescu, Department of Environmental Engineering and Management – Faculty of Chemical Engineering and Environmental Protection, 'Gheorghe Asachi' Technical University, Iasi, Romania
Selected papers (2000—2010)
---
---

European Women in Chemistry
Published: 11 November 2010
ISBN: 978-3-527-32956-4
Author: Jan Apotheker, Livia Simon Sarkadi