The GDCh Wissenschaftsforum (science forum), in short WiFo, was the highlight of this year's celebrations for the 150th anniversary of the German Chemical Society (GDCh, Gesellschaft Deutscher Chemiker). In 1867, August Wilhelm von Hofmann founded the German Chemical Society (Deutsche Chemische Gesellschaft (DChG)), a predecessor organization of the GDCh. The GDCh follows in its tradition and organized a colorful "Chemistry Festival" in Berlin.
The Free University of Berlin, on the historical science campus Berlin-Dahlem, was the host of the WiFo and the 150th anniversary of the GDCh. Over 2,000 scientists from around the world met in Berlin from September 10 to 14, 2017 to discuss, exchange, and celebrate.
Opening Ceremony
The Chemistry Festival opened with an impressive ceremony in the Konzerthaus at the Gendarmenmarkt on Sunday, September 10. The Konzerthaus was first constructed between 1818 and 1821 and is one of the main works of the most important European Classicistic architect, Karl Friedrich Schinkel.

Professor Thisbe K. Lindhorst, President of the GDCh from the University of Kiel, Germany, gave a presidential speech and moderated the evening. Welcome addresses and congratulations to the GDCh were given by Professor Johanna Wanka, Germany's Federal Minister of Education and Research, Professor Sir John Holman, President of the Royal Society of Chemistry (RSC), UK, Professor David Cole-Hamilton, President of the European Association for Chemical and Molecular Sciences (EuCheMS), Professor Natalia Tarasova, President of IUPAC (International Union of Pure and Applied Chemistry), and Professor Christoph Meinel, an eminent historian of science from the University of Regensburg, Germany.


Figure 1. Opening ceremony, Konzerthaus at the Gendarmenmarkt in Berlin. (Photo © Mario Müller, Wiley-VCH)
Nobel Prize winner and GDCh honorary member Professor Roald Hoffmann, Cornell University, Ithaca, USA, was the keynote speaker at the ceremony. He was also honored with the newly created Primo Levi Prize. The prize is awarded by the German and the Italian Chemical Societies (GDCh and Società Chimica Italiana (SCI)) to scientists who are known for their chemical and humanitarian excellence. In his talk, Roald Hoffmann gave arguments on scientific, philosophical and social grounds for the value of diversity in science and in its practitioners.
The highest honor of the GDCh, the GDCh Honorary Membership, was awarded to Professor Egon Fanghänel, Halle, Germany, Dr. Peter Gölitz, Editor-in-Chief of Angewandte Chemie, Wiley-VCH, Weinheim, Germany, and Professor Helga Rübsamen-Schaeff, former CEO of AiCuris, a spin-out from the infectious disease unit of Bayer Healthcare, Leverkusen, Germany.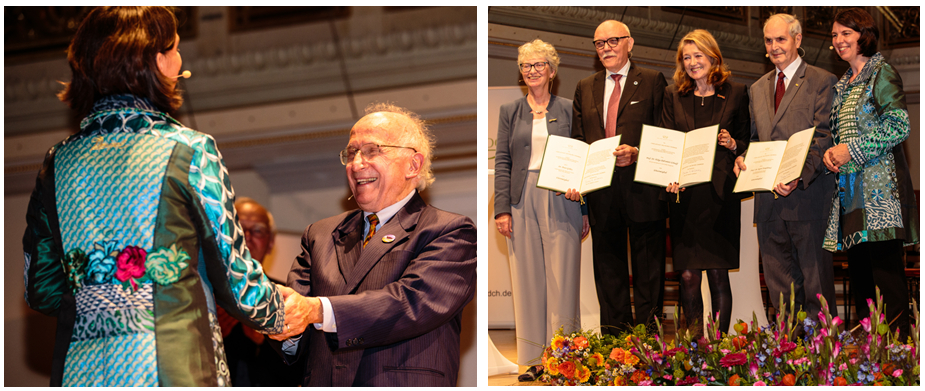 Figure 2. (left) Roald Hofmann happily receives the Primo Levi Prize from the GDCh President Thisbe Lindhorst. (right) Peter Gölitz, Helga Rübsamen-Schaeff, and Egon Fanghänel – framed by Katharina Kohse-Hoehinghaus, University of Bielefeld, Germany, and Thisbe Lindhorst – show their GDCh Honorary Membership certificates to the audience. (Photo © Mario Müller, Wiley-VCH)
Thisbe Lindhorst cordially welcomed in her speech representatives from chemical societies around the world including Professor Angela Agostiano, President of the Società Chimica Italiana (SCI), Italy, Professor Eric Schouteden, Council Member of Koninklijke Vlaamse Chemische Vereniging (KVCV), Belgium, Professor Pilar Goya, President-Elect of EuCheMS, Belgium, Professor Hans-Peter Loock, Canadian Society for Chemistry (CSC), Canada, Professor Pavel Drasar, Vice President Česká Společnost Chemická (ČSCH), Czech Republic, Professor Gilberte Chambaud, President of the Société Chimique de France (SFC), France, Professor Ioannis Vafeidis, Foreign Relations of the Association of Greek Chemists (EEX), Professor Livia Simon Sarkadi, President of the Magyar Kémikusok Egyesülete (MKE), Hungary, Professor Hishashi Yamamoto, President of the Chemical Society of Japan (CSJ), Professor Andrzej Dworak, President of the Polskie Towarzystwo Chemiczne (PTCh), Poland, Professor Kulling Ding, Vice President of the Chinese Chemical Society (CCS), Aslan Tsivadze, President of Russian Chemical Society (RH), Professor Roman Fisera, Executive Member of theSlovenská Chemická Spoloćnosť (SCS), Slovakia, Professor Venceslav Kaucic, President of the Slovenian Chemical Society, Professor Chang Hee Lee, President of the Korean Chemical Society (KCS), South Korea, Professor Jesus Jimenez-Barbero, President of Real Sociedad Española de Química (RSEQ), Spain, Professor Martin Vollmer, Beard Member of the Swiss Chemical Society (SCG), Dr. Jan-Willem Toering, Director of Koninklijke Nederlandse Chemische Vereniging (KNCV), The Netherlands, Dr. Thomas M. Connell, Executive Director of the American Chemical Society (ACS).
Angewandte
Festsymposium
The outstanding "Angewandte-Festsymposium" followed on Monday. Angewandte Chemie is the flagship journal of the GDCh. The journal was founded in 1887 for its members and today it is one of the leading general chemistry journals. In opening remarks, Professor Alois Fürstner, Max-Planck-Institut für Kohlenforschung, Mülheim an der Ruhr, Germany, informed the huge auditorium about the change in editoring of Angewandte Chemie: Dr. Neville Compton will succeed Dr. Peter Gölitz as Editor-in-Chief of Angewandte Chemie effective on October 1, 2017.
The program included presentations from Professor Jack Szostak, Nobel Prize in Physiology or Medicine in 2009, Professor Robert Grubbs, Nobel Prize in Chemistry in 2005, Professor William E. Moerner, Nobel Prize in Chemistry in 2014, and Professor Ben Feringa, Nobel Prize in Chemistry in 2016. The seven other presenters were Professor Thomas Carell, Ludwig-Maximilians-Universität (LMU), Munich, Germany, Professor Kenichiro Itami, Nagoya University, Japan, Dr. Jürgen Kaube, Frankfurter Allgemeine Zeitung (FAZ), Germany, Professor François Diederich, ETH Zurich, Switzerland, Professor Petra Schwille, Max Planck Institute of Biochemistry, Martinsried, Germany, Professor Frank Neese, Max Planck Institute (MPI) for Chemical Energy Conversion, Mülheim an der Ruhr, Germany, and Professor David Leigh, Manchester University, UK. David Leigh's concluding talk was a brilliant mix of top science and professional magician's art.
Further details on the program, short previews of their talks, and the whole lectures can be found at www.chemistryviews.org/angewandtefestsymposium.




Figure 3. Speaker of the Angewandte Festsymposium (top left to bottom right) Kenichiro Itami, Thomas Carell, Jack Szostak, François Diederich, Petra Schwille, William E. Moerner, David Leigh, Ben Feringa, Frank Neese, Robert Grubbs, and Jürgen Kaube. (Photo © Mario Müller, Wiley-VCH)
The Angewandte Festsymposium was also broadcast live online by ChemistryViews.org through a virtual event platform. The presentations were viewed by over 2,000 throughout the world as they happened in Berlin. All presentations were archived and are now available to be viewed on demand.
Scientific Sessions of the GDCh Divisions
On Tuesday and Wednesday, the divisions (Fachgruppen) of the GDCh organized their annual conferences and exciting scientific sessions. Every day started with three special plenary lectures.
Professor Petra Dittrich, ETH Zurich, Bern, Switzerland, held the first plenary lecture. She talked about lab-on-chip technology for synthetic and analytical challenges. Microfluidic systems offer numerous advantages, e.g., if the available sample quantities are very small, if work steps are to be automated or if the measuring device should be small and mobile, as for medical diagnostics.
Petra Dittrich's group uses lab-on-chip technology to measure nano- and picoliter liquid volumes and to perform parallelized reactions and quickly and efficiently analyzes. By including living cells, they can observe characteristics and changes of cells. This can be used for fast testing of the toxicity of substances or the efficiency of medications.
Professor Christoph A. Schalley, Free University of Berlin, Germany, talked about systems chemistry and discussed gradient-controlled directional transport by stimuli-responsive supramolecular polymers. Schalley showed how to use a supramolecular polymer as a truly dissipative supramolecular machine for the directional transport of particles as their cargo over millimeter distances. The supramolecular polymers are self-assembled from easy-to-synthesize monomers.
Professor Burkard König, University of Regensburg, Germany, showed recent examples of photoredox catalysis for cross-coupling reactions or late-stage functionalization of complex molecules and discussed future challenges of the field. Photoredox catalytic C–H arylation reactions, for example, are good alternatives to metal catalyzed reactions. Advantages are their excellent functional group tolerance and the absence of metal-containing catalysts.
Professor Melanie Schnell, Max-Planck Institute for Structure and Dynamics of Matter, Hamburg, Germany, presented broadband rotational spectroscopy as a tool to study molecular structure and molecular interaction with high sensitivity, high conformer selectivity, and showed that it is ideal to apply to molecular clusters. Microwave 3-wave mixing is a general approach to differentiate enantiomers of chiral molecules in the gas phase. With high-resolution molecular spectroscopy and ultra-rapid light sources, new molecular classes can be identified in the universe and chemical reactions under extreme conditions can be studied.
Synthetic carbohydrate vaccines serve as antigens against severe bacterial infections. Professor Peter H. Seeberger, Max Planck Institute of Colloids and Interfaces, Golm, Germany, explained that they are also recommended as tools for producing monoclonal antibodies and glycan microarrays for the detection of vaccine epitopes. The epitope is the part of an antigen that is recognized by the immune system. He has developed an automated sugar synthesizer. His developed designer sugars protect against bacterial infections such as the hospital germs but also other infectious diseases like malaria.
Professor Wilhelm T. S. Huck, Radboud University, Nijmegen, The Netherlands, talked about programmable enzymatic reaction networks in microfluidic flow reactors. Their sustained oscillations can be tuned by small molecules. Huck explores the dynamics of these reaction networks.


Figure 4. Melanie Schnell, Petra Dittrich, and Christoph A. Schalley during their talks. (Photos © Christian Augustin, GDCh)
The symposia included talks on synthesis and catalysis; life sciences; energy, resources, and environment; inorganic chemistry; analytical chemistry, materials, and chemical education. The inorganic division (Wöhler-Vereinigung) and the solid-state and materials division (Festkörperchemie und Materialforschung) again ran a successful session of tandem lectures looking at a variety of interesting interdisciplinary topics from different viewpoints such as metal-metal interactions in molecules versus solids, and single-molecule magnets versus magnetism in extended solids.


Figure 5. During their lectures: (left) Professor Sebastian Hasenstab-Riedel, Free University of Berlin, Germany talked about new insights from polyhalogens and superacids (middle) Professor Frank Würthner, University of Würzburg, Germany, talked about color pigment derived organic semiconductors. (right) Professor Thomas Fässler (right) and Professor Roland Fischer (left) both from TU München, Germany, during their tandem lecture on metal-metal interactions in molecules versus solids.

Figure 6. (left) Dr. Karin Schmitz, GDCh, and Dr. Vera Koester, ChemistryViews.org, presented the winners of the competition "Chemist Picture Quiz". (right) Professor Thisbe Lindhorst and Dr. Gudrun Walter, Wiley-VCH, introduced the GDCh anniversary book "Unendliche Weiten: Kreuz und Quer durchs Chemie-Universum" (Infinite Space: Crossing the Chemistry Universe).


Figure 7. During the breaks.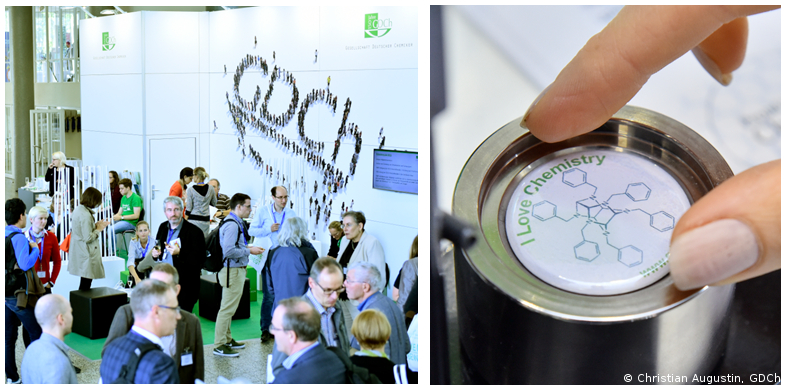 Figure 8. At the GDCh booth. (right) You could produce a button with your favorite molecule. (Photos © Christian Augustin, GDCh)

Figure 9. The signing of Cooperation Agreements with Professor Chang Hee Lee, President of the Korean Chemical Society (KCS; 대한화학회) (left) and Professor Kuiling Ding, Vice Chairman of the Chinese Chemical Society (CCS; 中国化学会) (right). Professor Wolfgang Koch, Executive Director of GDCh, and Thisbe Lindhorst are also pictured.. (Photos © Christian Augustin, GDCh)
Celebrating 20 Years of European Journals
The European Journal of Organic Chemistry (EurJIC) and the European Journal of Inorganic Chemistry (EurJOC) were launched in 1998 as the result of a merger of several chemistry journals owned by European chemical societies (who would later form ChemPubSoc Europe). In the year before, in 1997, the first courageous step was taken by the Dutch and German chemical societies (KNCV and GDCh) when they merged their journals.
To celebrate the 20th anniversary of this successful merger a reception was held at the Wiley-VCH booth by Professor Floris Rutjes, Radboud Universiteit, Nijmegen, The Netherlands, Dr. Eva E. Wille, Wiley-VCH, and Dr. Haymo Ross, Editor, EurJOC, Wiley-VCH. It was very fitting that Floris Rutjes is not only the EurJOC Editorial Board Member representing the Netherlands but is currently also president of the KNCV. Smoothies were served to symbolize the smooth transition from the predecessor journals to EurJOC and EurJIC.

Figure 10. (right) While Professor Burkhard König, University of Regensburg and Chairman of the Editorial Board and Haymo Ross (Editor) are holding print copies of the 1996 issue of Chemische Berichte and 1997 copy of Liebigs Annalen/Recueil, respectively, Floris Rutjes is shown with a bottle of a EurJOC/EurJIC smoothie. (middle) Close-up view of the EurJOC/EurJIC smoothies. (left) Keen to get a taste of the best mix in chemistry!
Experiment Future
On Thursday, the event "Experiment Zukunft – Wertedenken in der Chemie" (Experiment Future – Value Thinking in Chemistry) looked at the role of chemistry in the context of major future questions about education, nutrition, health, and sustainability. Stimulating lectures were given by Dr. Martin Brudermüller, Deputy Chairman of the Board of Management of BASF, Ludwigshafen, Germany, Jonathan Forman, 2013 Nobel Peace Prize winner and Science Policy Adviser of the Organization for the Prohibition of Chemical Weapons (OPCW), Den Haag, Belgium, Professor Helga Rübsamen-Schaeff, Professor Giesela Lück, University of Bielefeld, Germany, Dr. Angelika Hilbeck, ETH Zurich, Switzerland, Dr. Edwin Mmutlane, University of Johannesburg, South Africa, Dr. Leonhard Möckl, Stanford University, CA, USA, and Dr. Stefan Oschmann, CEO of Merck, Darmstadt, Germany.
The question of the role of chemistry in the context of major future challenges was discussed with all participants in small groups. The idea is to create a final communiqué from the discussion results that radiates beyond the chemical community into the general public and also reaches political decision makers.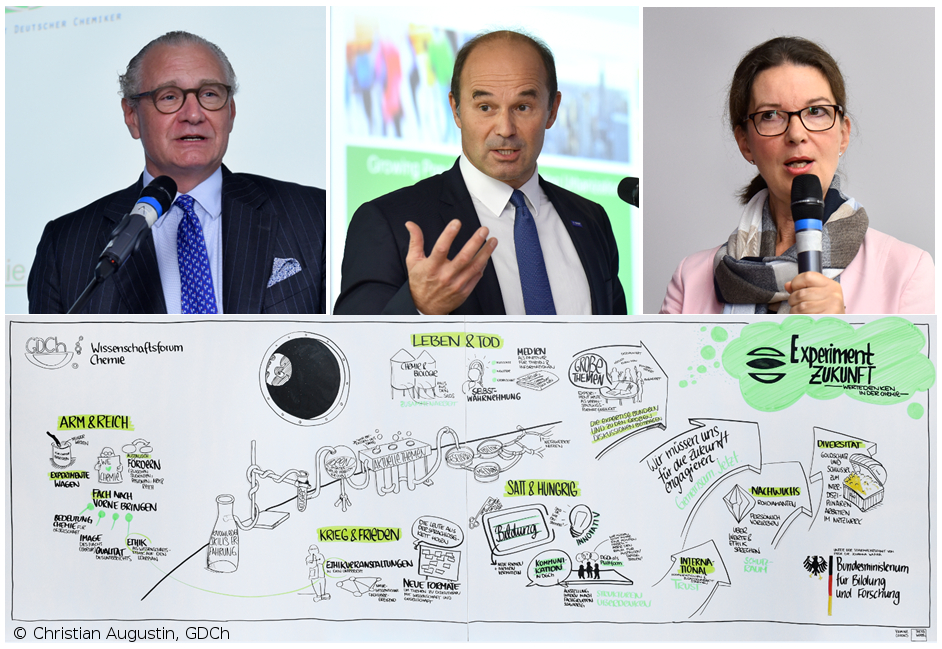 Figure 11. Stefan Oschmann, Martin Brudermüller, and Giesela Lück during their talks. (Photo © Christian Augustin, GDCh)
Satellite Program
The Free University of Berlin is one of the most active universities in Germany with regard to start-ups. Research translation into the economy plays a central role on the campus. For this reason, in the context of the WiFo, a so-called hackathon, together with representatives of the chemical industry, was organized to further develop and popularize entrepreneurship. Hackathons typically start with presentations followed by discussions to generate ideas and suggestions which can last up to several days.
To commemorate the founding of the German Chemical Society, a memorial plaque was unveiled on September 10, 2017, in front of the entrance of the Jacob-und-Wilhelm-Grimm-Zentrum (library of the University of Berlin), Geschwister-Scholl-Straße 1/3. On September 15, a satellite symposium on "Thinking the Unthinkable" took place. Other activities included a Job fair, Creavis Lounge, ChiuZ-Storylab.
Program for High School and Graduate Students
The 150-year celebration also focused on the successful communication of chemistry to society. A special point of interest was, therefore, the various offers for pupils at the WiFo, such as the ChemSlam, Meet the Hero, or the student labs.
With "Meet the Hero", high school students were given the opportunity to talk to speakers of the Angewandte Festsymposium. Six groups of students from Berlin used this chance to receive helpful information from their "Hero".
Together with the University of Potsdam, the universities of Berlin offered pupils (5th – 13th grade) a day in the lab to carry out experiments.
The chemistry slam ChemSlam demonstrated how easy to understand, exciting, and funny chemistry can be. Scientists or chemistry students presented their topic in seven minutes in a simple and entertaining way. The audience determined the winner.
► The next WiFo will be held in Aachen, Germany, in 2019.
---
The video shows Hoffmann's ceremonial speech that earned a standing ovation from the audience. Recorded by Dr. Gerhard Kreysa, fromlery Dechema, Germany