The 10th World Congress of Chemical Engineering (WCCE10) was held in conjunction with the 11th European Congress of Chemical Engineering (ECCE11), the 4th European Congress of Applied Biotechnology (ECAB4), and more than 20 satellite events in Barcelona, Spain, from October 1 to 5, 2017. Simultaneously and at the same venue, Expoquimia 2017, the largest trade fair dedicated to chemistry in southern Europe, Eurosurfas, Equiplast, the World Chemical Summit, and Smart Chemistry, Smart Future took place.
The ECCE congress was organized by the Spanish member societies of the European Federation of Chemical Engineering (EFCE): La Asociación Nacional de Químicos de España (ANQUE), L'Associació i el Col·legi d'Enginyers Industrials de Catalunya, La Sociedad Española de Química Industrial e Ingeniería Química, (SEQUI), and La Asociación de Químicos e Ingenieros del IQS (AIQS).
Over 3,000 researchers, scientists, engineers, industry professionals, entrepreneurs and students from more than 80 countries took the opportunity to exchange and share their experiences, new ideas, and research results on all aspects of chemical engineering, applied biotechnology, and process intensification. The major topic of the conference was "Solutions for Global Challenges".
Opening Ceremony
The congress chair Professor Carlos Negro and the presidents of the supporting organizations – P. A. Tanguy for the World Chemical Engineering Council (WCEC), Professor Rafiqul Gani for the European Federation of Chemical Engineering (EFCE), and Professor Guilherme N. M. Ferreira for the European Society of Biochemical Engineering Sciences (ESBES) – welcomed the international participants.
In accordance with the conference's major topic, the main message was that an increasing world population, in a world of limited natural resources, requires ever more innovative chemical engineering to solve future challenges.
Plenary Lectures
Each day of the meeting included two plenary talks.
Biosensing and Regenerative Medicine
Professor Molly Stevens, Imperial College of London, UK, showed examples of her contributions to bio-responsive hybrid materials for regenerative medicine and biosensing. Lots of work stays academic and does not translate into the market. In her opinion, we need to look at a minimum level of complexity to change this.
An example from her work is an in vivo bioreactor for bone regeneration. Large volumes of bone can be engineered without the need for cell transplantation and growth factor administration. She and her team created and manipulated an artificial space in a layer rich in pluripotent cells in such a way that the body's healing mechanism is influenced towards the engineering of neotissue. Using such an "in vivo bioreactor" in rabbits, her group managed to engineer bone that is biomechanically identical to native bone [1].
Steven's lab is also developing biosensing techniques: They have adopted traditional Raman spectroscopy to track cell differentiation in live cells over time [2] and have used porous silicon nanoneedles for a highly localized delivery of a wide array of bioactive agents and the mapping of the inner workings of cells without altering the target tissue [3].


Figure 1. (left to right) Audience during a plenary talk, Dr. Peter Schuhmacher, BASF, Ludwigshafen, Germany, and Professor Jackie Y. Ying, Singapore, during their plenary talks. (Photos: © WCCE10)
Process Research in the Chemical Industry
Dr. Peter Schuhmacher, President of Process Research & Chemical Engineering at BASF SE, Ludwigshafen, Germany, gave examples of process research in the chemical industry. He emphasized that industry has to drive innovation and continuously has to look for new processes and alternatives to replace the established processes that have already been optimized for years. He gave successful examples such as BASF's efficient and resource-saving process to produce L-menthol. The short and only three-step synthesis starts from citral. Although homogeneous catalysis poses quite some challenges in industrial processes, the company could use its know-how to apply it in the first two steps of their synthesis, including the first continuous enantioselective hydrogenation at industrial scale. The first production plant went into operation in Ludwigshafen in 2012.
Schuhmacher said that it is challenging to find new economic and sustainable processes. There are routes available for converting almost any carbon source into base chemicals, such as a bio-based route to acrylic acid instead of a propylene-based route. However, not everything that is technologically possible is a good and economic idea. In efforts for a feedstock change towards decarbonization, technologies like hydrogen production without CO2 generation via methane pyrolysis are investigated [4].
In addition to new processes, functional materials and digitalization are big topics in BASF's research. Since 2015, a pilot plant producing the extra slim and efficient insulation material Slentite is in operation in Lemförde, Germany [5]. The polyurethane-aerogel insulating panels show very high insulation rating at minimal space requirements. Another hot research topic is new cathode materials for lithium-ion batteries, because global production capacities for battery materials need to be dramatically increased to meet the demand. Digitalization is applied in many research fields to accelerate innovations and to increase efficiency. BASF's new supercomputer Quriosity, the fastest supercomputer for industrial chemical research, is seen as a key element in the R&D digitalization process.
Future interests such as renewable energy, biomaterials, circular economy, and bioeconomy are topics where the chemical industry has to contribute and drive innovation. There are lots of ideas and visions. However, Schuhmacher also thinks it is important to put into perspective what is technically feasible, and to discuss with the public, taxpayer, and governments what will be an affordable solution. We have to take into account that it may take 20 years to find something new for a process that has been optimized for many years or decades. And if costs are higher for a more sustainable route, we have to make sure that society is willing to pay for this.
Fourth Industrial Revolution
According to Dr. James R. Fitterling, Chief Operating Officer for the Materials Science Division at DowDuPont, USA, the fourth industrial revolution is not coming: it is here already. We experience dramatic change all around us happening at exponential speed. This second machine age is fundamentally changing the way we live, work, and relate to one another. It is disrupting industries in every country, transforming entire systems of production, management, and governance.
The chemical industry has enabled every industrial revolution in history. It has been a catalyst for human development. The very revolution that we are sparking now also comes as an existential threat to the chemical industry. In many ways we are making it easier for other groups, the Amazons, the Alibabas, … of the world to come in and disrupt our, the chemical industry's way of doing business.
For Fitterling the implication is clear: "We must do it first. This is mission critical." If we do not do it, someone else will, and once that other organization makes the connections to help people and find ways to do things better, faster, safer, cheaper, and more efficiently, they will also collect the profits. Fitterling reminds us that if we are not fully exploited into the advantage of the fourth industrial revolution if our people are not engaged and if we have not dreamed our value proposition in terms of the new competitive landscape, our opportunity is now, before the competition leaves us behind.
Vision of the Future Energy System
Dr. Philippe A. Tanguy, Vice President R&D Partnerships Total, France, discussed in his lecture how to solve global energy issues and his vision of the future energy system. The Paris Climate Agreement calls for a radical transformation of the present energy system into a more sustainable mix based on renewable energy sources, an increase in system and energy efficiency, and reduced production of greenhouse gases. For the near future, he predicts that most growth in the global energy sector will come from renewables, although nuclear will also grow, but much less.
For car mobility, he predicts that a hybrid system will win in the future. This is based on the following considerations: Batteries will be used for short distances, such as in cities. For long distances and for large weight, there will be other ideas required such as hydrogen. For very long distances and very high weight, there is currently no solution. Maybe biofuels could work. Solutions will probably be country-specific depending on locally available resources and societal contexts. Japan, for example, is committed to the H2 economy. In general, Tanguy thinks that customer acceptability is important.
A transition to carbon neutrality comes with huge challenges for the chemical industry: Low carbon energy and alternative feedstocks have to be available, their investments in new assets will far exceed the typical level of investments in the recent years, and production costs might become uncompetitive [6]. Therefore, clear incentives, investment, as well as planning and information are imperative. Important areas of research include catalysis and cost reduction.
Professor Rakesh Agrawal, Purdue University, USA, talked about challenges and opportunities for chemical engineering in an emerging solar economy, Professor Ignacio E. Grossman, Carnegie Mellon University, Pittsburgh, USA, about "Evolution of Process Systems Engineering and Future Trends in Research", Professor Jackie Y. Ying, Institute of Bioengineering and Nanotechnology, Singapore, about "Tackling Global Challenges with the Nanotechnology Toolbox", and Professor Miguel Paradinas, Deputy CEO, Tecnicas Reunidas, about "Engineering strategies for a growing world: TR Experience".

Figure 2. Wiley/Wiley-VCH booth and posters.
Barcelona Declaration
In relation to the UN's Sustainable Development Goals and the congress' major topic "Solutions for Global Challenges", the congress closed with the signing of the Barcelona Declaration. The statement describes the grand global challenges. The issues have been identified in the declaration, how to settle them is not clear. "That is where all of us have to contribute", Rafiqul Gani invited everybody to support and to put this document into application.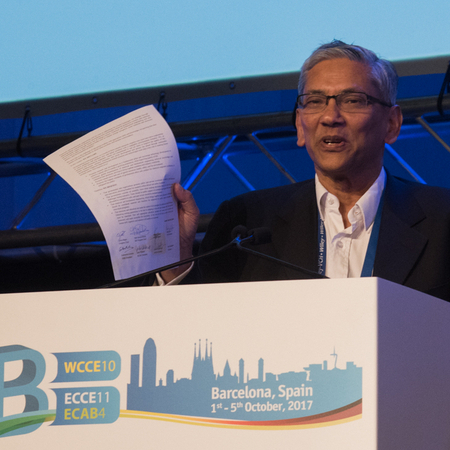 Figure 3. Rafiqul Gani presents the signed Barcelona Declaration. (Photo: © WCCE10)
Student Program
A specific program designed for undergraduate students started on Friday, September 29. The students could participate in a wide range of scientific and career-related lectures and workshops and join tours to industrial plants in Barcelona and Tarragona. The workshops included a lecture and one-to-one sessions on Scientific Writing offered by the Wiley/Wiley-VCH Editors Dr. Barbara Böck, Chemie Ingenieur Technik and Chemical Engineering & Technology, Professor Michael Domach, Biotechnology Progress, Dr. Uta Göbel, Biotechnology Journal, Dr. Vera Köster, ChemViews Magazine, and Dr. John Uhlrich, Energy Technology.
Chem-E-Car® World Competition & Chem-E-Quiz
The Chem-E-Car competition, organized by the American Institute of Chemical Engineers (AIChE), invited students from different countries and education levels to design and construct a car powered by a chemical energy source that safely carrys a specified load over a given distance and stops at a given distance. A similar competition is traditionally a highlight at the annual ProcessNet Conferences. We recently published a video of the competition and the student's experiences in designing their cars.
The Chem-E-Car race took place on Saturday, September 30. Winners were announced during the Opening Ceremony. The first prize went to the Persian Golf Team from Iran.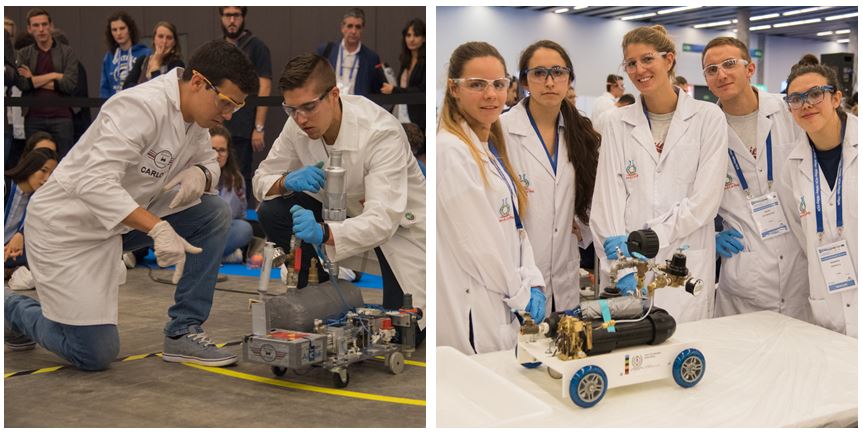 Figure 4. Chem-E-Car competition. Two teams with their cars. (Photos: © WCCE10)
The Chemical Engineering Quiz (Chem-E-Quiz) was held on September 30 and tested the participants chemical engineering knowledge. Four students per team faced a three-round contest. Winners obtained a 750€ prize; 500€ and 250€ were awarded to the second and third team, respectively.
EFCE Awards
The highest honor, the EFCE Honorary membership, was awarded to Professor Richard Darton, Keble College, University of Oxford, UK, for his contributions for EFCE over an extended period of time. He was president of EFCE from 2010 to 2013, and also spent many years as member and chair of the Working Party on Fluid Separations and the Section on Sustainability.
Professor Sauro Pierucci, Politecnico di Milano, Italy, was awarded the Dieter Behrens Medal. He was honored for the role he has played for almost fifty years as an active member and committed chairman of the EFCE Working Party on Computer Aided Process Engineering (CAPE), as member of the former Science Advisory Committee, among many other commitments.
Professor Luis Puigjaner, Universitat Politecnica de Catalunya, Barcelona, Spain, has received the EFCE Lifetime Achievement Award in recognition of his contribution to the progress of chemical and process systems engineering both in Spain and internationally for more than 50 years.



Figure 2. Coffee breaks gave people plenty of opportunities to meet, exchange ideas, brainstorm solutions, and discover new potential partnerships.
► The next joint conference, ECCE11/ECAB5, will take place in Florence, Italy, on September 15–19, 2019. WCCE11 will take place in Buenos Aires, Argentina, in 2021. WCCE12 will take place in Beijing, China, in 2025.
References
[1] Molly M. Stevens, Robert P. Marini, Dirk Schaefer, Joshua Aronson, Robert Langer, V. Prasad Shastri, In vivo engineering of organs: The bone bioreactor, PNAS 2005, 102(32), 11450–11455. https://doi.org/10.1073/pnas.0504705102
[2] Charalambos Kallepitis, Mads S. Bergholt, Manuel M. Mazo, Vincent Leonardo, Stacey C. Skaalure, Stephanie A. Maynard, Molly M. Stevens, Quantitative volumetric Raman imaging of three-dimensional cell cultures, Nat. Commun. 2017. https://doi.org/10.1038/ncomms14843
[3] Ciro Chiappini, Paola Campagnolo, Carina S. Almeida, Nima Abbassi-Ghadi, Lesley W. Chow, George B. Hanna, Molly M. Stevens, Mapping Local Cytosolic Enzymatic Activity in Human Esophageal Mucosa with Porous Silicon Nanoneedles, Adv. Mater. 2015. https://doi.org/10.1002/adma.201501304
[4] O. Machhammer, A. Bode, W. Hormuth, Financial and Ecological Evaluation of Hydrogen Production Processes on Large-Scale, Chem. Eng. Technol. 2016. https://doi.org/10.1002/ceat.201600023
[5] V. Koester, M. Fricke, Insulation Through an Organic Polyurethane-Based Aerogel, ChemViews Mag. 2014. https://doi.org/10.1002/chemv.201400093
[6] Alexis Michael Bazzanella, Florian Ausfelder, Low carbon energy and feedstock for the European chemical industry, Technology Study, DECHEMA Gesellschaft für Chemische Technik und Biotechnologie e.V., June 2017. Link