Wilhelm Friedrich Philipp Pfeffer was born on March 9, 1845, in Grebenstein, Germany, as the son of a pharmacist. Starting in 1863, he studied chemistry and pharmacy at the University of Göttingen, Germany. One of his teachers there was the organic chemistry pioneer Friedrich Wöhler. Pfeffer finished his Ph.D. in 1865 under the supervision of Rudolph Fittig with a thesis on glycerin derivatives. He then studied pharmacy at the University of Marburg, Germany, with a particular focus on botany, and completed his licensing examination as a pharmacist in 1868. Pfeffer then studied and worked in Berlin and Würzburg, both Germany, under botanists Nathanael Pringsheim and Julius Sachs, respectively. He completed his habilitation in 1871.
After a stint as a private lecturer at the University of Marburg, Pfeffer joined the University of Bonn, Germany, in 1873 as Professor of pharmacognosy and botany. He then served as Professor of botany at the Universities of Basel, Switzerland, and Tübingen and Leipzig, both Germany. Both in Tübingen and Leipzig, he also served as Director of the university's botanical garden. Pfeffer stayed in Leipzig for the rest of his career and died there on January 31, 1920.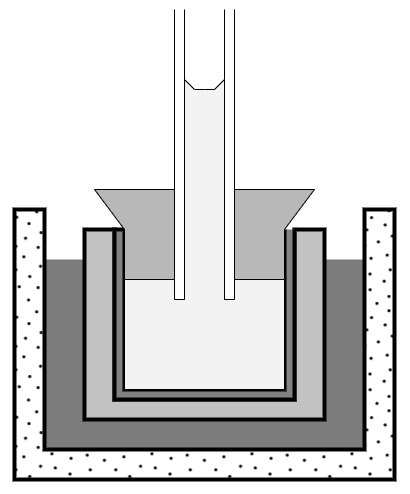 Pfeffer was a pioneer of plant physiology and molecular biology. He performed fundamental studies on the osmotic pressure in plant cells. Pfeffer also was the first to use time-lapse photography, a new technology at the time, to study the growth and movement of plants. His work on osmosis led him to develop the so-called "Pfeffer cell", a device to measure osmotic pressure (schematically pictured on the right).
This device consists of a clay vessel that is coated with a semipermeable membrane on the inside. It is filled with the sample solution and fitted with a glass pipe on top. The vessel is then placed in pure water. Due to osmosis, water enters the vessel and the solution rises in the glass pipe. The solution's final height in the pipe is a measure of its initial osmotic pressure. The molecular weight of a solute can be determined by measuring its osmotic pressure. His device allowed Pfeffer to determine the molecular weight of proteins.
Wilhelm Pfeffer is the answer to Guess the Chemist (97).
---
Selected Publications

Source