Share Your Movie Knowledge
Crystal meth is not really blue as shown in Breaking Bad—but it looks so much better on screen if its blue.
What are the chemistry bugs in movies or TV series you know of?
We are looking for #ChemistryMovieFails – share on social media tagging #chemistrymoviefails and @chemistryviews by May 29, 2020, and have a chance to win your a copy of Strange Chemistry by Steven Farmer.
Increase your chances by participating on Instagram, Twitter, Facebook, and LinkedIn.
There will be ten contests this year; the next contest will start on June 2. In December, we will randomly choose additional winners (2 iPads and books) from all entries of all ten contests. So stay tuned.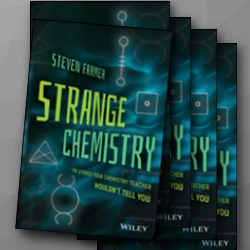 Terms & Conditions
 Looking for inspiration?
---