Vaccines typically require years of research and testing before they reach the clinic. However, scientists and regulators have been working extremely hard, and several vaccines against Sars-CoV-2, the virus that triggers COVID-19, are already in use. In the meantime, we are no longer anxious about whether and when there will be a vaccine, but when we will be vaccinated, which vaccine we will get, and whether the vaccination will also protect against mutations.
The work began in January 2020 with the decoding of the SARS-CoV-2 genome. In March 2020, the first human safety studies of a vaccine began. BioNTech/Pfizer's vaccine was the first to receive approval: first from the UK Medicines Regulatory Agency in December 2020, followed by emergency approvals in the US and the EU. It was the first time an mRNA vaccine received approval and is produced on a large scale
Currently, four vaccines have been approved for application in the EU, and partial registration dossiers have already been submitted for others. So far, all approved vaccines show very good efficacy. We look here at a few of the differences between the EU-approved vaccines.
Vaccine Types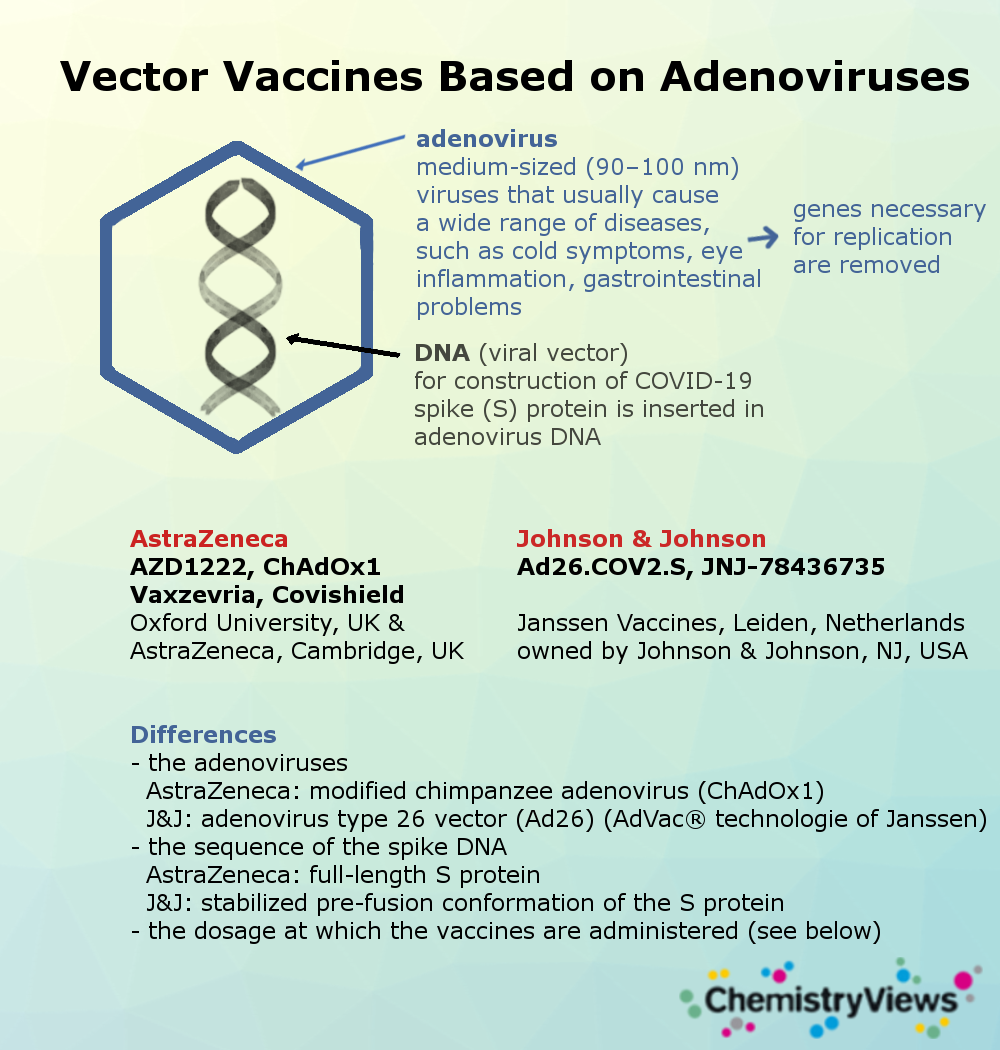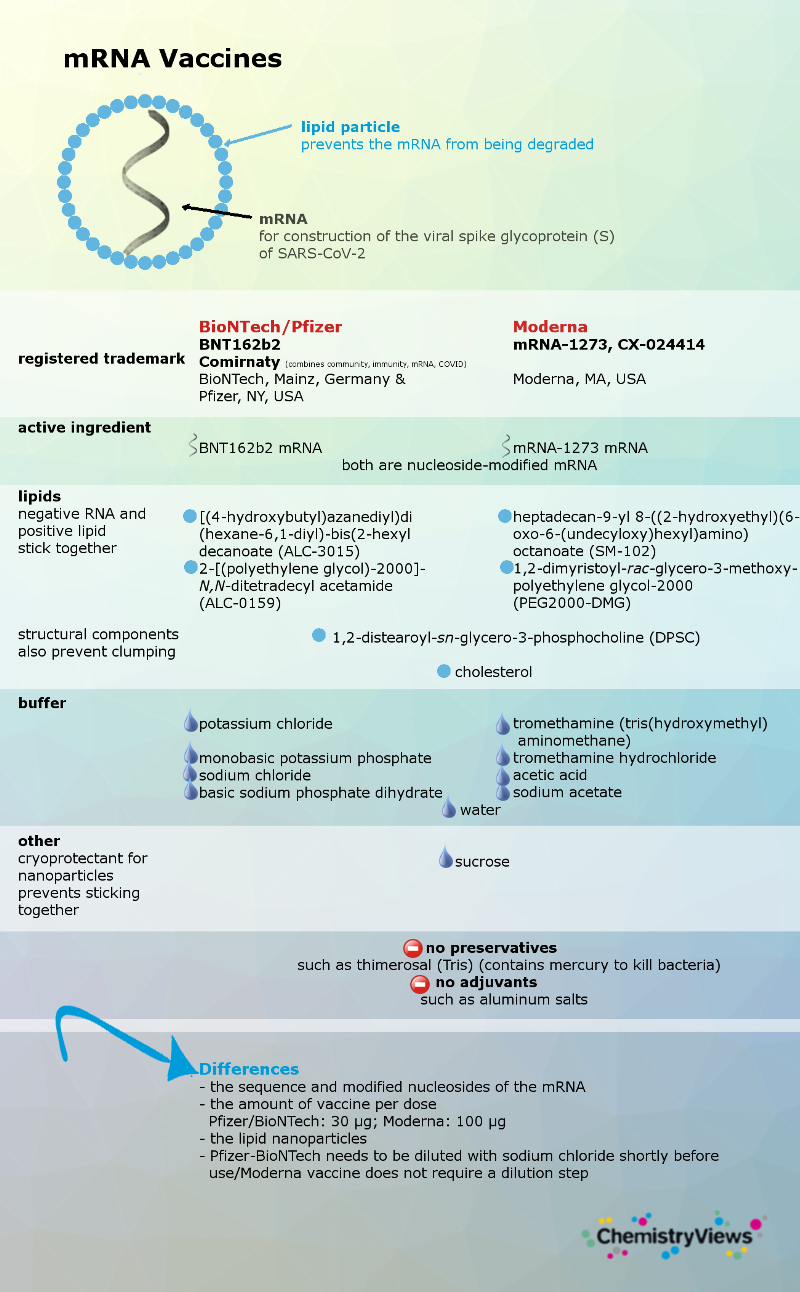 Storage, Administration, and Efficiency Results from Phase 3 Trials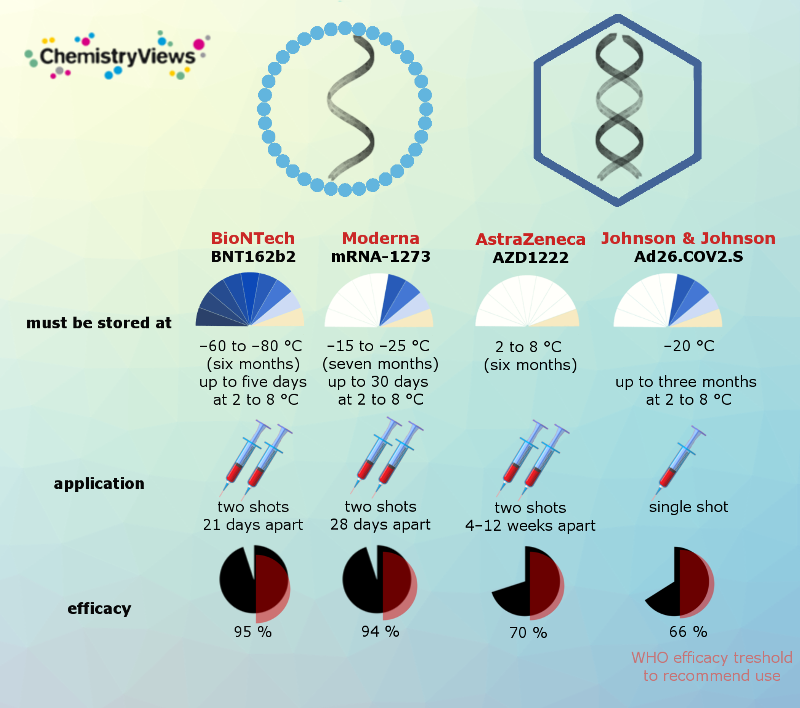 Vaccine efficacy is generally reported as a relative risk reduction. Relative risk is the ratio of attack rates with and without a vaccine. This means, an individual is less likely to get sick from any contact with COVID-19 than an individual without vaccination by the percentage given above.
However, the vaccine efficacy should be viewed in light of the risk of becoming infected with and contracting COVID-19. This varies between populations and over time. The percentages given above depend on the conditions in the phase III test population, including infection incidence and mutations present during testing. They were different for the four vaccines.
Important to know is that all these vaccines have shown 100% efficacy rates against death and hospitalization.
Effectiveness of the Vaccines Against the Coronavirus Variants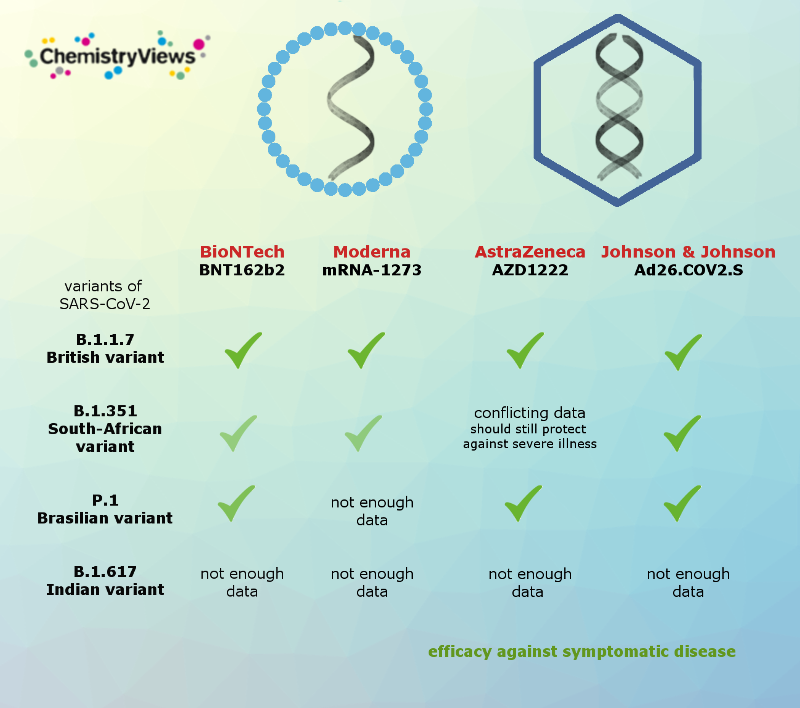 References
Impfstoffe zum Schutz vor Covid-19, der neuen Coronavirus-Infektion, Verband Forschender Arzneimittelhersteller (vfa; Association of Research-Based Pharmaceutical Companies) August 1, 2020. (only in German; accessed April 23, 2021)
Lianpan Dai, George F. Gao, Viral targets for vaccines against COVID-19, Nature Reviews Immunology 2020, 21, 73–82. https://doi.org/10.1038/s41577-020-00480-0
Jonas Neubert, Exploring the Supply Chain of the Pfizer/BioNTech and Moderna COVID-19 vaccines, Blog Jonas Neuberg February 7, 2021. (Accessed April 23, 2021)
Merryn Voysey, Sue Ann Costa Clemens, Shabir A. Madhi, Lily Y. Weckx, Pedro M. Folegatti, Parvinder K. Aley, Brian Angus, Vicky L. Baillie, Shaun L. Barnabas, Qasim E. Bhorat, Sagida Bibi, Carmen Briner, Paola Cicconi, Andrea M. Collins, Rachel Colin-Jones, Clare L. Cutland, Thomas C. Darton, Keertan Dheda, Christopher J. A. Duncan, Katherine R. W. Emary, Katie J. Ewer, Lee Fairlie, Saul N. Faust, Shuo Feng, Daniela M. Ferreira, Adam Finn, Anna L. Goodman, Catherine M. Green, Christopher A. Green, Paul T. Heath, Catherine Hill, Helen Hill, Ian Hirsch, Susanne H. C. Hodgson, Alane Izu, Susan Jackson, Daniel Jenkin, Carina C. D. Joe, Simon Kerridge, Anthonet Koen, Gaurav Kwatra, Rajeka Lazarus, Alison M Lawrie, Alice Lelliott, Vincenzo Libri, Patrick J Lillie, Raburn Mallory, Ana V. A. Mendes, Eveline P Milan, Angela M. Minassian, Alastair McGregor, Hazel Morrison, Yama F Mujadidi, Anusha Nana, Peter J O'Reilly, Sherman D. Padayachee, Ana Pittella, Emma Plested, Katrina M Pollock, Maheshi N Ramasamy, Sarah Rhead, Alexandre V. Schwarzbold, Nisha Singh, Andrew Smith, Rinn Song, Matthew D. Snape, Eduardo Sprinz, Rebecca K. Sutherland, Richard Tarrant, Emma C Thomson, M Estée Török, Mark Toshner, David P J Turner, Johan Vekemans, Tonya L Villafana, Marion E. E. Watson, Christopher J. Williams, Alexander D. Douglas, Adrian V. S. Hill, Teresa Lambe, Sarah C. Gilbert, Andrew J. Pollard, Safety and efficacy of the ChAdOx1 nCoV-19 vaccine (AZD1222) against SARS-CoV-2: an interim analysis of four randomised controlled trials in Brazil, South Africa, and the UK, The Lancet 2020, 397(10269), P99–111. https://doi.org/10.1016/S0140-6736(20)32661-1
Fernando P. Polack, Stephen J. Thomas, Nicholas Kitchin, Judith Absalon, Alejandra Gurtman, Stephen Lockhart, John L. Perez, Gonzalo Pérez Marc, Edson D. Moreira, Cristiano Zerbini, Ruth Bailey, Kena A. Swanson, Satrajit Roychoudhury, Kenneth Koury, Ping Li, Warren V. Kalina, David Cooper, Robert W. Frenck, Laura L. Hammitt, Özlem Türeci, Haylene Nell, Axel Schaefer, Serhat Ünal, Dina B. Tresnan, Susan Mather, Philip R. Dormitzer, Uğur Şahin, Kathrin U. Jansen, William C. Gruber, Safety and Efficacy of the BNT162b2 mRNA Covid-19 Vaccine, New England Journal of Medicine 2020, 383, 2603–2615. https://doi.org/10.1056/NEJMoa2034577
Fact sheet for healthcare providers administering vaccine (vaccination providers), Pfizer/BioNTech, U.S. Food and Drug Administration (FDA) (Accessed April 26, 2021)
Lindsey R. Baden, Hana M. El Sahly, Brandon Essink, Karen Kotloff, Sharon Frey, Rick Novak, David Diemert, Stephen A. Spector, Nadine Rouphael, C. Buddy Creech, John McGettigan, Shishir Khetan, Nathan Segall, Joel Solis, Adam Brosz, Carlos Fierro, Howard Schwartz, Kathleen Neuzil, Lawrence Corey, Peter Gilbert, Holly Janes, Dean Follmann, Mary Marovich, John Mascola, Laura Polakowski, Julie Ledgerwood, Barney S. Graham, Hamilton Bennett, Rolando Pajon, Conor Knightly, Brett Leav, Weiping Deng, Honghong Zhou, Shu Han, Melanie Ivarsson, Jacqueline Miller, Tal Zaks, Efficacy and Safety of the mRNA-1273 SARS-CoV-2 Vaccine, New England Journal of Medicine 2021, 384, 403–416. https://doi.org/10.1056/NEJMoa2035389
Fact sheet for healthcare providers administering vaccine (vaccination providers), Moderna, U.S. Food and Drug Administration (FDA) (Accessed April 26, 2021)
Fact sheet for recipients and caregivers, Johnson & Johnson, United States Centers for Disease Control and Prevention (CDC) (Accessed April 26, 2021)
Robert Koch Institut (RKI), Übersicht und Empfehlungen zu besorgniserregenden SARS-CoV-2-Virusvarianten (VOC), April 6, 2021. (only in Germany, Accessed April 26, 2021)
Katherine R. W. Emary, Tanya Golubchik, Parvinder K. Aley, Cristina V. Ariani, Brian John Angus, Sagida Bibi, Beth Blane, David Bonsall, Paola Cicconi, Sue Charlton, Elizabeth Clutterbuck, Andrea M. Collins, Tony Cox, Thomas Darton, Christina Dold, Alexander D. Douglas, Christopher J. A. Duncan, Katie Ewer, Amy Flaxman, Saul N. Faust, Daniela M. Ferreira, Shuo Feng, Adam Finn, Pedro M. Folegatti, Michelle Fuskova, Eva Galiza, Anna L. Goodman, Catherine M. Green, Christopher A. Green, Melanie Greenland, Bassam Hallis, Paul T. Heath, Jodie Hay, Helen C. Hill, Daniel Jenkin, Simon Kerridge, Rajeka Lazarus, Vincenzo Libri, Patrick J. Lillie, Catherine Ludden, Natalie G. Marchevsky, Angela M. Minassian, Alastair C. McGregor, Yama Farooq Mujadidi, Daniel J. Phillips, Emma Plested, Katrina M. Pollock, Hannah Robinson, Andrew Smith, Rinn Song, Matthew D. Snape, Rebecca K. Sutherland, Emma C. Thomson, Mark Toshner, David P. J. Turner, Johan Vekemans, Tonya L. Villafana, Christopher J. Williams, Adrian V. S. Hill, Teresa Lambe, Sarah C. Gilbert, Merryn Voysey, Maheshi N. Ramasamy, Andrew Pollard, Oxford COVID Vaccine Trial Group, Efficacy of ChAdOx1 nCoV-19 (AZD1222) Vaccine Against SARS-CoV-2 VOC 202012/01 (B.1.1.7), SSRN Electronic Journal 2021. https://doi.org/10.2139/ssrn.3779160
Merryn Voysey, Sue Ann Costa Clemens, Shabir A Madhi, Lily Y. Weckx, Pedro M. Folegatti, Parvinder K. Aley, Brian Angus, Vicky L. Baillie, Shaun L. Barnabas, Qasim E Bhorat, Sagida Bibi, Carmen Briner, Paola Cicconi, Elizabeth A. Clutterbuck, Andrea M. Collins, Clare L. Cutland, Thomas C. Darton, Keertan Dheda, Christina Dold, Christopher J. A. Duncan, Katherine R. W. Emary, Katie J. Ewer, Amy Flaxman, Lee Fairlie, Saul N. Faust, Shuo Feng, Daniela M. Ferreira, Adam Finn, Eva Galiza, Anna L. Goodman, Catherine M. Green, Christopher A. Green, Melanie Greenland, Catherine Hill, Helen C. Hill, Ian Hirsch, Alane Izu, Daniel Jenkin, Carina C. D. Joe, Simon Kerridge, Anthonet Koen, Gaurav Kwatra, Rajeka Lazarus, Vincenzo Libri, Patrick J. Lillie, Natalie G. Marchevsky, Richard P. Marshall, Ana V. A. Mendes, Eveline P. Milan, Angela M. Minassian, Alastair McGregor, Yama F. Mujadidi, Anusha Nana, Sherman D. Padayachee, Daniel J. Phillips, Ana Pittella, Emma Plested, Katrina M. Pollock, Maheshi N. Ramasamy, Adam J. Ritchie, Hannah Robinson, Alexandre V. Schwarzbold, Andrew Smith, Rinn Song, Matthew D. Snape, Eduardo Sprinz, Rebecca K. Sutherland, Emma C. Thomson, M. Estée Török, Mark Toshner, David P. J. Turner, Johan Vekemans, Tonya L. Villafana, Thomas White, Christopher J. Williams, Alexander D. Douglas, Adrian V. S. Hill, Teresa Lambe, Sarah C. Gilbert, Andrew J. Pollard, Single-dose administration and the influence of the timing of the booster dose on immunogenicity and efficacy of ChAdOx1 nCoV-19 (AZD1222) vaccine: a pooled analysis of four randomised trials, The Lancet 2021. https://doi.org/10.1016/S0140-6736(21)00432-3
Neutralization of SARS-CoV-2 spike 69/70 deletion, E484K and N501Y variants by BNT162b2 vaccine-elicited sera,
Xuping Xie, Yang Liu, Jianying Liu, Xianwen Zhang, Jing Zou, Camila R. Fontes-Garfias, Hongjie Xia, Kena A. Swanson, Mark Cutler, David Cooper, Vineet D. Menachery, Scott C. Weaver, Philip R. Dormitzer, Pei-Yong Shi,
Nature Medicine 2021, 27, 620–621.
https://doi.org/10.1038/s41591-021-01270-4
---
Also of Interest