In biological analysis, the term "immunoassay" encompasses all methods that rely on an antigen–antibody reaction. These are also called enzyme immunoassays and allow for the detection of groups of substances. In these tests, enzymes are bound to an antibody whose reaction product can be detected photometrically.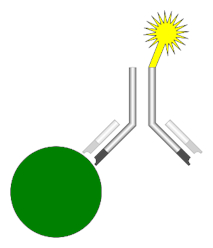 Figure 1. Basic components of an immunoassay. Green = analyte, black = an antibody, yellow = a detectable label.
These antigen- (or analyte-) antibody reactions are very fast, highly accurate, and sometimes indicate cross-reactivities. Immunoassays are among the most widely used methods in biological analysis. They include ELISAs, the Western Blot, the ELISPOT, and indirect immunoperoxidase assay.
For every qualitative immunoassay, a cut-off is defined based on the measurement sensitivity and cross-reactivity. This cut-off is determined by the producer and is the cut-off for the test in question.
References
[1] D. E. Moody, Encyclopedia of Analytical Chemistry, John Wiley & Sons, Hoboken, USA, 2006.