2011 is the International Year of Chemistry (IYC 2011) and the centenary of Marie Curie's Nobel prize in Chemistry. Therefore, ChemViews will introduce interesting women throughout the year.
Dr. Lene Hviid is Knowledge Group Leader and Project Manager at Tata Steel, Ijmuiden, the Netherlands. She followed her interests from research to management, throughout Scandinavia, from the development of new polymer coatings for fish cans and batteries and to ways to monitor the surface quality of steel.
Please tell us a bit about how your career has developed?
My career has developed in phases.
The first phase was studying at the Universities of Copenhagen, Denmark, and Lund, Sweden. This was followed by a Ph.D. at the University of Amsterdam, the Netherlands. After my Ph.D., I chose a career in industry. In the next phase, I grew from researcher to project manager; this was followed by my current position at Tata Steel Research Development & Technology as the Knowledge Group Leader for Surface Technology and as Project Manager for Continuous Surface Improvement. Here, we develop applications to monitor and control the surface quality of steel from beginning to end, i.e., steel plant → hot strip mill → pickling line → cold mill → galvanizing line → the final customer.
As both Knowledge Group Leader and Project Manager, I manage two teams of professionals in a technological environment. In this role, I develop and translate visions into effective plans, and motivate and inspire team members and subordinates in all the plants to deliver and implement those plans.
In each phase of my career, I had an interest, found a position and organization in which I could explore that interest, and ultimately found myself with new skills, new experiences, and new interests.
What do you enjoy most about your career?
I enjoy the managerial aspects of the job; the ability to motivate people and seeing my influence on decisions taken within the organization.
When did your interest in sciences begin?
I have always collected minerals and was fascinated by the chemical composition of the crystals. My interest in science widened when I started high school. It gave me the opportunity to do well in my favorite subjects and it was learning about colors that first stimulated my interest in the synthesis and behavior of colors when mixed.
What has been your biggest motivation?
My motivation comes from my parents. They always stated that you can do anything in life if you really want to. I have also been inspired by the work and impact of the scientists Lise Meitner and Marie Curie.
Do you think there are still differences between men and women in chemistry?
I think there are, but it is difficult to generalize. For example, I am Danish living in the Netherlands; in Scandinavia lots of women work full time, while here in the Netherlands that is less common.
Have you experienced any personal struggles typical for women in sciences?
No, my hardest struggles were with my three brothers when growing up. That taught me to keep an eye on my surroundings and to reach for the goal and not the ball …
What advice would you give other women thinking of embarking on a scientific career?
The best advice I can give is to use your energy and drive on the things in life that make your heart beat faster. Then the dream and vision will come true. However, the best advice I have been given is to put yourself in the other person's place, which is also good advice.
How do you combine family and job?
The combination of work and family is always a key point in our family where we both have careers. We have two children who are 12 and 8 years old. My husband and I both work full time and we share the workload at home and with the children. To make life easier, we have our house cleaned every week by a professional.
Every Sunday evening we go through our agendas to align upcoming activities such as business trips, meetings, the children's activities, etc.
I also make sure to charge my own battery every week by ensuring I do enough yoga with my yoga group, look after my general fitness and by going running.
What would you like to be doing ten years from now?
I enjoy working in an industrial environment where we actually make a product for customers. With my growing skills and managerial experience, I would like to go further within the developing technology sector.
Thank you very much for this interview!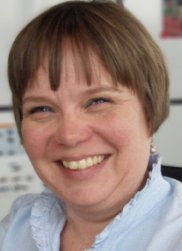 Dr. Lene Hviid studied chemistry at the University of Copenhagen, Denmark, receiving her B.Sc. in 1992. She studied organometallic chemistry and quantum mechanics at Lund University, Sweden, before returning to Copenhagen for her Master's degree. She received her Ph.D. from the University of Amsterdam, the Netherlands, in 2001.
Hviid began her career in industry as a researcher in packaging applications for Corus Research Development and Technology, IJmuiden, Netherlands. She was promoted to Project Leader in 2004, where she studied new polymer coated steels for fish cans and battery applications. In 2008, she transfered to Tata Steel Research Development & Technology, IJmuiden, Netherlands, as a Knowledge Group Leader and Project Manager. Here, she develops applications to monitor and control the surface quality from the steel plant to the final consumer. 
Selected Publications
Characterization by time-resolved UV/Vis and infrared absorption spectroscopy of an intramolecular charge-transfer state in an organic electron-donor-bridge-acceptor system
L. Hviid, J. W. Verhoeven, A. M. Brouwer, M. N. Paddon-Row, J. Yang, M. V. George,
Photochem. Photobiol. Sci. 2004, 3, 246–251.
DOI: 10.1039/B313226A
Spin control of the lifetime of an intramolecular charge-transfer excited state
L. Hviid, W. G. Bouwman, M. N. Paddon-Row, J. W. Verhoeven, A. M. Brouwer,
Photochem. Photobiol. Sci. 2003, 2(10), 995–1002.
DOI: 10.1039/B306052G
Polymer packaging layer with improved release properties
C. J. Spaans, C. J. Waringa, L. Hviid, J. J. Dommershuijzen,
Tata Steel IJmuiden B.V. Patent No. 03075471.7, 2003 (CO 166 CA/ID/PL/ZA/Kr/H), Patent No. 10/545,800, 2006 (US 2006/0243626 A1), 2003.
Transient Exposure of Hydrophobic Surface in the Photoactive Yellow Protein Monitored with Nile Red
J. Hendriks, T. Gensch, L. Hviid, M. A. van der Horst, K. J. Hellinga, J. J. van Thor,
Biophys. J. 2002, 82(3), 1632–1643.
DOI: 10.1016/S0006-3495(02)75514-8
3.0.CO;2-3″>Long-Lived Short-Distance Intramolecular Charge Separation via Intermolecular Triplet Sensitisation
L. Hviid, A. M. Brouwer, M. N. Paddon-Row, J. W. Verhoeven,
ChemPhysChem 2001, 2(4), 232–235.
3.0.CO;2-3″>DOI: 10.1002/1439-7641(20010417)2:4<232::AID-CPHC232>3.0.CO;2-3
---
---
Also of interest:

European Women in Chemistry
Published: 11 November 2010
ISBN: 978-3-527-32956-4
Author: Jan Apotheker, Livia Simon Sarkadi