In June 2011, we wrote a feature entitled Periodic Debate that discussed the ongoing evolution, if not revolution, surrounding the periodic table of the chemical elements. It remains the most popular Research Highlight article on ChemistryViews.org and continues to attract comments on the issues raised. In particular, from those who disagree with the standpoint that there could ever be a definitive two-dimensional table and that it is anything more than a tool or mnemonic to help chemists organize their understanding of the world around us.
I interviewed two of the people driving the debate, Philip Stewart and Eric Scerri. In this report, we learn of Stewart's early life and what has drawn him to the Periodic Table.
60 Years of Interest
Philip Stewart is enjoying his sixth year of fake retirement after thirty years of lecturing in economics to biology students and in human ecology to students in human sciences at Oxford University, UK. This was the unexpected outcome of his having taken degrees in Arabic and in forestry and working for seven years in the Algerian Forest Service.
Through his teaching of both ecology and economics, he came to see them as two parts of a single form of knowledge, and is currently trying to finish a book to explain his ideas. Stewart weighed in on the Periodic Debate article published by ChemistryViews because of an interest instilled in him 60 years ago.
"I conceived a passionate interest in the periodic table when I saw it represented as a huge, colorful spiral in the Science Exhibition of the Festival of Britain, 1951, when I was twelve years old," he told us. "I had just read Fred Hoyle's wonderful little book The Nature of the Universe, and I was struck by the resemblance between Longman's mural and the Andromeda Galaxy."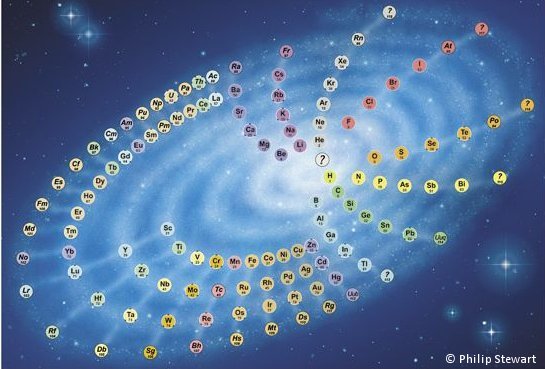 Stewart was thus very disappointed when he started school chemistry the following year to discover that the periodic table is no galactic spiral but the standard tabular form with which chemists have become familiar over the decades. "I had come to think of the series of elements as continuous," he says. "The breaks imposed by the tabular form seemed to destroy that insight, especially with the lanthanides taken right out of the sequence." As a result, Stewart gave up school chemistry two years later, although he never lost his interest in the subject itself.
Stewart was instrumental in getting Longman's spiral image republished three times in important publications, not least, but most recently in Oliver Sacks' Uncle Tungsten. This success in disseminating what he considered to be an inspirational form of an infamous icon, gave him the idea of trying to improve it still further. He produced his 'Chemical Galaxy' and used colors to indicate the secondary relationships of Mendeleev's A and B groups as had Longman. He also followed von Antropoff, John Clark and others, in alluding to 'neutronium' as element zero.
"I am particularly attached to this latter idea," Stewart explains, "as I think it helps to lift chemistry above the preoccupation with terrestrial matter; after all, if most of the substance of neutron stars is neutronium, it is probably the third most abundant element in the universe." Stewart adds that he thinks the esthetics of the periodic table are as important as its functionality. "I tried to make my representation beautiful as well as truthful," he adds.
There might be other spiral or helical forms of the periodic table yet to be discovered that would offer enlightening, alternative representations of the periodicity in the sequence of elements. He suggests that designers should take greater inspiration from the chemical works of Charles Janet who produced a remarkable range of images.
Oxford-based Stewart has maintained his keen interest in Arab culture and history, in forests, and in ecology and economics, but is currently collecting material for a book on the ten poets who visited or lived on Boars Hill, Oxford, UK, where he lives.
---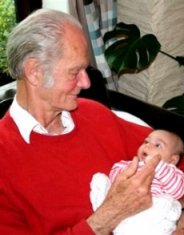 Emeritus Professor Philip Stewart was born in London, UK, in 1939. He studied Arabic at Oxford University, UK, taking a second degree in foresty a few years later at the same university. From 1967–1974, he worked as a research officer and lecturer in Forestry and Land Use in Algeria. He became a Lecturer at Oxford University in 1975, teaching Land Use Economics and Human Ecology. He held this position until his retirement in 2006.
Stewart's on-going interests include the integration of economics into ecology, Islamic culture and history, chemistry, English poetry since 1800, and bicycles.

Selected Publications
A new look at the abundance of the elements
Philip J. Stewart,
Educ. Chem. 2003, 40(1), 23–4.
A new image of the Periodic Table
Philip J. Stewart,
Educ. Chem. 2004, 41(6), 156–8.
A century on from Dmitri Mendeleev
Philip J. Stewart,
Found. Chem. 2007, 9, 235–45.
DOI: 10.1007/s10698-007-9038-x
Charles Janet: unrecognized genius of the periodic system
Philip J. Stewart,
Found. Chem. 2010, 12, 5–15.
DOI: 10.1007/s10698-008-9062-5

Website
---
See also:
Periodic Debate
Mendeleev's Periodic Table is, for many, the symbol of chemistry but is the current layout the best one?
At Last, A Definitive Periodic Table?
ChemViews article and ensuing discussion has spawned a development in this field courtesy of UCLA chemistry professor E. Scerri