The EUROpean multilevel integrated BIOREFinery design for sustainable biomass processing or EuroBioRef project is a four-year program launched in 2010. Coordinated by the French National Center for Scientific Research (CNRS), it deals with the entire process of transformation of biomass, from fields to final commercial products.
EuroBioRef involves 29 partners from industry, SMEs, and academics from 14 different countries in a highly collaborative network. The program is supported by a €23m grant from the European Union 7th Framework Program (FP7).
Summary of Work Performed
During the first year, in the various test fields in Poland, Greece, and Madagascar, lignocellulosic plants like willow, giant reed, miscanthus, switchgrass, cardoon and oil crops like castor, crambe, safflower, lunaria, jatropha, as well as sunflower and rapeseed for comparison were grown according to smart rotation strategies. Now, large test fields for demonstrations are being set up with willow and crambe in Poland, giant reed and safflower in Greece, and castor in Madagascar.
The climate in Madagascar is appropriate to grow castor there and, in addition, we showed that growing castor in Madagascar can lead to a win-win situation: For the farmers this is a chance of developing side-businesses and diversifying their sources of revenues. Furthermore, fields in the northern and southern hemispheres ensure a second summer for the EuroBioRef project.

The skeleton for a logistics model has been developed. It has been built with data of well-known plants. Now we have to feed in the data concerning the new crops we are specifically growing and that have never reached the industrial scale. In other words, the logistical model must be fed with research and demo results from test fields of EuroBioRef.
An efficient and versatile pretreatment technology for lignocellulosic material has been developed. It will be thoroughly evaluated in a pilot plant that will be constructed in Norway. From mid-2012 onwards it will be able to operate at 50 kg of dry lignocellulosic materials per hour. Borregaard in Norway developed this technology so the pilot is located on their site. They are specialists of fractionation processes on lignocellulosics, being involved in the forest industry. Of course, their new technology developed within the EuroBioRef project is versatile and could be profitably transposed to lignocellulosics other than trees.
A short list of the most relevant jet fuel properties has been prepared and the testing schedule has been fixed. Viscosity and density properties of firstly received samples were evaluated. Various options for modification of test stand fuel supply systems were analyzed and the most suitable version was chosen. The test combustion chamber was prepared for investigation of bio-aviation blending/combustion performances, and is now ready.
Expected Final Results, Intentions for Use and Impact

Business results are expected on:
Demonstration of the economic and technical over performance of biobased products including bio-aviation fuels and chemicals markets. The project will thus boost commercialization of biobased products and propose new bio-aviation fuel blends especially for passenger transportation companies;
Demonstration of the increase in economic performance due to use of second-generation feedstock. By using the whole plant in a zero waste concept, a cost reduction of the final products is expected;
Demonstration of the sustainable value chain of non-food crops cultivated in synergy with food-crops. The project proposes cultures rotation strategies that will benefit both food and non-food crops yields, thus strongly limiting or even suppressing unethical competition between them;
Definition of final products specifications and tests of new products to be able to propose them directly to customers.
Scientific innovations are focused on:
Methods for conceptual process design widely applied in the chemical sector towards bio-/chemical applications. This will increase knowledge in the field and it will be possible to further adapt the developed methodologies to other reactions;
Heterogeneous, homogeneous, and enzymatic catalytic systems including fermentation and optimization of the formulations taking into account the purity of the feedstock. New catalytic reactions. This is a main core innovation that will enable the development of biorefineries by efficiently enabling chemical transformations, while proposing families of catalysts that are specifically adapted to biomass & biomass-derived products specificities;
New low energy separation techniques and adaptation to biomass-derived products, which will enable lowering of the overall cost;
New reactor technologies for minimizing production of by-products while enabling substantial energy savings;
Co-product reutilization technologies in order to further increase the attractiveness of the process;
Integrated reaction/separation technologies for optimized process design;
Development of new purification technologies of fermentation broth using green solvents, which will further improve the overall sustainability extent.

Technical advancements are expected on:
Crop rotation optimization for Northern/Southern Europe and Africa, selection of appropriate sustainable biomass feedstock for diverse EU environments. This will have a strong impact on the EU agricultural background/landscape/practice and rentability;
Rationalization of the chain elaborated to yield each product and global integration/optimization of the whole process including logistics and up-front life cycle analysis (LCA) for selection of economically sustainable products and process routes;
Quality control of a variety of feedstocks for a variety of end-products to set high standards;
Elaboration of multidisciplinary processes combining heterogeneous/homogeneous catalysis with enzymatic catalysis, which will impact on the way of thinking for further developments of biorefinery processes, by giving evidence of the benefits of such interweaving;
Demonstration at the lab/bench scale of the sub-units described in the project and demonstration at the pilot scale of integrated production chains for significant products. Some demos will be also done at the industrial level. This will also give concrete evidence and then promote further deployment of the technologies;
Integration of several reaction and separation steps for high selectivity and conversion, energy and Capital investment costs savings.

Sustainability assessment and performances
Specific logistic methodology for cultures in Northern and Southern Europe;
LCA methodology for evaluation of environmental performances;
Economic modeling for assessment of economic viability;
Sustainable assessment of the whole chain for economics.
This assessment is crucial, and a strong collaborative harmonization effort between the four sister projects (EuroBioRef, Biocore, Suprabio, and Starcolibri) in the EU will enable selection and definition of common criteria to enable direct and reliable comparison between competing processes/technologies.

Socio-economic impact and societal implications of the project
Creation of specialized jobs in rural areas, where usually the scope of available jobs is limited to more manual and non-technological ones;
Developing business/side businesses in local economies;
It is estimated that 200,000 jobs could be created by the four EU initiatives.
Preparation of the exploitation plan of the project (see Fig. 1)
EuroBioRef is preparing its exploitation plan taking into account sales from each of the partners in 2017 and at mature market, and self-assessing a probability of success. The work plan is adjusted accordingly in order to increase the chances to reach the market and to cross the "Valley of Death". This means each partner will receive a share of the revenues for each developed technology. For academics, this means mainly patent royalties.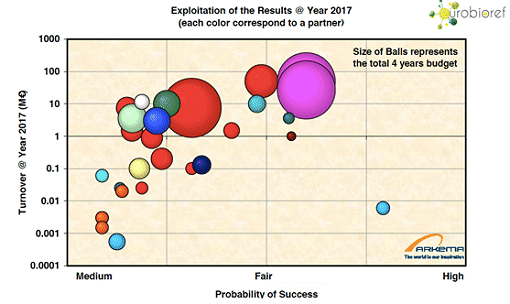 Figure 1. Currently expected turnover in 2017 as a function of the probability of success assessed in year two.

---
Eurobioref, EUROpean multilevel integrated BIOREFinery design for sustainable biomass processing
Also of interest