Biological imaging in the red and near-infrared (NIR) region is favorable due to its deep tissue penetration and minimal background auto-fluorescence caused by the biomolecules present in living systems. Unfortunately, to date only a limited number of photostable NIR small-molecule fluorophores have been described.
Xiaojun Peng and colleagues, State Key Laboratory of Fine Chemicals, Dalian University of Technology, China, have developed a series of photostable fluorescein analogues (pictured) with absorption and emission in the red or near-infrared region. The synthetic route exploits a Vilsmeier reaction and Knoevenagel condensation.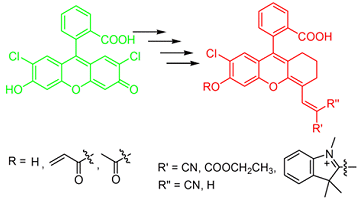 The new compounds exhibit good photo-physical characteristics. Potential modification of the hydroxyl group provides a method by which the fluorescent properties can be tuned. Three of the analogues specifically localize in mitochondria and one can be utilized to detect Cysteine (Cys) with a turn-on fluorescence in vitro and in vivo.
Based on these results, these new analogues will surely find further applications in the future.
---
Construction of Long Wavelength Fluorescein Analogues and Their Applications as Fluorescent Probes,
Xiaoqing Xiong, Fengling Song, Gengwen Chen, Wen Sun, Jingyun Wang, Pan Gao, Yukang Zhang, Bo Qiao, Wenfang Li, Shiguo Sun, Jiangli Fan, Xiaojun Peng,
Chem. Eur. J. 2013.
DOI: 10.1002/chem.201300418