Under the ProcessNet 21plus – Shaping the Future initiative, the latest developments and research results in the field of chemical and process engineering and biotechology were presented in an interdisciplinary environment. Around 1300 participants from industry and academia met at the joint ProcessNet Annual Conference and the 31st DECHEMA Annual Meeting of Biotechnologists at the Eurogress in Aachen, Germany, from September 29 to October 2.
ProcessNet is the joint platform of chemical and process engineers of DECHEMA (Society for Chemical Engineering and Biotechnology) and the VDI-GVC (Society for Process Engineering and Chemical Engineering).

During the breaks.
The meeting included plenary, overview and tandem talks, as well as 240 talks and 300 posters on topics such as zero energy emission, bioeconomy and bio refinery, particle technology, process integration, electrochemical processes.

Dr. Martin Brudermüller, BASF SE, Ludwigshafen, Germany, for example, discussed the challenges of the chemical industry with regard to change in raw materials. Fossil raw materials vary regionally in relation to availability and price. In North America the wide availability of inexpensive shale gas has led to a new resource situation for the petrochemical industry. In China, the share of coal in chemical production has increased. In general, the demand for products based on renewable raw materials has increased as well. Therefore, the global chemical industry has to become much more flexible with regard to production processes. In addition, the sustainability of chemical products has to be secured by life-cycle considerations (from raw material to application). For process technology this results in a great opportunity – but also the need – to develop sustainable, resource-efficient, and value-adding processes.
Professor Wolfgang Marquardt, Research Center Julich, Germany, thinks that we need to think what we have not thought before to create new solutions for a societal transformation. We need to merge knowledge and form new cooperations to integrate the user much earlier in co-design and co-production processes.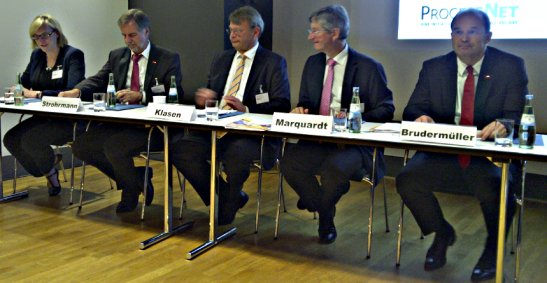 Press conference from left to right: Dr. Kathrin Rübberdt, DECHEMA, Professor Martin Strohrmann, BASF SE and Chairman of the ProcessNet steering committee, Dr.-Ing. Claas-Jürgen Klasen, Evonik Industries AG and Chairman of VDI-GVC, Professor Wolfgang Marquardt, former Chairman of the Science Council of the Federal Government of Germany and Chairman of the Research Center Jülich GmbH, Dr. Martin Brudermüller, Deputy Chairman of the Board of BASF SE.
Awards
The opening address included an award ceremony in which the Gerhard Damköhler, Emil Kirschbaum, and Hans Rumpf medals were presented by Professor Martin Strohrmann of BASF SE and chairman of the ProcessNet steering committee. These ProcessNet awards went to Professor Dr. Massimo Morbidelli, ETH Zürich, Switzerland, Professor Dr.-Ing. Andrzej Górak, Technische Universität Dortmund, Germany, and Professor Dr.-Ing. Karl-Ernst Wirth, Universität Erlangen-Nürnberg, Germany, respectively. (Picture bottom right)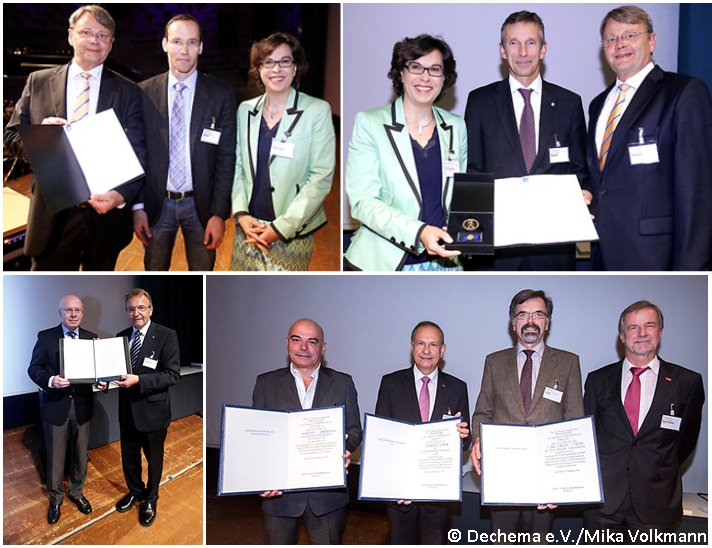 The Arnold Eucken Prize of the VDI-GVC was presented by Dr.-Ing. Claas-Jürgen Klasen, Evonik Industries AG and Chairman of VDI-GVC, and Dr. Ljuba Woppowa, CEO of VDI-GVC. It was awarded to Professor Christoph Müller, ETH Zürich, Switzerland. Müller was awarded for his outstanding contributions to sustainable energy conversion. (picture above: top left)
The golden VDI Medal of Honor went to Dipl.-Ing. Achim Noack. He received the award in particular for his initiative to support chemical engineering in Germany. Achim Noack has crucially shaped the VDI-GVC and ProcessNet and contributed to their success. Owing to his enormous volunteer work he has succeeded in an extraordinary way in bring together the interests and concerns of industry and research and in promoting Germany as a sustainable production location. (picture above: top right)

Professor Dr.-Ing. Joachim Werther, Technische Universität Hamburg-Harburg, Germany, was honored by the GVT (Forschungs-Gesellschaft Verfahrens-Technik e.V) with the Arnold-Eucken-Medaille 2014. Professor Norbert Schadler, Chairman of the GVT, presented the award. (picture above: bottom left).
ChemCar Competition
Once again, the ChemCar competition was a highlight of the conference. It was organized by the Creative Young Process Engineers (kjVI). Entrants were challenged to develop a vehicle that was propelled by one (bio)chemical reaction and capable of traveling a set distance and with set weight. Both were unknown until shortly before the event.
Eight teams presented their car on a poster and passed a security check to enter the ninth race held during the second lunch break of the conference.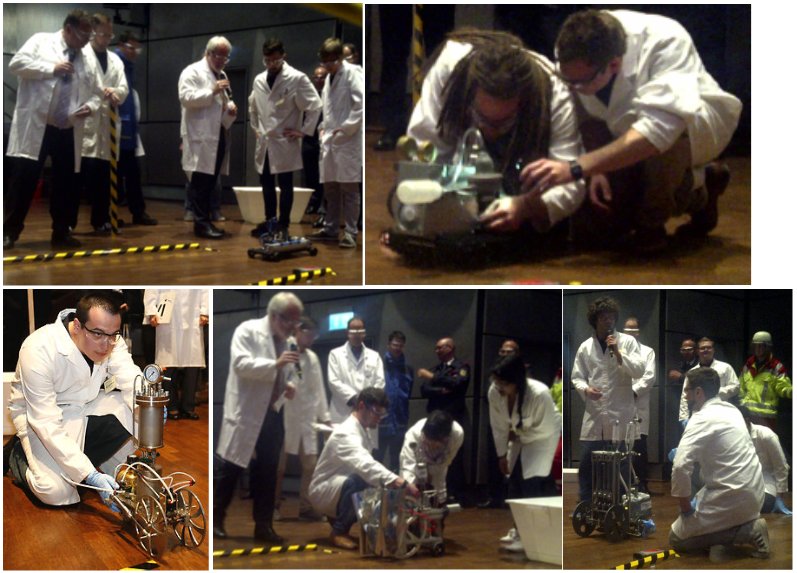 At the starting line from top left to bottom right: Jordan Racing from FH Münster, C3 (Clausthaler ChemCar) from TU Clausthal, Cologne Pistons from FH Cologne, ReeKIT from Karlsuher Institut für Technology (KIT), and Nitinol Bolide from TU Dortmund.
Professor Dr.-Ing. Jürgen S. Kussi, Bayer Technology Services GmbH, Dormagen, and Professor Dr.-Ing. Gerhard Schembecker, Universität Dortmund, moderated the competition with lots of humor.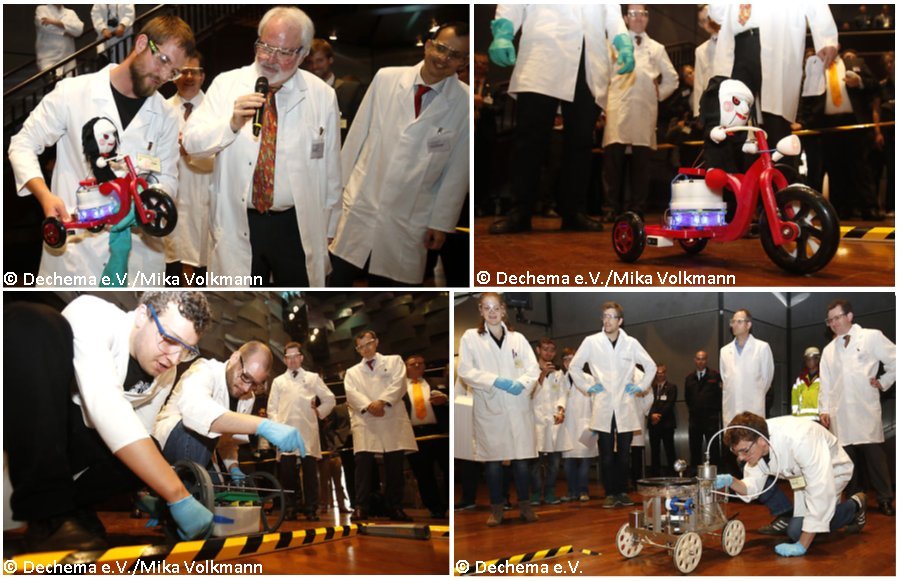 Team Oktan from TU Lodz, Poland, delighted spectators with a clown on their vehicle. Unfortunately, it refused to drive the car to victory. MFC Lion from TU Braunschweig used gravity shift for driving and a methane fuel cell as energy source. RWTH Aachen presented their HydRotor.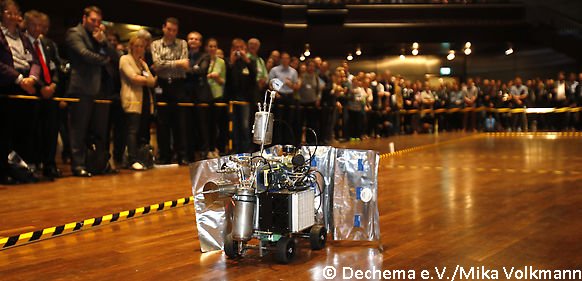 The car of the ReeKIT team was driven by the decomposition of formic acid to carbon dioxide with the aid of a suitable catalyst. The resulting gas pressure drove the so-called FESTO fluidic muscles, an artificial muscle contraction system.
The winners were announced at the conference dinner. The first three prizes went to HydRotor from RWTH Aachen (ChemCar cup and 2000 €), Jordan Racing from FH Münster (1000 €), and the Cologne Pistons from FH Cologne (500 €).
Shaping the Future
Klaus Burmeister from z-punkt GmbH, Köln, a leading strategy and foresight consultancy that operates internationally and focuses on strategic future issues, gave a concise and lively presentation where he predicted that society will become more digitalized and individual customer solutions more important in the future. He illustrated our future through buzzwords such as smart home, urban networking, industry 4.0 and 3D printing, real-time economy, security, product-to-system innovation, big data, resource efficiency, super convergence, and databased value chains.
In June 2014, the future forum of DECHEMA's biotechnology section presented a paper that outlines in detail the potentials of biotechnology for shaping the future. But do science and industry already do enough? Dr. Kurt Wagemann, Executive Director of DECHEMA, and Professor Roland Ulber, Technische Universität Kaiserslautern, Germany, moderated a lively panel discussion addressing this.
Five main topics (raw materials and recycling; synthetic fuels; electrification of chemical processes; industrial waste management; resource efficiency) were identified and each was presented by one person during the discussion: Professor Dr. Martin Bertau, TU Bergakademie Freiberg, Professor Dr. Walter Leitner, RWTH Aachen; Dr.-Ing Georg Markowz, Evonik Industries AG, Dr. Gerd Sagawe, EnviroChemie GmbH, Roßdorf, and Professor Dr. Thomas Hirth, Fraunhofer IGB und University of Stuttgart.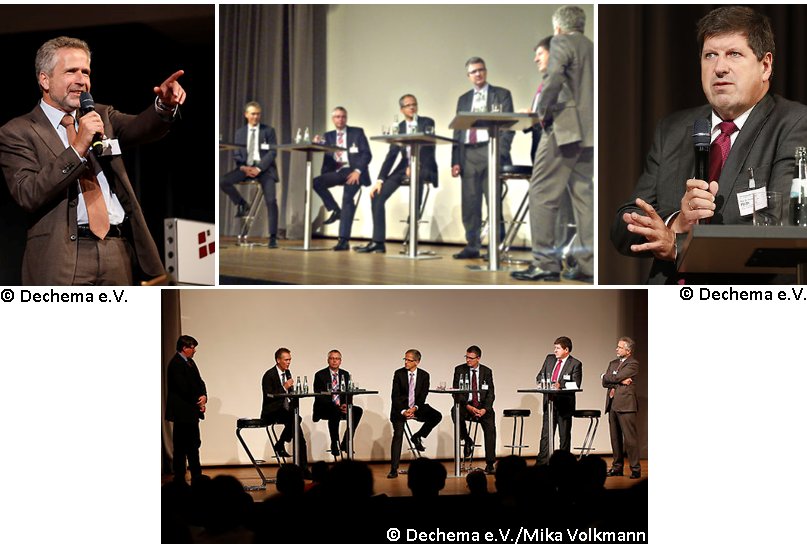 Professor Ulber concluded that everybody who knows a bit about microbial growth knows that the exponential growth phase – in which humanity is at the moment – is followed first by the stationary growth phase and then the die-back phase. We are the only organisms to be aware of this and, therefore, can do something against it. However, to do so, we need to accept the challenge, address the areas of action, and actually solve the problems. We thus need to work on developments, combat wrongheaded political opinions, develop solutions, and exchange such solutions, e.g., every two years at this meeting.
Last But Not Least …
As in previous years, all abstracts from the conference can be found in a special issue of Chemie Ingenieur Technik.
The ProcessNet 2016 and the 32nd DECHEMA meeting of biotechnologists will be held in Aachen, Germany, September 13–15, 2016.
---