The improvement seen in the first quarter looks set to continue. The second quarter results show steady growth for the chemical industry.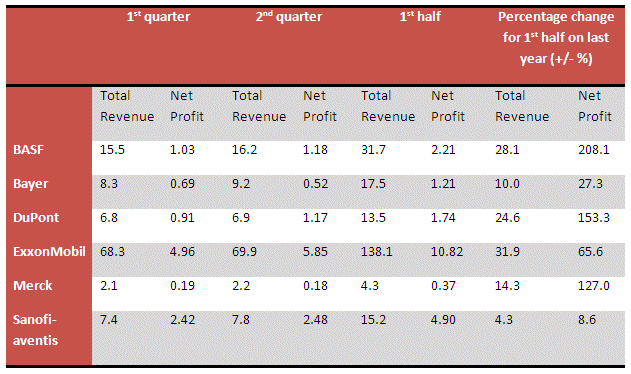 (Figures reported here in billion Euros. US companies' profits originally reported in US $, conversion to EUR accurate as of 3/8/2010. Data from each company's press release.)
---
Merck KGaA Q2/2010: Profit After Tax Jumps 70 % to EUR 187 Million
Total revenues increase 16 % to record EUR 2.2 billion
Rebif® sales up 4 % to EUR 402 million
Erbitux® sales rise 23 % to record EUR 210 million
Liquid Crystals revenues soar 50 % to record EUR 284 million
2010 Group outlook with Millipore: operating result to improve by 90 %
"The pleasing results of the second quarter, with total revenues well over two billion euros, show that our excellent first quarter was setting the course for the year," said Dr. Karl-Ludwig Kley, Chairman of the Executive Board of Merck KGaA.
---

ExxonMobil: Second Quarter Highlights
Earnings excluding special items were $7,560 million, an increase of 85 % or $3,470 million from the second quarter of 2009.
Earnings per share excluding special items were $1.60, an increase of 90 %.
Share purchases to reduce shares outstanding were over $1 billion.
Dividends per share of $0.44 increased by 5 % compared to the second quarter of 2009.
The merger with XTO Energy, a leading U.S. unconventional natural gas and oil producer, was completed on June 25, 2010, making ExxonMobil the largest U.S. natural gas producer. Through this transaction ExxonMobil has acquired a resource base in excess of 45 trillion cubic feet equivalent at a cost of under $1 per kcf equivalent.
Exxonmobil's chairman Rex W. Tillerson commented: "Second quarter earnings were up 85% from second quarter of last year reflecting higher crude oil realizations, improved downstream margins, and strong chemical results. We continued our focus on investing for the future with capital and exploration spending of $13.4 billion year to date, up 9% from the first half of last year."
---
BASF Group 2nd Quarter 2010
Global economic recovery continues in second quarter 2010
Sales grow by 30 % to €16.2 billion; higher sales volumes and prices in nearly every division
Earnings improve substantially by 94 % to €2,206 million; strong earnings growth in almost all divisions
Earnings decline in Agricultural Solutions due to targeted increases in selling expenses as well as research and development expenses; slight increases in earnings in Oil & Gas thanks to larger gas trading volumes
Sale and earnings in the chemicals business also rise compared with first quarter of 2010
Dr. Jürgen Hambrecht, Chairman of the Board of Executive Directors stated: "We expect our sales to grow in 2010 and outpace global chemical production. We anticipate that EBIT before special items will improve considerably and we will again earn a premium on our cost of capital. According to our dividend policy, we expect a higher dividend for 2010."
---
Bayer increases sales and earnings in the second quarter
Q2 sales €9.2 billion (+14.6 %)
EBITDA before special items €1.9 billion (+8.6 %)
Core earnings per share €1.15 (+9.5 %)
Increased investment for the future: R&D spending up 12.7 %
Group outlook confirmed for 2010
"MaterialScience has left the crisis behind and saw business expand more strongly than expected. Volumes have returned to the pre-crisis level," explained Management Board Chairman Werner Wenning. "We now expect research and development expenses for the full year to come in at a record level of some EUR 3.1 billion."
---