The Austrian Chemical Society (Gesellschaft Österreichischer Chemiker, GÖCH) was established in 1897, originally as Association of Austrian Chemists (Verein Österreichischer Chemiker, VÖCH). There are currently about 1900 members of which approximately 20 % are student members. Members are from academia, industry and government organizations, but a considerable number are also educators, especially high school teachers.
Professor Herbert Ipser, University of Vienna, Austria, is President of the GÖCH since 2011. Here he talks about the importance of chemical societies, his goals for GÖCH, and how to reach the next generation of chemists.
Why does anyone need a Chemical Society in Austria?
It has been and still is my dream that the Austrian Chemical Society should be the society of all Austrian chemists, representing their interests towards the public. In a country like Austria, known to many as a country of Arts and Music, scientific technical education is not always rated a highest priority.
In a country where prominent persons may sometimes mention, tongue in cheek, "that they never understood much of chemistry", it is important to point out the enormous role of chemistry and chemical industries for their wellbeing and quality of life. Really everybody, independent of his or her education, should be aware that a good part of our standard of living is due to the achievements of chemistry. This goal should really unite all chemists in my country.
In addition, GÖCH has to be a reliable contact for government officials and representatives as far as legislation with respect to chemicals and to the environment is concerned. At the same time it must also play its role in the development and discussion of curricula involving chemistry on every level of education, i.e. primary schools , secondary schools as well as universities.
How does your society communicate the importance of chemistry to the public?
Fortunately, I started my first term as a president in the year 2011, the International Year of Chemistry (IYC2011). This was an excellent opportunity, in cooperation with the Association of the Austrian Chemical Industry and the Association of Austrian Chemistry Teachers, to communicate the role of chemistry in everyday life through lectures, open house days, and various activities with companies. In particular, the various activities in schools were extremely successful, as children are usually quite curious, and quite often they will pass on their excitement to parents and relatives.
In addition, together with the same partners, we have organized so-called "Weeks of Chemistry" in Austria in the years 2004, 2006, and 2011. We are currently planning another one for September/October 2015. The main topics in 2015 will be
Chemistry and Health
Chemistry and Energy
Chemistry and Clean Water
Chemistry in Everyday Life
Chemistry and Society
Various activities are again planned for this "Week of Chemistry 2015".
What other services does your society offer?
As other societies, GÖCH advertises job openings and supports members searching for jobs.
The society organizes or co-organizes various conferences and meetings, either by itself or through its Working Groups. This includes, for example, in 2015 the 15th European Conference on Solid State Chemistry in Vienna (together with EuCheMS and the University of Vienna) or the 16th Austrian Chemistry Days in Innsbruck.
As mentioned above, the society also participates in amending new laws and regulations concerning chemistry issues.
Which channels of communication does your society use?
For quite some years already GÖCH has been informing its members four times a year through special pages within the news magazine of the German Chemical Society (GDCh), the Nachrichten aus der Chemie. This has been a fruitful cooperation with the German society: not only do all members of GÖCH receive this journal four times a year, with the chance to read about chemistry in Germany, but all members of GDCh also learn about the situation in Austria and the activities of the Austrian Chemical Society.
Of course, another channel of communication are the website of GÖCH, which is regularly updated, as well as the websites of the different Working Groups (although some find it a challenge to keep them topical).
How is the society governed?
The society is headed by the Executive Committee which meets usually three times a year in person. The Executive Committee is also intended to represent different parts of Austria and to represent both academia and industry. Currently, it consists of one president (Herbert Ipser) and five vice-presidents (Dietmar Grüll, treasurer; Hubert Huppertz; Nicola Hüsing; Gerhard Kern, representing chemistry teachers; and Werner Sitte; as well as Wolfgang Buchberger representing ASAC, the Austrian Society for Analytical Chemistry). Actually, for quite some time it has been the rule that the presidents come alternately from academia and from industry: as I am from a university, my predecessor Haio Harms was from a big company; and we are currently looking for a new president, again coming from industry. Of course, all work for GÖCH is voluntary.
Important decisions for the society have to be taken by the General Assembly that meets once a year. Daily business is run by the Managing Director Erich Leitner and the secretary Gabriela Ebner.
Which interests do the Working Groups represent?
There are currently 15 Working Groups covering virtually all fields of Chemistry. One additional Working Group, the Young Chemists, represents the chemistry students and interact closely with the EYCN (European Young Chemists Network). In addition, there are six Local Branches to represent GÖCH in all parts of Austria.
A special case is the Austrian Society for Analytical Chemistry (ASAC) which is a separate society within GÖCH and represents the analytical chemists.
How does your society reach out to students and young chemists?
GÖCH actively invites students to become members because it is obvious that they are the society's future. Students are supported by travel grants to attend the Austrian Chemistry Days (where they are exempted from any registration fee) and other national or international meetings in order to present the results of their research.
In addition, there is the Anton Paar Science Award for young researchers, the GÖCH Award for the Best Diploma/Master Theses, and the GÖCH Award for the Best Doctoral Theses. Recently added were the GÖCH Habilitation Award (for young scientists about to finish their habilitation thesis) and the Monatshefte/Chemistry Monthly Fellowship supporting doctoral students.
These awards are made possible through the financial support of a private fund (Santner Privatstiftung) and of the Association of the Austrian Chemical Industry, and by the income from a journal partly owned by the society (Monatshefte für Chemie/Chemistry Monthly).
Are there any awards or prizes for senior members?
First of all, recognition is given to a large number of Honorary Members, the very first of them being Carl Auer von Welsbach; the long list ends with the names of Jean Marie Lehn, Carl Djerassi (who passed away just recently), and Venčeslav Kaučič.
The Auer von Welsbach Medal has been awarded regularly for chemists successful in chemical industry, the last two recipients being Haio Harms and Hugo Ortner. For excellence in academic research in Austria the Society awards the Josef Loschmidt Medal; here it was Bernhard Kräutler and Ulrich Schubert who were the most recent awardees. Finally, people who actively support the Society are presented an Honorary Diploma.
What is the role of your society in Europe?
There has always been a very close cooperation between the Austrian and the German Chemical Society (GDCh). This is documented by the so-called "double membership": for scientists who are members of both societies the membership fee in the other country is reduced by 50 %.
On the other hand, Austria is a country right in the center of Europe. Former president Haio Harms initiated a program of close cooperation with all other neighboring societies, i.e., with the Slovenian, Hungarian, Slovakian, and Czech Chemical Societies. This cooperation is particularly illustrated by commonly organized meetings like the biannual Austrian Chemistry Days. In fact, the 16th Austrian Chemistry Days in September 2015 in Innsbruck are being organized in cooperation with the Italian Chemical Society, thus initiating an additional cooperation within Europe.
Of course, GÖCH is also a member of EuCheMS (the European Association for Chemical and Molecular Sciences), and its former president Ulrich Schubert was president of EuCheMS for four years (2011–2014). Despite being one of the smaller societies in Europe, GÖCH tries to be actively involved in most of the EuCheMS Divisions and Working Groups.
Does the society own any scientific journals?
GÖCH and the Austrian Academy of Sciences commonly own the journal Monatshefte für Chemie/Chemical Monthly which is published by Springer. The society's income from this journal is used to fund the GÖCH Habilitation Award and the Monatshefte/Chemistry Monthly Fellowship.
GÖCH is also a partner in ChemPubSoc Europe and through that owns a small share of the corresponding journals. I have to say that it was an extremely wise decision of the previous Executive Committee to join ChemPubSoc Europe. For example, the portfolio of journals has developed very well.
Any plans for the future?
I would hope that the membership remains stable or rather grows in the near future. Only with the broad support of many members it is possible to play an active role. As I have pointed out before, we want to be a society for members from academia and from industry, and thus I hope that GÖCH will be able to further improve its services for both groups.
Thank you for the interview.
---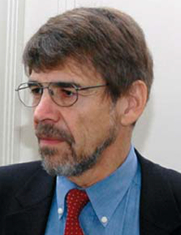 Herbert Ipser, born in Vienna, Austria, on September 22, 1947, studied chemistry at the University of Vienna. In 1974 he gained his PhD and was awarded a Fulbright grant in the same year. This enabled him to do post-doctoral research at the University of Wisconsin, Milwaukee, USA, in the group of Austin Chang. Ipser returned to the University of Vienna as University Assistant in the Institute of Inorganic Chemistry in 1976. In 1986 he successfully presented his habilitation treatise "Thermodynamics of NiAs-Phases". In 1998, Herbert Ipser became Full Professor for Inorganic Chemistry at the University of Vienna.
In 2002 Herbert Ipser initiated the European project COST 531 on "Lead-Free Solder Materials". He is President of the Austrian Chemical Society (Gesellschaft Österreichischer Chemiker, GÖCH) since 2011.
Herbert Ipser's research focusses on the field of materials chemistry. His main interests currently are solid state chemistry and liquid metals and alloys.
Selected Publications