Earlier this year the Royal Society of Chemistry (RSC) published a graph demonstrating the high quality of society journals compared to other publishers' chemistry journals. Their data showed the RSC being first, followed by the American Chemical Society (ACS). The analysis was based on the percentage of journals with Impact Factors over 3.0.
This made us curious:
How does this look for ChemPubSoc Europe, the organization of 16 European chemical societies that have joined forces to publish not only ChemViews but also a suite of market-leading peer-reviewed journals like Chemistry – A European Journal together with Wiley-VCH?
The organization publishes eight journals and supports one more, Chemistry – An Asian Journal. In addition, the GDCh, a member society, publishes Angewandte Chemie.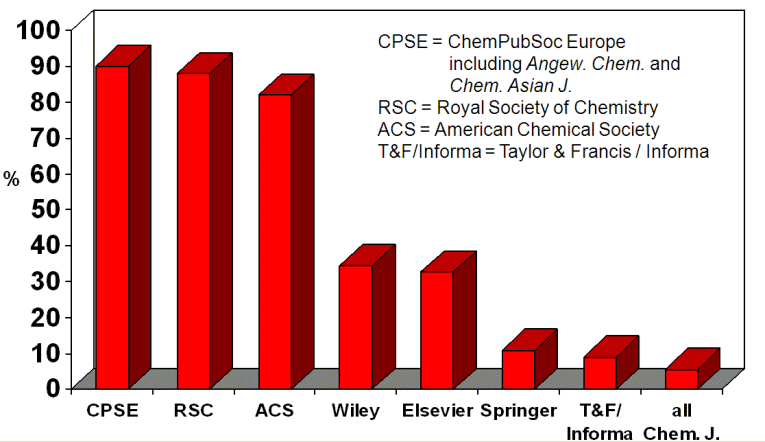 Figure. Percentage of journals with Impact factor over 3.0.
As shown in the figure, the 2009 announced Impact Factors show that the quality of the ChemPubSoc Europe journals is slightly better than the of the RSC and ACS journals: 90 % of the ChemPubSoc Europe journals have an Impact Factor over 3.0. 88 % of the RSC's and 82 % of the ACS's journals have an Impact Factor over 3.0.
---
RSC continues to achieve high impact publishing,
RSC News, August 2010.
Sponsored content is not written by and does not necessarily reflect the views of ChemistryViews's editorial staff.