The EuCheMS Award for Service 2015 has been awarded to Professor Helena Grennberg, Uppsala University, Sweden by the European Association for Chemical and Molecular Sciences. The award was presented at the 6th EuCheMS Chemistry Congress in Seville, Spain, on September 11, 2016. Another EuCheMS Award for Service was given to Professor Anthony Smith, École supérieure de chimie physique électronique de Lyon, France, at the European Chemistry Thematic Network (ECTN) General Assembly in Gdańsk, Poland in April 2016.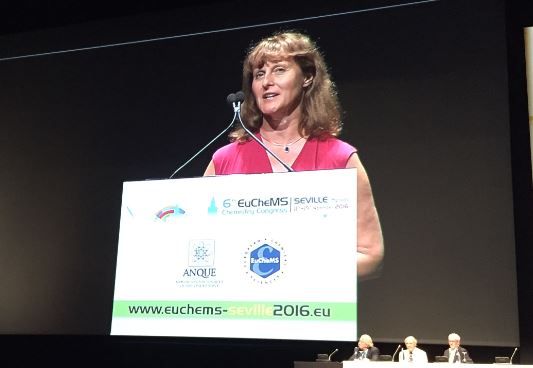 The EuCheMS Award for Service honors outstanding commitment with regard to fostering chemistry and molecular sciences in Europe and the goals of EuCheMS. In addition to recognized service to EuCheMS, this may include activities in governmental, non-governmental or funding organizations, as well as publicity-related activities.
According to EuCheMS, Helena Grennberg served the chemical community in Europe in many respects and made important contributions to shaping the profile of EuCheMS. She served as Chairperson of the EuCheMS Division of Organometallic Chemistry, as a Member of the EuCheMS Executive Board from 2007 to 2013, as Scientific Chair of the 5th European Chemistry Congress in Istanbul 2014, and as President of the Swedish Chemical Society since 2012.
Helena Grennberg studied chemistry at Uppsala University, Sweden, and earned her PhD in organic chemistry in 1992. From 1993 – 1994, she did post-doctoral research at the Université René Descartes, Paris, France. In 1996, she became "Docent" in organic chemistry at Uppsala Universit, in 1996 Senior lecturer, and in 2005 Professor of organic chemistry.
Among other honors, Helena Grennberg was awarded the Göran Gustafsson support for young investigator prize in 2004, and the Kungliga vetenskaps-societetens Benzeliusbelöning prize in 2004.
---
Selected Publications