The red rose is the traditional Valentine's Day flower. Where does the color come from?
Anthocyanins produce the red color in roses. They belong to the family of flavonoids. Flavonoids include anthocyanin, anthocyanidins and flavones and flavonol pigments. Anthocyanins are obtained from anthocyanidins by adding sugars. The skeleton of flavonoids consists of three cycles, two benzene rings and an oxygenated heterocycle, which carry hydroxyl groups in various positions.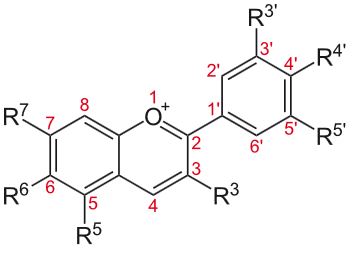 Anthocyanins are water-soluble pigments found in the cell vacuole. They may appear red, purple, magenta, or blue depending on the pH and occur in leaves, stems, roots, flowers, and fruits. Anthocyanins can also be found for example in blue poppies, eggplants (aubergines), blood oranges, blackberries, raspberries, cherries.
In 1914, Nobel Prize winner Richard Willstätter was able to isolate the same pigment from the blue cornflower and the red rose, which turned out to be cyanine, the diglucoside of cyanidin. Cyanine appears in strongly acidic solution orange to red, in weak acid to neutral purple to violet, and in alkaline medium blue. Cyanidine is a dye belonging to the group of anthocyanidins.
---
Previous Valentine's Day Articles
Spread Joy on Valentine's Day,
Ricardo Nowack,
ChemViews Mag. 2016.
On Valentine's Day everybody can spread joy – even in the lab
Chemistry for Valentine's Day,
ChemViews Mag. 2015.
The red rose remains the most popular flower to give on Valentine's Day and chocolate is always a good idea
thumbnail image: Chemistry for Valentines Day
Chemistry of Rose Pigments,
ChemViews Mag. 2014.
The color of a rose, the most popular flower on Valentine's Day, is determined by chlorophylls, flavonoids, and carotenoids