The annual Times Higher Education (TimesHE) University Ranking for 2012/2013 has been published. The overall rankings placed California Institute of Technology (Caltech), USA, in the top position, with Stanford University, USA, and the University of Oxford, UK, joint second. As with the Shanghai World University Rankings published earlier this year, the US and the UK dominate the top 20 (see below).
Several universities are notable for the difference in position from the Shanghai Ranking. Shanghai leader, Harvard University, and fourth placed Caltech, switch places in the TimesHE ranking, while only two UK institutions made the Shanghai top 20 compared with three in the TimesHE ranking.
In both rankings, only one non-English speaking country appeared the top 20: ETH Zurich, Switzerland, in the TimesHE and the University of Tokyo, Japan, in the Shanghai Ranking.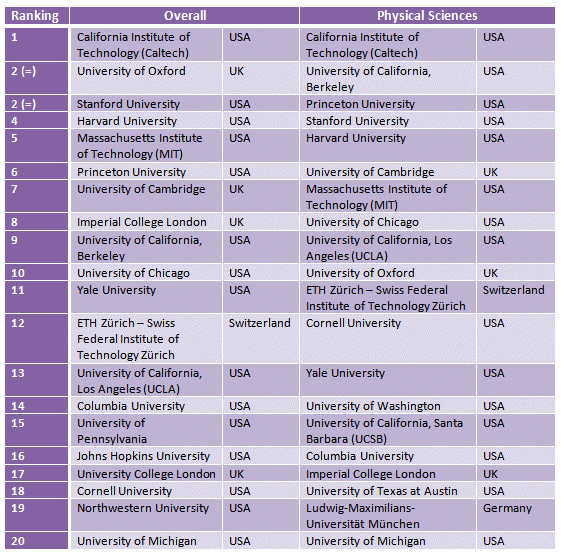 Overall Top 200
The TimesHE Ranking is less international this year compared with last year. Only 24 countries are in the top 200, two fewer than last year.
In the TimesHE top 200, the US continues to dominate, with a total of 76 institutions – one more than last year and 45 more than any other nation. The UK has 31 representatives, followed by the Netherlands with 12. However, many US and UK institutions have fallen compared with last year, being displaced by Asia-Pacific universities. These are led by the University of Tokyo, Japan, in 27th place and closely followed by the University of Melbourne, Australia, and the National University of Singapore in 28th and 29th place, respectively.
The Middle East's leading institute is the Hebrew University of Jerusalem, Israel, ranked 137th, and the first South American university in the ranking is the University of São Paulo, Brazil, at position 158.
Methodology
The TimesHE ranking uses 13 performance indicators that are grouped into five areas:
Teaching: the learning environment (30 % of the overall ranking score)
Research: volume, income and reputation (30 %)
Citations: research influence (30 %)
Industry income: innovation (2.5 %)
International outlook: staff, students and research (7.5 %).
---
TimesHE Rankings:
See also:
University World Ranking 2012 (Shanghai Ranking)
Harvard remains the number one in the world for the tenth year; five Chinese universities move into the Top 500 for the first time
University World Rankings (2011)
TimesHE ranks the American universities top in league table headed by Caltech with Harvard and Stanford second and third