The last REACH registration deadline for existing chemicals will be on 31 May 2018. The deadline concerns companies that manufacture or import substances in low volumes, between 1–100 tonnes per year.
It is expected that up to 70,000 registrations will be prepared for this deadline, three times more than for either of the previous deadlines. A lot of the registrants are expected to be inexperienced in REACH registration processes and located outside the chemical sector. There will be more small and medium-sized enterprises (SMEs) than for the previous registration deadlines. Large companies may also have hundreds of chemicals in their portfolios to register. Therefore, the European Chemicals Agency (ECHA) has published a REACH 2018 Roadmap explaining in seven steps how to register.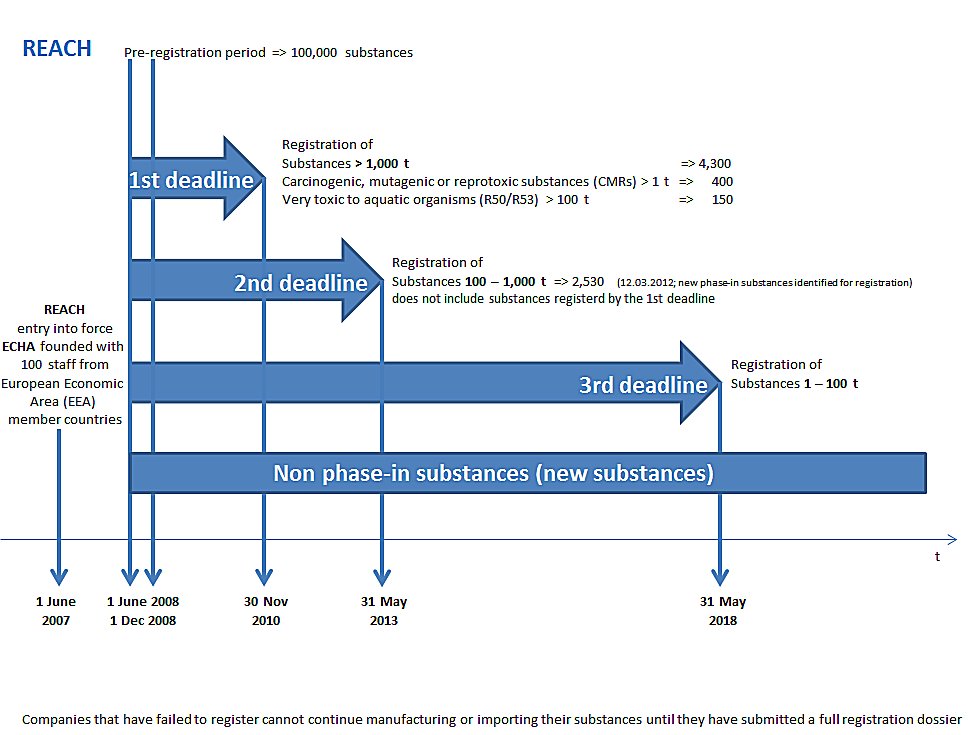 1. Does the registration deadline affect you?
ECHA recommends, for example, to watch their webinars or to contact their helpdesks.
2. Finding co-registrants
When a company needs to register its substances, the next step is to find its co-registrants. REACH foresees only one registration per substance. Companies registering the same substance are expected to share their data and to submit their registration jointly. To bring potential registrants of the same substance together, the SIEF-IT System should help.
3. Cooperating with co-registrants
You have to get in contact with other potential and/or existing registrants of the same substance. A so called SIEF (Substance Information Exchange Forum) has to be set up. It brings together companies registering the same substances so that they can share data. A Lead Registrant is nominated who in the end submits the joint dossier. Questions discussed include what language(s) to use, cost-sharing, how to accommodate newcomers to a SIEF, how disputes are resolved.
.
4. Assessing and documenting hazard and risk information in the registration dossier
This includes collecting of information on hazardous properties and uses of the substance, assessing the resulting exposure, and documenting all this in the registration dossier.
5. Preparing registration dossier in IUCLID
The information has to be entered in IUCLID, the mandatory format for data submission to ECHA.
6. Submitting registration
Finally, the company has to send the dossier to ECHA through REACH-IT. ECHA plans to revise the system before the registration deadline.
7. Keeping registration up-to-date
It is the responsibility of each registrant to ensure that registration dossiers are kept up to date.
---
Also of interest