Professor K. Barry Sharpless, 2001 Chemistry Nobel Laureate and Scripps Research Institute, La Jolla, CA, USA, explains how scientific discoveries are made.
Barry Sharpless held the August Wilhelm von Hofmann Lecture "Click Chemistry – New Directions" at the Science Forum Chemistry 2015 (or in German Wissenschaftsforum 2015) of the German chemical society (GDCh; Gesellschaft Deutscher Chemiker) in Dresden, Germany. We met him on the banks of the Elbe for this video.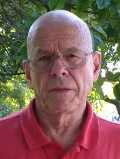 K. Barry Sharpless studied chemistry at Dartmouth College, Hanover, NH, USA, and Stanford University, CA, USA, where he received his Ph.D. in organic chemistry in 1968. He then performed postdoctoral research with James P. Collman at Stanford and with Konrad E. Bloch at Harvard University, Cambridge, MA, USA. In 1970, Sharpless joined the Massachusetts Institute of Technology (MIT), Cambridge. From 1977 to 1980, he was part of the faculty at Stanford University. Since 1990, he is W. M. Keck Professor at the Scripps Research Institute, La Jolla, CA, USA.
Professor Sharpless' research concentrates on developing methods for selectively controlling chemical reactions, with a special focus on the oxidation of olefins. The eponymous Sharpless epoxidation is a particularly successful example of this kind of chemical transformation.
---
Selected Publications
A Stepwise Huisgen Cycloaddition Process: Copper(I)-Catalyzed Regioselective "Ligation" of Azides and Terminal Alkynes,
Vsevolod V. Rostovtsev, Luke G. Green, Valery V. Fokin, K. Barry Sharpless,
Angew. Chem. Int. Ed. 2002, 41, 2596–2599.
DOI: 10.1002/1521-3773(20020715)41:14<2596::AID-ANIE2596>3.0.CO;2-4
Click Chemistry: Diverse Chemical Function from a Few Good Reactions,
Hartmuth C. Kolb, M. G. Finn, K. Barry Sharpless,
Angew. Chem. Int. Ed. 2001, 40, 2004–2021.
DOI: 10.1002/1521-3773(20010601)40:11<2004::AID-ANIE2004>3.0.CO;2-5
Catalytic Asymmetric Dihydroxylation,
Hartmuth C. Kolb, Michael S. VanNieuwenhze, K. Barry Sharpless,
Chem. Rev. 1994, 94, 2483–2547.
DOI: 10.1021/cr00032a009
Catalytic asymmetric epoxidation and kinetic resolution: modified procedures including in situ derivatization,
Yun Gao, Janice M. Klunder, Robert M. Hanson, Hiroko Masamune, Soo Y. Ko, K. Barry Sharpless,
J. Am. Chem. Soc. 1987, 109, 5765–5780.
DOI: 10.1021/ja00253a032
A greatly improved procedure for ruthenium tetroxide catalyzed oxidations of organic compounds,
Per H. J. Carlsen, Tsutomu Katsuki, Victor S. Martin, K. Barry Sharpless,
J. Org. Chem. 1981, 46, 3936–3938.
DOI: 10.1021/jo00332a045
The first practical method for asymmetric epoxidation,
Tsutomu Katsuki, K. Barry Sharpless,
J. Am. Chem. Soc. 1980, 102, 5974–5976.
DOI: 10.1021/ja00538a077

Also of Interest
Article Information