Professor Khalid Salaita, Department of Chemistry, Emory University, Atlanta, GA, USA, has been honored with the Future Insight™ Prize 2023 by Merck KGaA, Darmstadt, Germany, for the development of sensors to detect pathogens automated by DNA motors. The prestigious award, valued at EUR 500,000, was presented to him on July 11, 2022, during a one-day symposium held at Merck's headquarters in Darmstadt.
The Future Insight™ Prize aims to inspire innovative solutions to address major challenges in health, nutrition, and energy, thereby transforming aspirations for a better future into reality. It recognizes individuals who have made remarkable advancements through groundbreaking scientific discoveries or the development of transformative technologies.
Khalid Salaita and his research group are currently working on a platform technology that enables real-time automated surveillance and tracing of airborne pathogens. In this technology, DNA particles are set in motion by enzymatically consuming an RNA fuel source. These DNA motors have the capability to transport multiple copies of DNA cargo at velocities of up to 100 nm/min. Such motors hold promise in various applications such as biosensing, molecular computing, synthetic cell creation, and the systematic investigation of structure-function relationships at the nanoscale. Through this innovative approach, the researchers successfully detected SARS-CoV-2 using DNA motors, which they used to develop a mechanical-based viral sensing platform called Rolosense.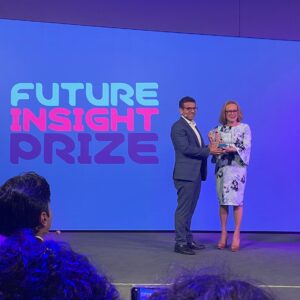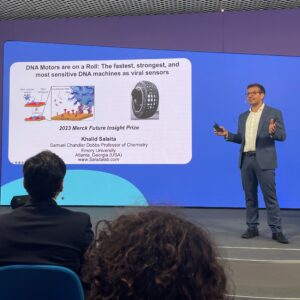 On the left: Belén Garijo, Chair of the Executive Board and CEO of Merck presents the award to Khalid Salaita. On the right: Khalid Salaita during his award lecture.
Academic Career
Khalid Salaita conducted his Ph.D. thesis at Northwestern University, Evanston, IL, USA, from 2001 to 2006. Subsequently, he served as a Postdoctoral Fellow in the Department of Chemistry at the University of California, Berkeley, USA, from 2006 to 2009. In 2009, he assumed the position of Assistant Professor of Chemistry at Emory University.
His research focuses on studying the role of mechanical forces in cell biology and tumor development. His team develops technologies to image mechanical forces generated by cells using molecules that fluoresce upon experiencing mechanical tension. They also develop nanoparticle actuators that can apply mechanical forces to cells, allowing the team to understand how forces influence biology and disease progression.
Selected Publications
Also of Interest

Innovation boot camp with outstanding international Ph.D. students

Remembering Emanuel August Merck (1855 – 1923) on his 100th death anniversary