For the fourth time, Chemistry Europe recognized the exceptional dedication of members of the chemistry community with its highest honor. The Chemistry Europe Fellows Program was launched in 2015, and new Fellows are announced every two years. In 2022, 25 Fellows and 2 Honorary Fellows were honored. In total, there are now 155 Chemistry Europe Fellows and 8 Honorary Chemistry Europe Fellows.
The Chemistry Europe Fellows receive a certificate and a trophy from their respective national society. In addition, there is the tradition of honoring all Fellows together at a reception at the EuChemS conference. In 2022, the reception took place on a beautiful terrace of a restaurant directly on the river Tagus in Lisbon, Portugal, close to Torre de Belém, a UNESCO World Heritage Site [1].
In addition, many membership magazines of the Chemistry Europe societies honor the Fellows of their country with an interview published throughout the year in their national membership magazine [2–6]. The interviews give a very nice insight into the opinions of the Fellows as well as a good cross-section on current topics in the chemistry community.
To make this treasure accessible to a wider audience, I pick out some aspects here. At the end of this article, you will find a listing of all interviews. You are welcome to read the full texts – however, as most membership magazines are published in their respective national languages, you can either practice your European languages skills or take advantage of online translation tools.

The Community of European Chemists Is Growing
About 25 years ago, the attitude of thinking across borders led to the vision of a pan-European journal and the courageous collaboration of chemical societies from different European countries to publish journals together. They merged their national journals into joint European journals and this resulted in Chemistry – A European Journal in 1985 and the European Journal of Organic Chemistry and the European Journal of Inorganic Chemistry in 1989. It was a brave step to give up one's own journal, try something new together, and start what is today called Chemistry Europe.
Nicola Armaroli, Consiglio Nazionale delle Ricerche, CNR, Bologna, Italy, recalls, "I am old enough to have lived through the era of Chemistry Europe's predecessors. Between 1994 and 1996, I published three articles in Gazzetta Chimica Italiana, Liebig's Annalen der Chemie, and Bulletin de la Société Chimique de France, three journals that later became the new pan-European journals and formed the cornerstone of Chemistry Europe: European Journal of Organic Chemistry and European Journal of Inorganic Chemistry. Chemistry – A European Journal was the journal that literally cemented my scientific independence and is particularly close to my heart: We practically grew up together."
Péter Kele, Hungarian Academy of Sciences, Budapest, Hungary, welcomes "being a member of a larger international family with a common culture and bringing national traditions and knowledge into this community. I think it is a great initiative that a community of European chemists has been created."
Of course, this does not only apply to Chemistry Europe, but is a positive trend of the time. Lutz Ackermann, Georg-August-University Göttingen, Germany, says the "countries of Europe are moving closer together, partly through the many valuable EU collaborations and bilateral exchange programs." Sonja Herres-Pawlis, RWTH Aachen University, Germany, states: "We are already working closely with many European colleagues, and this will tend to increase in the coming years, which I very much welcome." Nuno Maulide, University of Vienna, Austria, explains: "Shared values and ambitious scientific goals make Europe strong as a community."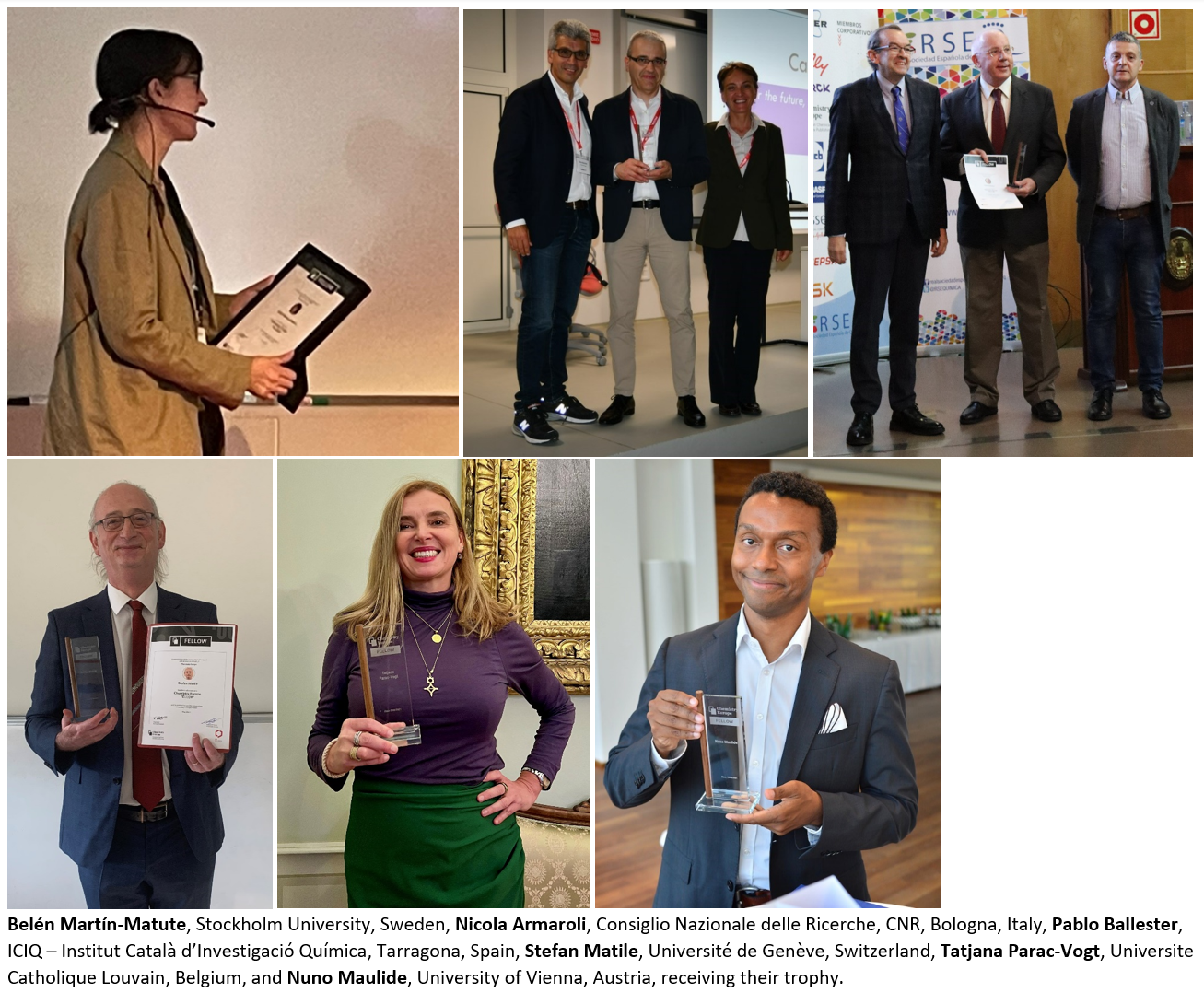 How to Communicate Properly—with the General Public and within the Scientific Community
A topic that we are all concerned about is engaging with non-chemists and getting them interested in chemistry. After all, it is only with chemistry that we can meet the great challenges of our time, such as climate change or feeding a growing world population, and we depend on public support for our research.
Péter Kele admits, "We think a lot about how to report effectively on what we do and why we do it, why it might be important to others.", and Christoforos Kokotos, University of Athens, Greece, adds: "In my opinion, the most difficult thing is to communicate science to the general public without using scientific terminology. That's something you have to practice and develop all the time. The biggest challenge and at the same time the most interesting audience are children."
In the interviews, they talk about projects like school visits or short videos. It is important to deal with where and how the target group informs itself and how we can draw the attention of young people, in particular—maybe only for a few minutes, but again and again—to the beauty of chemistry.
Christoforos Kokotos: "Better communication is needed for the general public to understand that the goal of every chemist, and scientists in general, is to provide a solution to an everyday problem of society." In doing so, it must also be communicated that we "have a long road ahead of us to undo the negative impact we as humans are having on our natural environment."
A recurring question is: Do we need guidelines and (improved) correctives on how science is communicated to the public but also within the scientific community?
Angela Agostiano, University of Bari Aldo Moro, Italy, believes that for a chemist "access to scientific results that go through a transparent and shared evaluation process before publication is essential. We live in a society where much of the access to information is through uncontrolled channels that lead to false beliefs, sometimes stereotypical and very often harmful, both among professionals and civil society, which harm our work and our credibility."
This "Professional Fairness", as Péter Kele calls it, is not limited to the presentation of research results but also applies to communication with the public or quickly written tweets.

Good and Not-So-Good Trends
A very positive trend is that people within the chemistry community are increasingly talking more honestly and openly about problems and giving more space to the human side in communication. Angela Agostiano welcomes that the membership magazine of the Italian Chemical Society, for example, publishes more articles on issues dealing with challenges such as the integration of private and professional life or career challenges. Such articles open up new perspectives, both for established and young researchers.
Péter Kele also describes something like this in his interview: "Like any profession, research work has its downsides. Those who devote themselves to research must expect to experience many failures. I, too, have been in a "creative crisis" several times, as I use to call such phases to my colleagues." However, he knows that this, as bad as it is at the moment, fortunately, does not last long. "In such cases, however, something always comes along, a successful reaction, an idea, or a motivating lecture, or article that helps you get over the difficulties."
Perhaps this development has something to do with the enormous pressure that researchers are under today. Together with digitization, the rise of new scientific powerhouses in Asia, and open access, this is also fundamentally changing the landscape of scientific journals. As a negative consequence of this pressure, we are, for example, hearing more and more about fraud. Nicola Armaroli in this context takes a critical view of the trend toward founding more and more journals. "It's a trend that drives profits, but certainly not quality."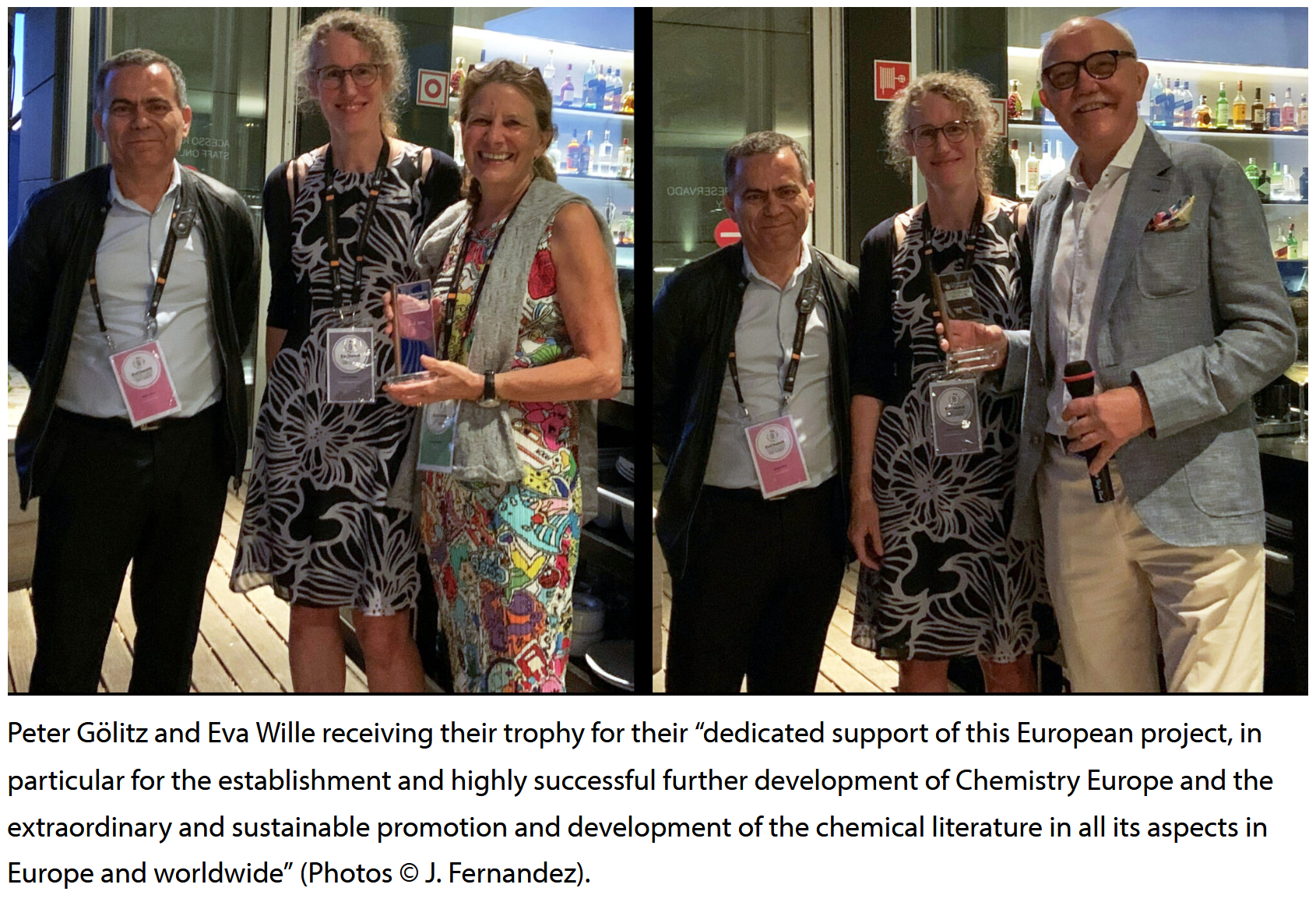 Encouragement at the End
With all the pressures in science and the rapidly changing times, openness and humanity are all the more important, as described above. Péter Kele: "At the current stage of my career, I consider the transfer of knowledge to the next generation more important than competition, but also that we achieve success as a team".
I would like to end with a quote from Alexander the Great, which Christoforos Kokotos likes to give to his students: "Nothing is impossible for those who try." I also like his way of fighting stage fright when speaking in front of a large audience or at a conference: "The best practice is to 'expose' yourself at karaoke nights by singing in front of a group of strangers." What a creative and humorous idea—learning is supposed to be fun, after all.
Once again, a heartfelt thank you to all Chemistry Europe Fellows, not just those mentioned in this article, for your support, ideas, and great collaboration. Many thanks to all editors for conducting and publishing the interviews.

References
[1] Vera Koester, Discussing Chemistry with Friends in Europe, ChemistryViews 2022. https://doi.org/10.1002/chemv.202200076
[2] Pap József Sándor, Péter Kele, Az új magyar Chemistry Europe Fellow: Kele Péter, Magyar Kémikusok Lapja 2022, 10, 290-291. (in Hungarian)
[3] Anna Simonini, Angela Agostiano, Nicola Armaroli, Nuovi Chemistry Europe Fellows, La Chimica e l'Industria 2022, VI(5), 10-14. (in Italian)
[4] Spiros Kitsinelis, Christoforos Kokotos, How Karaoke Nights Serve Chemists' Careers, ChemistryViews 2022. https://doi.org/10.1002/chemv.202200043
[5] Frauke Zbikowski, Sonja Herres-Pawlis, Lutz Ackermann, Nuno Maulide, Chemie in Europa, Nachrichten aus der Chemie 2022, 70(9), 30. https://doi.org/10.1002/nadc.20224131237 (in German)
[6] Jiří Barek, Ivana Císařová, Radek Cibulka, RNDr. Ivana Císařová, CSc. z Katedry anorganické chemie Přírodovědecké fakulty UK a prof. Radek Cibulka, PhD. z Ústavu organické chemie FCHT VŠCHT Praha získali nejvyšší ocenění asociace Chemistry Europe, Chem. Listy 2022, 116, 453. (in Czech)
---
---
Update January 30, 2023
We've received a few photos after the article was already published:

Receiving their certificates:
Anabela A. Valente, CICECO – Aveiro Institute of Materials, Portugal,
Jeanne Crassous, Université de Rennes, France,
Tatiana Besset, Université de Rouen, France, and
Carlos A. M. Afonso, Universidade de Lisboa, Portugal.
---
Also of Interest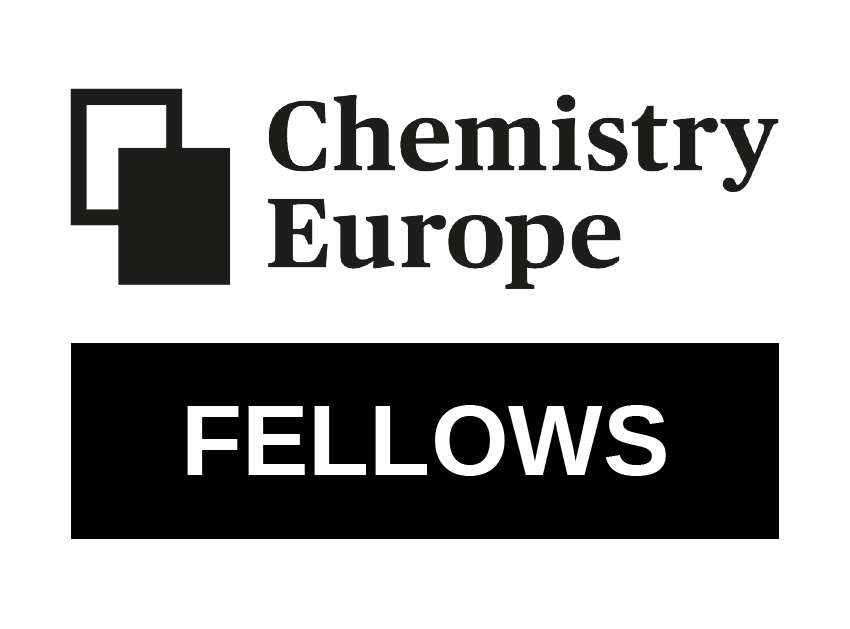 News: Chemistry Europe Fellows 2020/2021
Chemistry Europe is proud to honor its new Fellows for their support and contributions to the European joint publishing venture

Event Highlight: Discussing Chemistry with Friends in Europe
8th EuChemS Chemistry Congress (ECC8) brought scientists from Europe and around the world to Lisbon, Portugal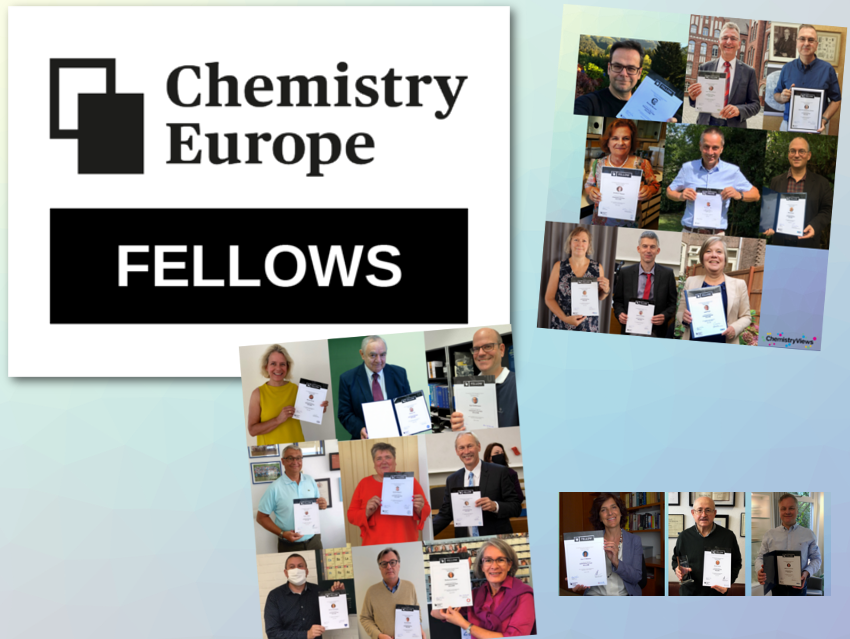 Commentary: A European Chemist, If Not A World Citizen
Chemistry Europe Fellows award ceremony during the Corona pandemic