The EuChemS Chemistry Congress (ECC) is the largest European chemistry congress. It is held every other year in a different European country. Events so far have taken place in Budapest, Torino, Nuremberg, Prague, Istanbul, Seville, and Liverpool. In 2020, the ECC8 was supposed to be held in Lisbon, Portugal. However, due to the coronavirus pandemic, the event had to be cancelled and now, finally, took place from August 28 to September 1, 2022.
Great Atmosphere for a Reunion of the European Chemistry Community
Artur Silva, President of the Portuguese Chemical Society (Sociedade Portuguesa de Química, SPQ) and Professor at the University of Aveiro, Portugal, and his team organized an excellent event. Although they had the particular challenge of having to plan the whole event twice and canceling it once, which is also a great effort, too, they managed to do so without any cost increase. However, it probably took a lot of extra work and very good planning.
He told us: "The organization of ECC8 was a lot of work, but it was very gratifying to see the joy and sympathy of all the participants who were present in person to share and discuss chemistry. I would like to highlight the quality of the works presented, but also that the innovations introduced at ECC8—namely the transversal sessions and the presentations of ERC grants—further enhanced the scientific quality of the congress. The Masterclasses brought topics not normally found at congresses of this type into the congress, and received excellent acceptance and recognition: i) Chemistry in Space, with the participation of a NASA colleague and a connection to NASA's Astrobiology Analytical Laboratory, ii) Chemistry in Hollywood—Put Some Movie in Your Chemistry Classroom, and iii) Chemistry in Arts—The Perfect Medieval Handwriting, a hands-on workshop and video presentation on paintings."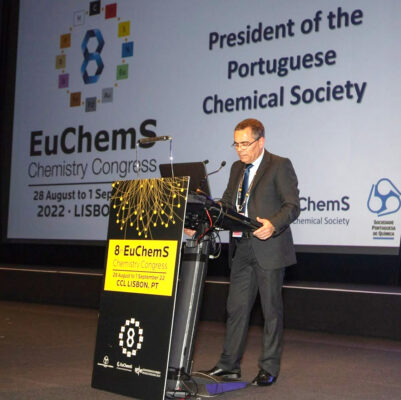 Artur Silva, President of the Portuguese Chemical Society (Sociedade Portuguesa de Química, SPQ) and Professor at the University of Aveiro, Portugal, at the Opening Ceremony (Photo © SPQ).
The conference center was located right at the river Tagus, very close to the Ponte 25 de Abril, the world's third longest suspension bridge, which always greeted us with a constant vibration hum probably caused by the vehicles driving over its metallic surface when leaving the Centro de Congressos de Lisboa. At the end of the bridge you can see the Cristo Rei statue. Inspired by the Cristo Redentor statue in Rio de Janeiro, Brazil, since 1959 it is spreading its arms towards Lisbon and the bridge.

Ponte 25 de Abril, the world's third longest suspension bridge, and the Cristo Rei statue in the background (Photo © V. Koester).
The poster sessions, exhibition, and breaks took place in a well-lit, huge hall without columns and with a round arched roof, the Pavilhão do Rio. It provided a wonderful atmosphere for meeting with all the participants and gave the posters and booths good visibility. Approx. 1,200 participants from Europe and beyond attended the event.
In general, this reunion with the European community after such a long break was very special for me. It felt like coming back to family after having been away for a long time. In the welcoming atmosphere it was easy to make new friends and to discuss light and deeper topics. Many others felt similarly.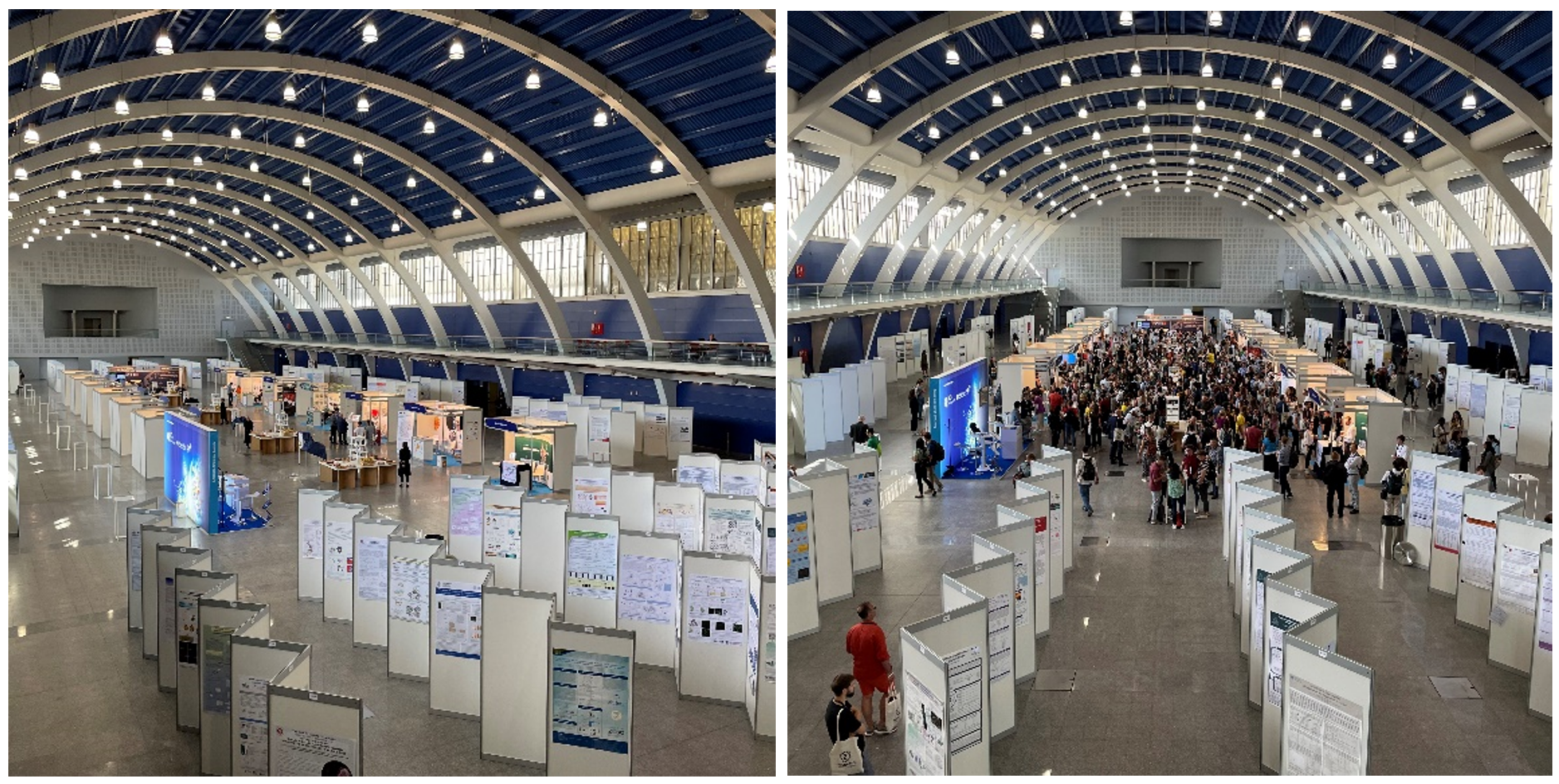 Coffee break in the Pavilhão do Rio of the Centro de Congressos de Lisboa (Photos © V. Koester).
Well-Planned Conference Structure
"We have all been looking forward to this event for a long time", Floris Rutjes, President of the European Chemical Society (EuChemS) and Professor at Radboud University, Nijmegen, The Netherlands, said in his opening speech. The EuChemS chemistry congress is about brainstorming new scientific ideas, speculating about mechanisms and structures, making new friends and drinking a glass of wine over a good meal, he emphasized, and although many things are possible online, this needs the personal contact and exchange.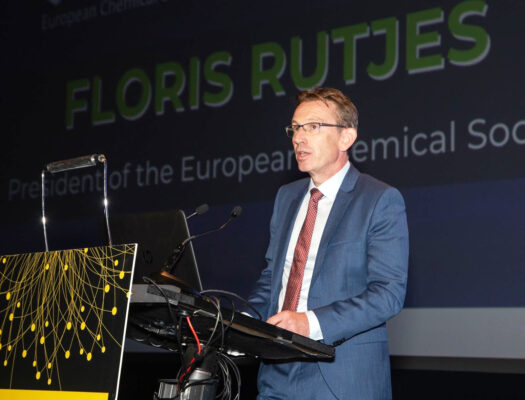 Floris Rutjes, President of the European Chemical Society (EuChemS) and Professor at Radboud University, Nijmegen, The Netherlands, at the Opening Ceremony (Photo © SPQ).
Luisa de Cola, Head of the Scientific Committee and Professor at the University of Milan, Italy, has created the logo of the conference, which is reminiscent of the European flag. She explained: "The logo was born from the consideration of what can indicate a European science in a way that everyone can perceive. The symbol of Europe that everyone knows is the blue flag with the twelve golden stars. The stars do not represent the countries, but symbolize the peoples of Europe in the form of a circle, a sign of unity. The stars were connected to the elements in the logo to show that chemistry and people are fully connected, as I explained in my introductory speech. The choice of elements is rather random, with the exception of europium, carbon, the element of life, along with oxygen and hydrogen. Silicon is special to me because I work with it and it somehow represents the earth, since sand is made of silicon oxide. All the others have no special meaning. The graphic should have been refined by a designer, but in the end we liked it in its imperfect form, somewhat childish, and it could have been drawn by any of us …"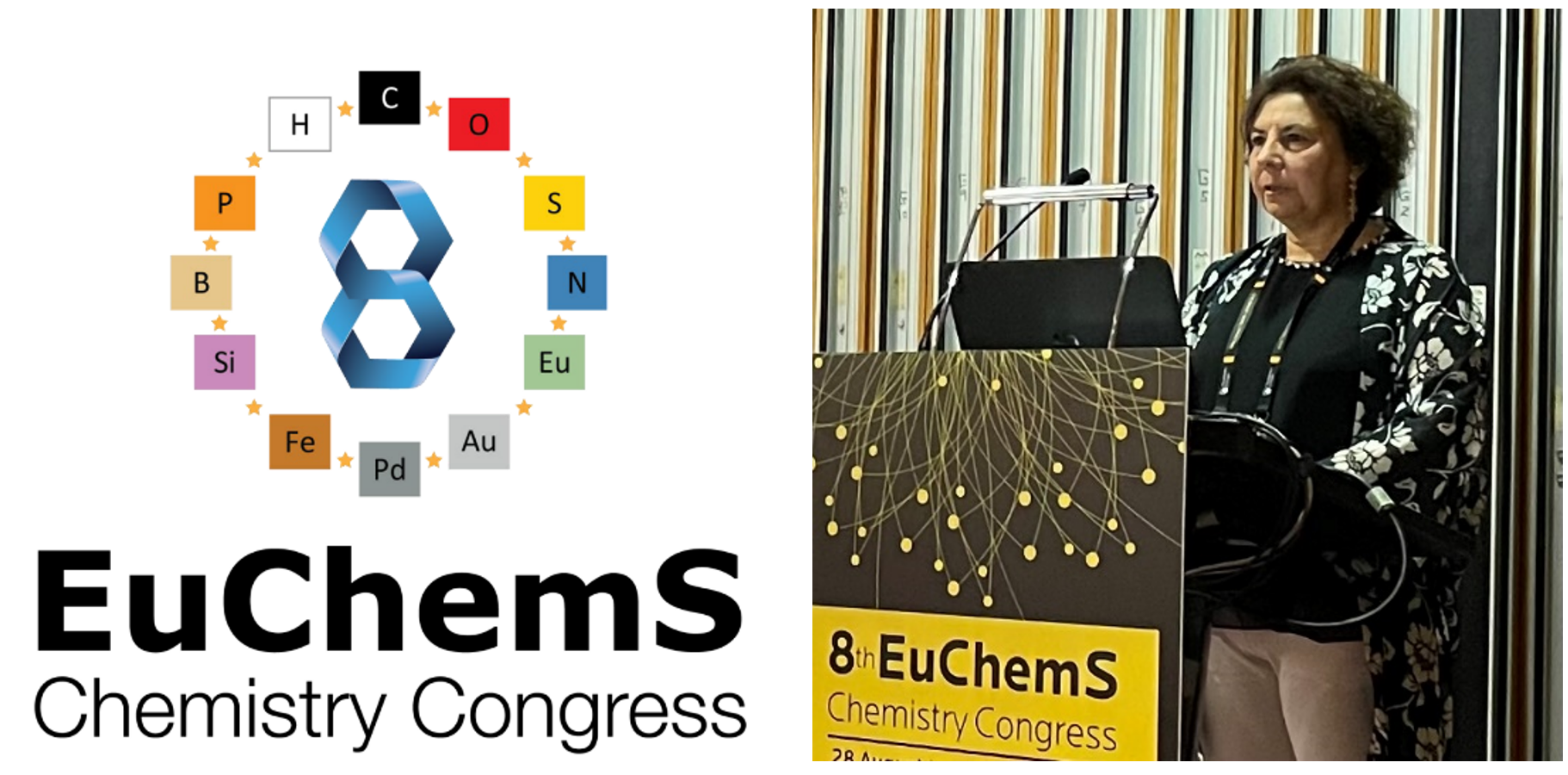 Logo of ECC8 and Luisa de Cola, Head of the Scientific Committee and Professor at the University of Milan, Italy, during the Chemistry Europe Symposium (Photo © V. Koester).
This year's conference motto was "Chemistry as a Central Science". The aim was to highlight the central role of chemistry at the interfaces with biology, materials and environmental sciences, as well as for the progress of humankind and for solving fundamental problems of modern societies. The conference included plenary lectures and thematic parallel sessions covering the entire spectrum of chemical sciences and, for the first time, three overarching themes were introduced: "Molecules in Motion," "Energy, Environment, and Sustainability," and "Imaging" on which there were various lectures clustered each in prominent session.
The program also included more general elements such as discussions on societally relevant challenges that chemists can contribute to solve, e.g., a panel discussion on tackling pollution and video presentations during the lunch breaks that discussed chemistry at the interfaces with art, cinema, and astronomy. A program organized by the European Young Chemists Network (EYCN) included sessions on diversity and gender balance, science communication, CV training, Open Science, and a company challenge.
Selected Talks
Studying the 3D Structure of Proteins with Mass Spectrometry
Dame Carol V. Robinson, Professor at the Kavli Institute of Nanoscience Discovery, University of Oxford, UK, outlined her research contributions on the study of protein folding, as well as on ribosomes, molecular chaperones, and membrane proteins to illustrate progress made to date. She used mass spectrometry to study proteins in the vapor phase, rather than dissolving them in a solution or locking them in a crystal lattice.
Although many scientists initially thought that proteins would not retain their shape in the vapor phase, she could prove that the folding and topology of protein complexes can be retained in the gas phase, if appropriate experimental parameters are applied. They are holding together and can be broken up in the final stages of the mass spectrometer, and they can be captured. This made a new view of the dynamic interactions between proteins, lipids, and drugs possible. Her research on the three-dimensional structure of proteins has demonstrated the power of mass spectrometry in the study of large molecular compounds and she has made seminal contributions to structural biology in the gas phase.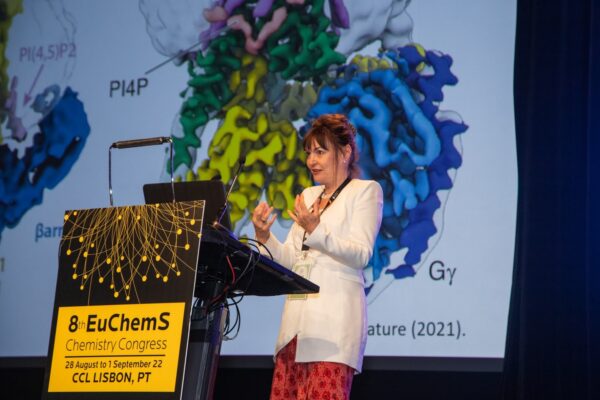 Dame Carol V. Robinson, Professor at the Kavli Institute of Nanoscience Discovery, University of Oxford, UK, during her talk (Photo © SPQ).
Selective Electrochemical Reduction of CO2 into Energy-Dense Organic Compounds
The motivation of Victor Mougel, ETH Zürich, Switzerland, is to try to use carbon dioxide as a carbon source. The first challenge is the activity of CO2. It is the most stable form of carbon and you need a good catalyst to enable its reduction. Early studies have focused on low-valent rare metal catalysts such as Re, Ru, Ir, Rh, and have been more recently extended to earth-abundant transition metals such as Mn, Fe, Co, and Ni. Victor Mougel presented an array of catalysts and strategies inspired from biological systems to promote oxygen evolution reaction (OER) and CO2 reduction with high selectivity and efficiency.
He explained that if you take an active site and remove it from the natural environment, the enzyme is dead in most cases. So he and his team are taking a closer look at nature and they are trying to replicate similar structures and enzymes, hydrophobic and hydrophilic domains, and some of the very fine proton and electron transfer chains of the enzymes. They also look at the organisms themselves, as they have also developed interesting strategies to mediate these sophisticated reactions, such as the shape of an organism.
Molecular catalysts are advantageous in the opinion of Victor Mougel as they offer an easy modulation of their catalytic properties by tuning the electronics of the ligands.
An early example of a catalyst he presents is one shaped like a pine tree: It consists of a conductive copper foam passivated with a copper oxide layer and further nanostructured by electrodeposition of CuO nanoparticles [1]. The produced electrodes are highly efficient in catalyzing the selective oxidation of water to dioxygen. The dense copper oxide layer at the surface of the dendritic support prevents the corrosion of the basal copper substrate. This enables the material to have good and stable conductivity. These electrodes can be produced using simple inorganics salts and thermal treatments, allowing an easy and cost effective preparation using earth abundant copper as the sole metal, including the electrode support. This was done with other metals, as well.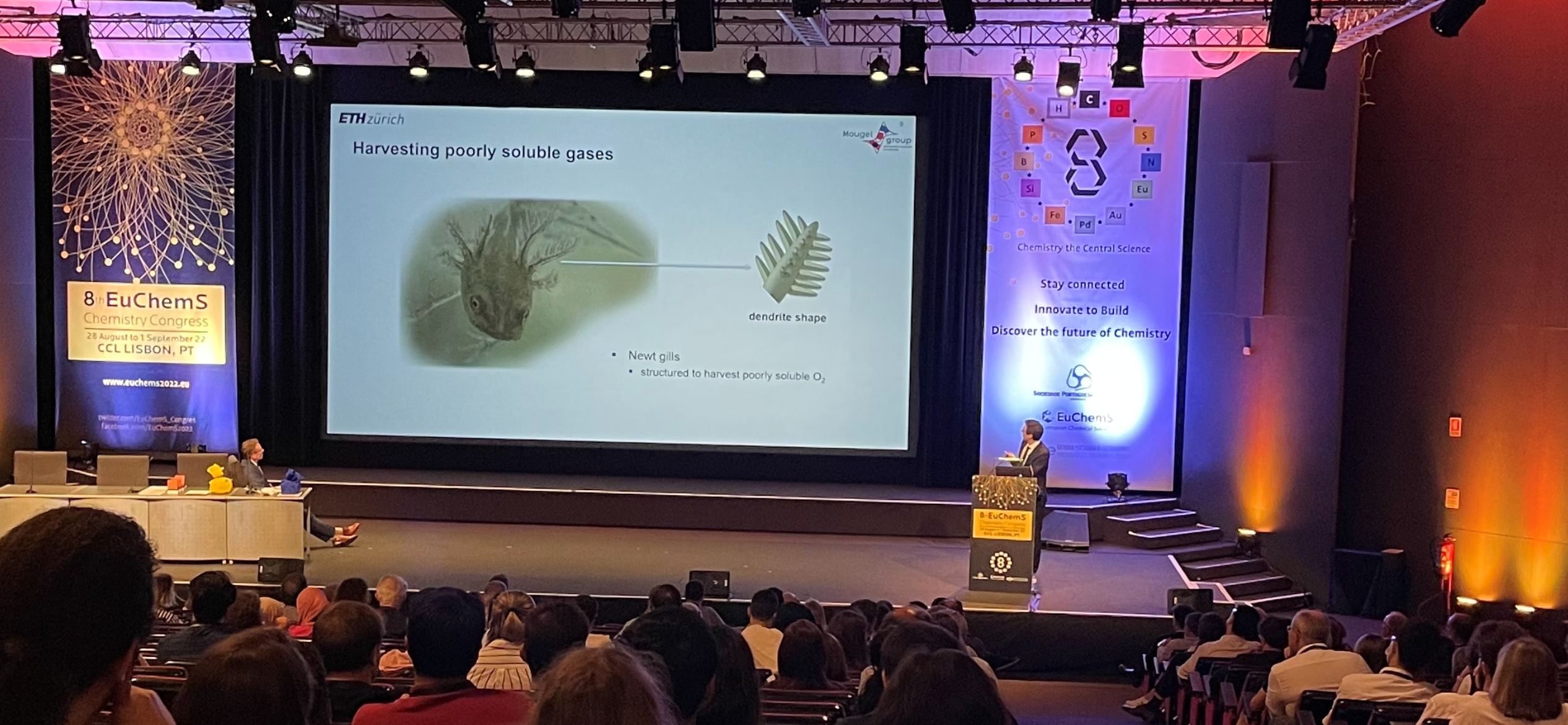 Inspiration by nature (Photo © V. Koester).
In another example, he shows that highly active Co-based CO2 reduction molecular catalysts can be obtained via the modulation of the electronic influence of anionic thiolate ligands with neutral nitrogen ligands [2]. He prepared a series of 2-pyridinethiolate Co complexes combined with substituted bipyridine (bpy) ligands. These complexes, obtained in one synthetic step from cheap, commercially available reagents, are capable of catalyzing electrochemical CO2 reduction at very low overpotential with high selectivity towards carbon-based products.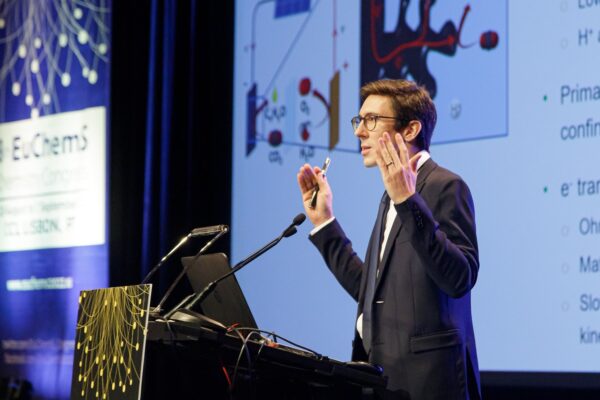 Victor Mougel, ETH Zürich, Switzerland, during his talk (Photo © SPQ).
Raphael Experimented with Pigments
Egyptian Blue is one of the oldest artificially produced color pigments. It was used in ancient Egypt; Greeks and Romans used it in painting, and then it seemed to have disappeared.
Antonio Sgamellotti and Aldo Winkler of the Università degli Studi di Perugia, Italy, discovered it in Raphael's fresco "Triumph of Galatea," which he painted on a wall of the Villa Farnesina in Rome, Italy, in 1514 [3]. The pigment was used in the sky and sea of the painting, but also for the whites of the eyes. This technique was known by the ancient Greeks and Romans. They added a touch of Egyptian blue to the white paint for the eyes to make them appear translucent and more natural.
Egyptian blue is also known as calcium copper silicate (CaCuSi4O10 or CaOCuO(SiO2)4) or cuprorivaite. It was originally produced by carefully heating quartz sand and crushed limestone with a copper source, often scrap metal, and an alkaline substance such as sodium bicarbonate or ash at temperatures between 800 and 1,000 °C.
Cu2CO3(OH)2 + 8 SiO2 + 2 CaCO3 → 2 CaCuSi4O10 + 3 CO2 + H2O
Raphael also used other unusual pigments. For example, he painted fruits that came from the New World and were new for Europeans with yellow pigments that contained lead, tin, and antimony and were actually used for glass and ceramics. A century later, they became popular in fresco painting.
Chemistry Europe
Founded in 1995, Chemistry Europe is an association of 16 European chemical societies, representing over 75,000 chemists. It publishes a family of high-quality scholarly chemistry journals, covering a very broad range of disciplines, and the science news magazine ChemistryViews. EuChemS represents more than 160,000 chemists from 51 member societies and other chemistry related organizations such as Chemistry Europe. Therefore, the EuChemS Chemistry Congress is naturally also one of the main meeting places for members of Chemistry Europe.
Chemistry Europe Symposium
Chemistry Europe held a special symposium to celebrate the 10th anniversary of the journals ChemistryOpen and ChemPlusChem, the launch of the journals Chemistry—Methods and Analysis & Sensing, and the relaunch of ChemistryViews on a new platform [4]. Each of these Chemistry Europe journals and ChemistryViews invited a speaker to the symposium. Gianluca Farinola, member of the Chemistry Europe Council and Professor at the Università degli Studi di Bari Aldo Moro in Bari, Italy, gave an introduction.
Javier García-Martínez, President of IUPAC, Professor of Inorganic Chemistry at the University of Alicante, Spain, and founder of the company Rive Technology, USA, spoke about entrepreneurship in chemistry, how to turn chemical discoveries into chemical solutions, and why this is a topic for every chemist. When we think of entrepreneurs, we picture someone who is male, very young, and making a lot of money very quickly. One of the reasons why Javier García-Martínez talks about entrepreneurship is to change this. He would like to see more women and more scientists starting new businesses. We urgently need real solutions to combat challenges such as climate change. "People need our research now," he urged his audience. When listening to all the great talks and great science at the conference, he feels that there is a gap between what we can do and what we need to do.
He never saw a gap between his entrepreneurial activities or his academic activities. Instead, he sees them as two different activities of the same passion. Being an entrepreneur made him a better scientist and a better teacher, he says, because it gave him a broader understanding [5,6].
Anat Milo, Professor at the Ben-Gurion University of the Negev, Israel, described her research on secondary-sphere modification in organocatalysis as learning from nature the hard way. Ramón Martinez Mañez, Professor at the Universitat Politècnica de Valencia, Spain, talked about gated materials for drug delivery and biomedical applications, Celia Fonseca-Guerra, Professor at the Vrije Universiteit, Amsterdam, The Netherlands, spoke about discovering in silico the uniqueness of hydrogen bonding, and Francesco Ricci, Professor at the University of Rome, Italy, about the reorganization of self-assembled DNA-based polymers in higher ordered structures.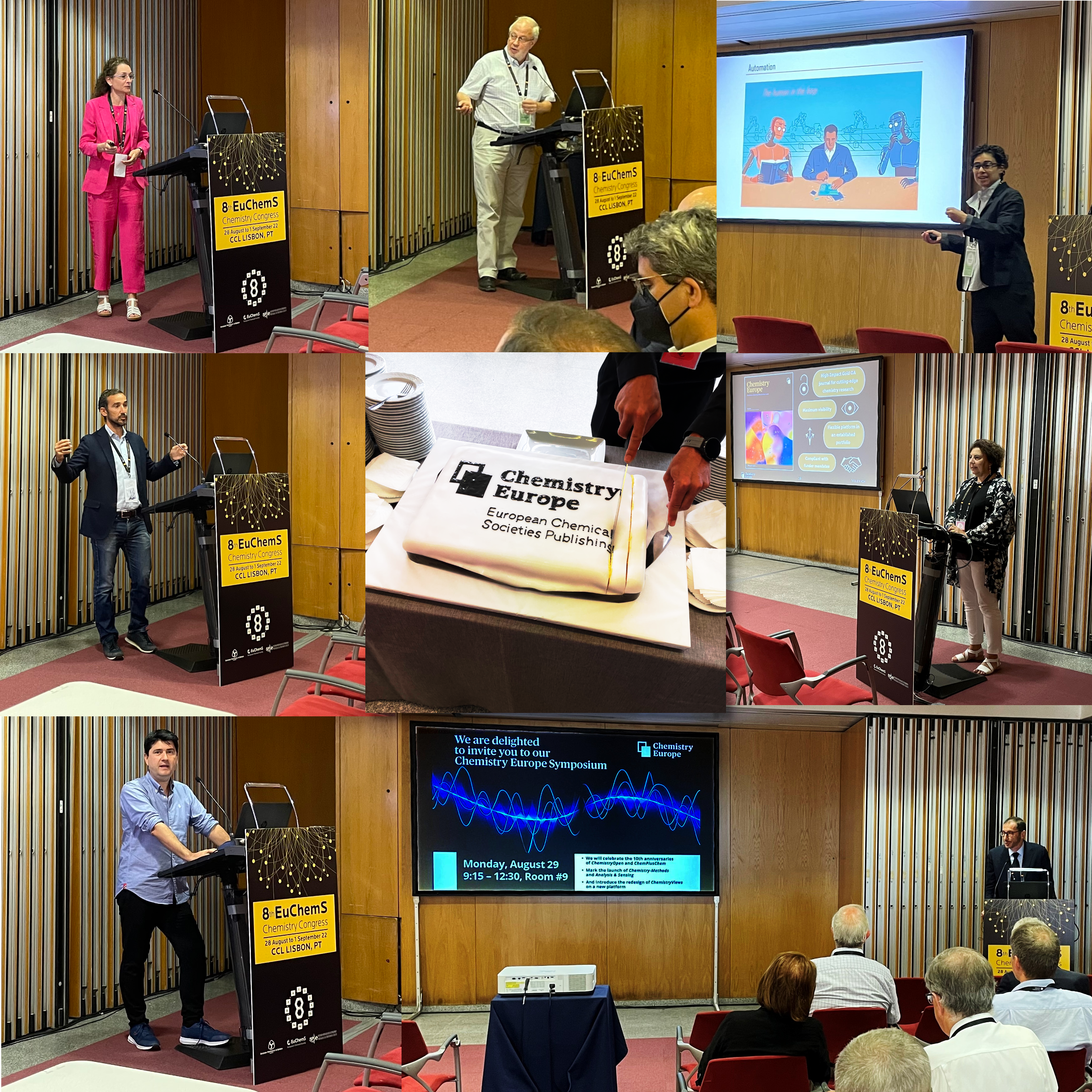 Chemistry Europe cake and speakers at the symposium (Photos © V. Koester).
New Flagship Journal
The symposium also saw the launch of Chemistry Europe's new open access flagship journal, Chemistry Europe [7]. The top-tier journal will be a high-impact Gold open access (OA) journal in multidisciplinary chemistry. The editors will be Luisa de Cola, Ive Hermans, Professor at the University of Wisconsin-Madison, USA, and Ken Tanaka, Professor at Tokyo Institute of Technology, Japan.
Chemistry Europe Fellows Reception
Every two years, Chemistry Europe recognizes innovative ideas and outstanding support for its publication activities by awarding the title of Chemistry Europe Fellow. The Fellows program was launched in 2015 and is the highest honor given by Chemistry Europe [8].
The European chemical societies participating in Chemistry Europe award the certificates and trophies to the new Fellows from their respective countries at a national meeting. Traditionally, in addition, the entire class of new Fellows is honored with a reception at the ECC.
After the ECC 2020 was cancelled, a reception in honor of the Fellows of the classes 2018/2019 [9,10] and 2020/2021 [11] took place this year on a beautiful terace of a restaurant directly on the river Tagus at Torre de Belém, a UNESCO World Heritage Site. This provided a fantastic scenery for this unique networking event with nice food, drinks and different members of the chemistry community, including some society presidents and representatives, advisory board members, authors, and early career researchers. The young chemists from around the world and their mascot Prof. Dr. Chem Chicken added another special fun factor.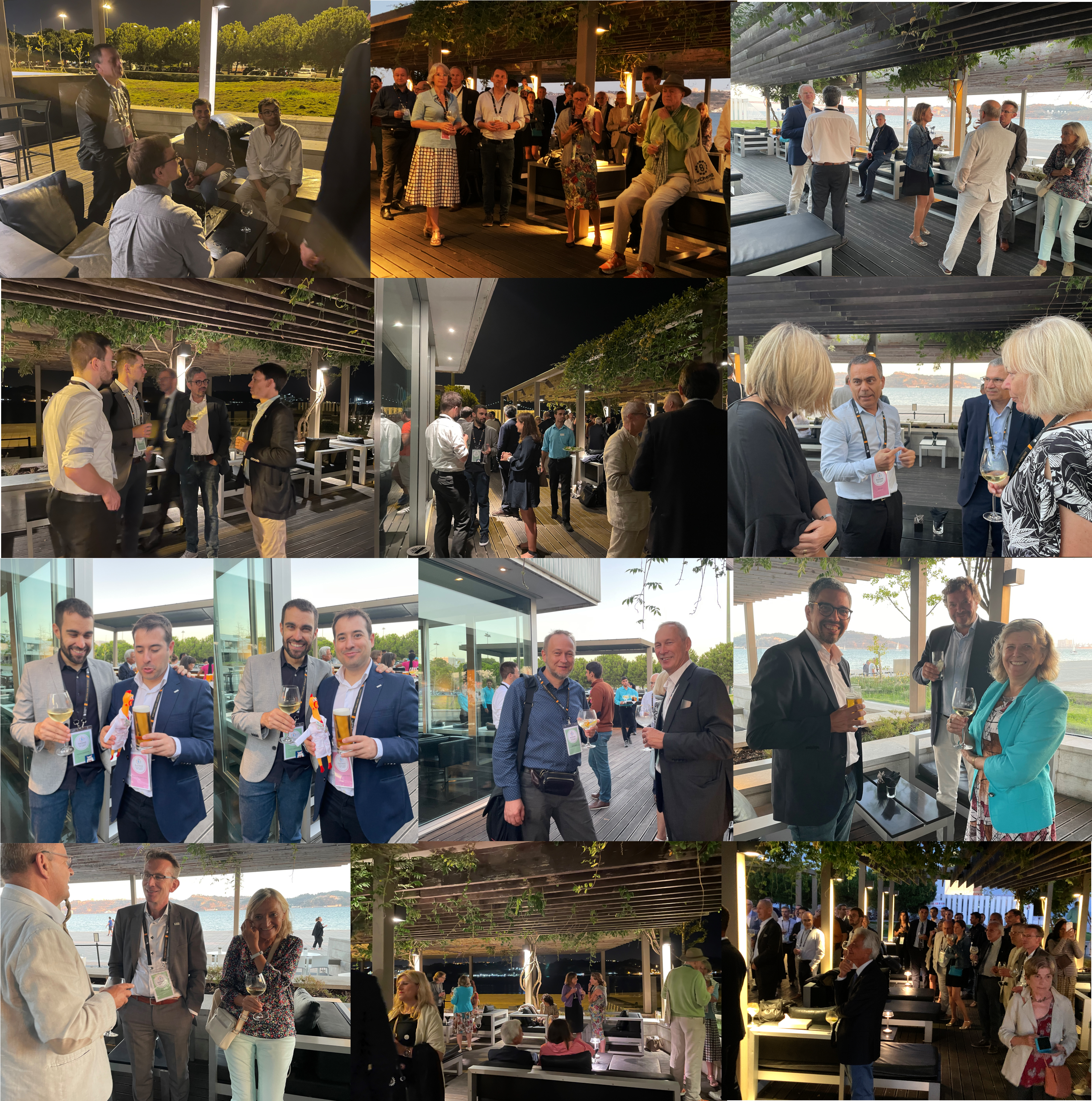 Snapshots of the Chemistry Europe Fellows reception (Photos © J. Fernandez and V. Koester).
Peter Gölitz and Eva Wille were honored as Honorary Chemistry Europe Fellows at the Fellows Reception. As co-founders of Chemistry Europe, they have been instrumental in the European vision that led to the establishment and development of Chemistry Europe. Chemistry Europe was founded in the 1990s as a consequence of the amalgamation of many chemical journals owned by national chemical societies into a number of high-quality European journals. Chemistry—A European Journal was launched as a pan‐European chemistry journal [12].
Peter Gölitz is Editor Emeritus of Angewandte Chemie and Founding Editor of Advanced Materials, Chemistry – A European Journal, Chemistry – An Asian Journal, and ChemCatChem, among many other journals. Eva Wille is Former Vice President and Executive Director at Wiley-VCH, Weinheim, Germany, and from the beginning involved in the vision of what is Chemistry Europe today.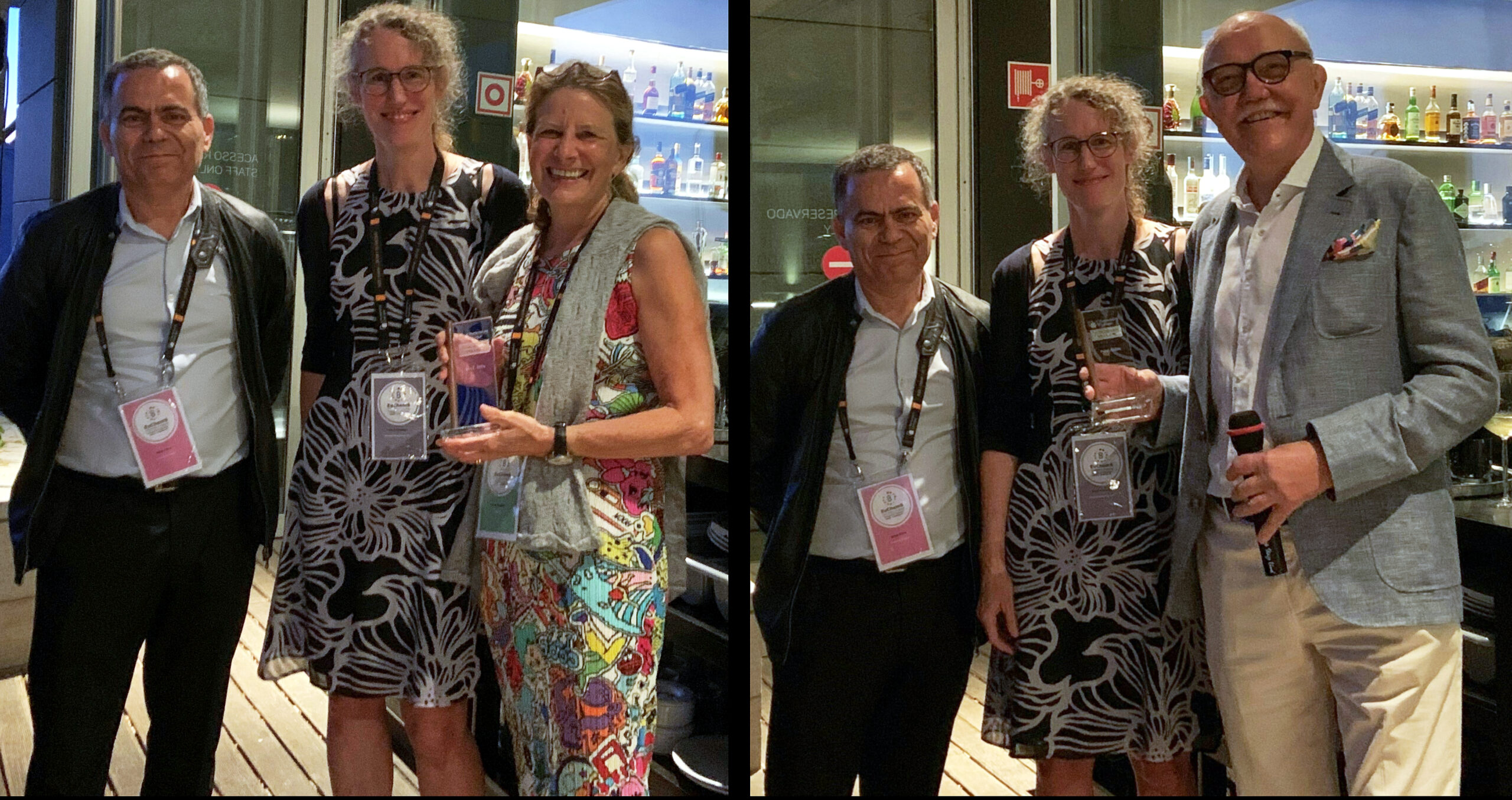 Peter Gölitz and Eva Wille receiving their trophy for their "dedicated support of this European project, in particular for the establishment and highly successful further development of Chemistry Europe and the extraordinary and sustainable promotion and development of the chemical literature in all its aspects in Europe and worldwide" (Photos © J. Fernandez).
Congress Dinner
The Congress Dinner took place at the spectacular Patio da Galé with opera performances and colorful light between courses. Inaugurated in 2011, the Pátio da Galé is located in the west wing of Terreiro do Paço, where the Royal Palace and the House of India were located at the time of the 1755 earthquake.
Awards
Various prizes were awarded during the event, including the European Chemistry Gold Medals to recognize the achievement of scientists working in the field of chemistry in Europe, and the EuChemS Award for Service recognizing outstanding commitment to the advancement of chemistry and molecular sciences in Europe and to the goals of EuChemS. Dame Carol Robinson, Professor at the University of Oxford, UK, received the 2022 European Chemistry Gold Medal and Michele Parrinello, Professor at the ETH Zurich, Switzerland, and the Università della Svizzera Italiana Lugano, Switzerland, the 2020 European Chemistry Gold Medal.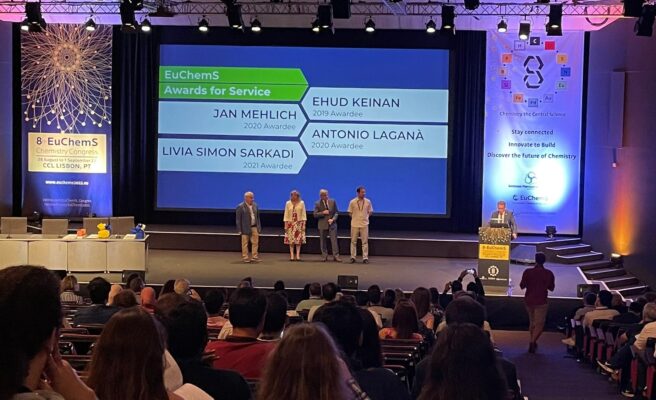 The EuChemS Award for Service was presented (from left to right) to Antonio Laganà, retired Professor at the University of Perugia, Italy, Livia Simon Sarkadi, Professor at the Hungarian University of Agriculture and Life Sciences, Budapest, Ehud Keinan, President of the Israel Chemical Society and Professor at the Technion – Israel Institute of Technology, Haifa, Israel, Jan Mehlich, Science and Technology Ethicist at Rheinische Friedrich-Wilhelms University, Bonn, Germany [14],

Paul T. Anastas, Professor at Yale University, New Haven, CT, USA, and John C. Warner, Warner Babcock Institute for Green Chemistry, Wilmington, MA, USA, have received the August Wilhelm von Hofmann Denkmünze 2022 from the Gesellschaft Deutscher Chemiker (GDCh, German Chemical Society) [13]. The prize recognizes special merits to chemistry by non-German chemists or by German scientists who are not chemists but have made great achievements in chemistry.
Anastas and Warner are honored as the founders of the concept of green chemistry, for which they not only laid the scientific and intellectual foundations, but also realized concrete implementations. Over twenty years ago, they formulated the 12 Principles of Green Chemistry in their book Green Chemistry: Theory and Practice, founding the field of green chemistry, and laying the foundation for sustainable chemical product development.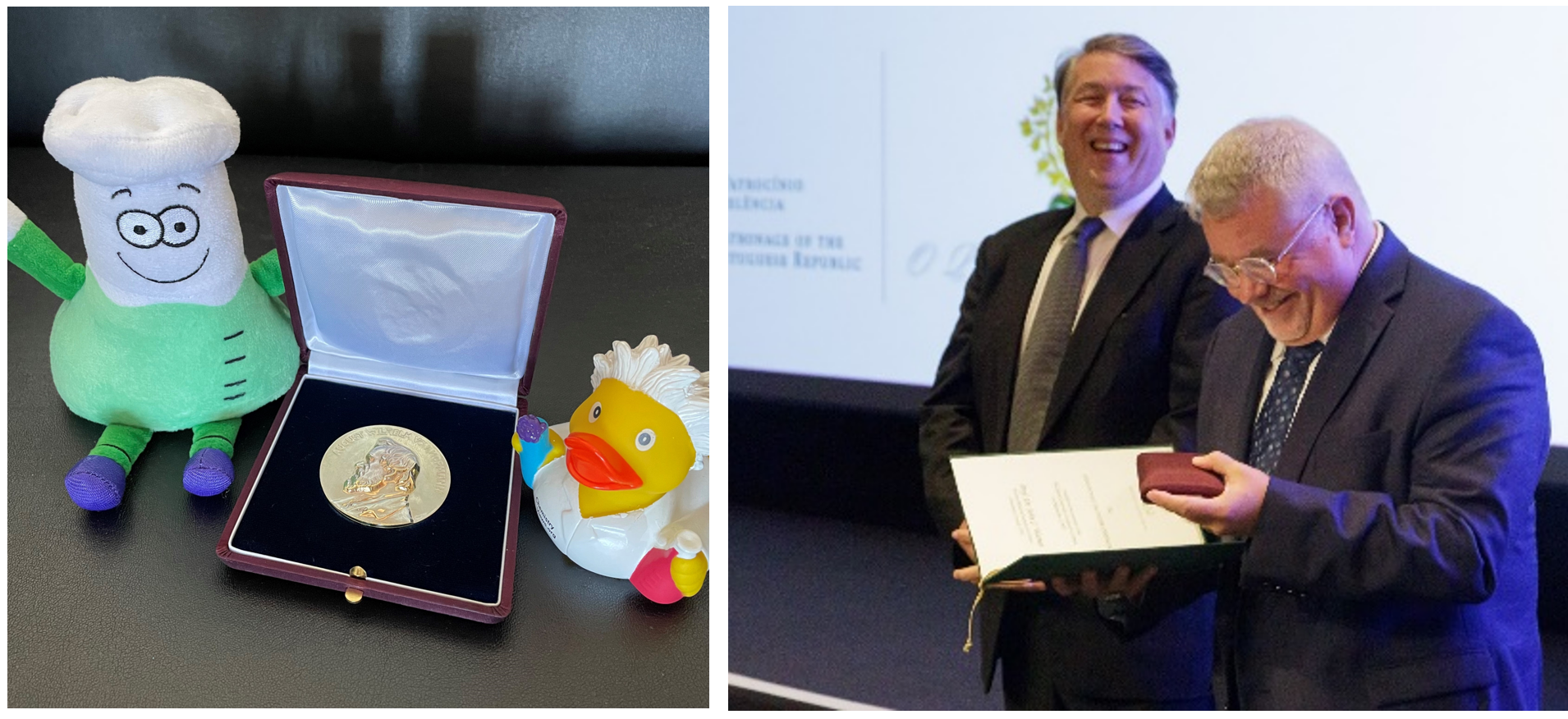 The gold medal received by the laureates of the August Wilhelm von Hofmann Denkmünze and happy laureates (Photos © V. Koester and SPQ).
Next EuChemS Chemistry Congress
The 9th EuChemS Chemistry Congress (ECC9) will be hosted by the Institute of Chemistry of Ireland (ICI). Initially, the congress was scheduled for this year in Dublin, Ireland, along with ICI's centennial. Because of the postponement due to the coronavirus pandemic, ECC9 will be held in Dublin from July 7 to 11, 2024. I am looking forward to seeing everyone again.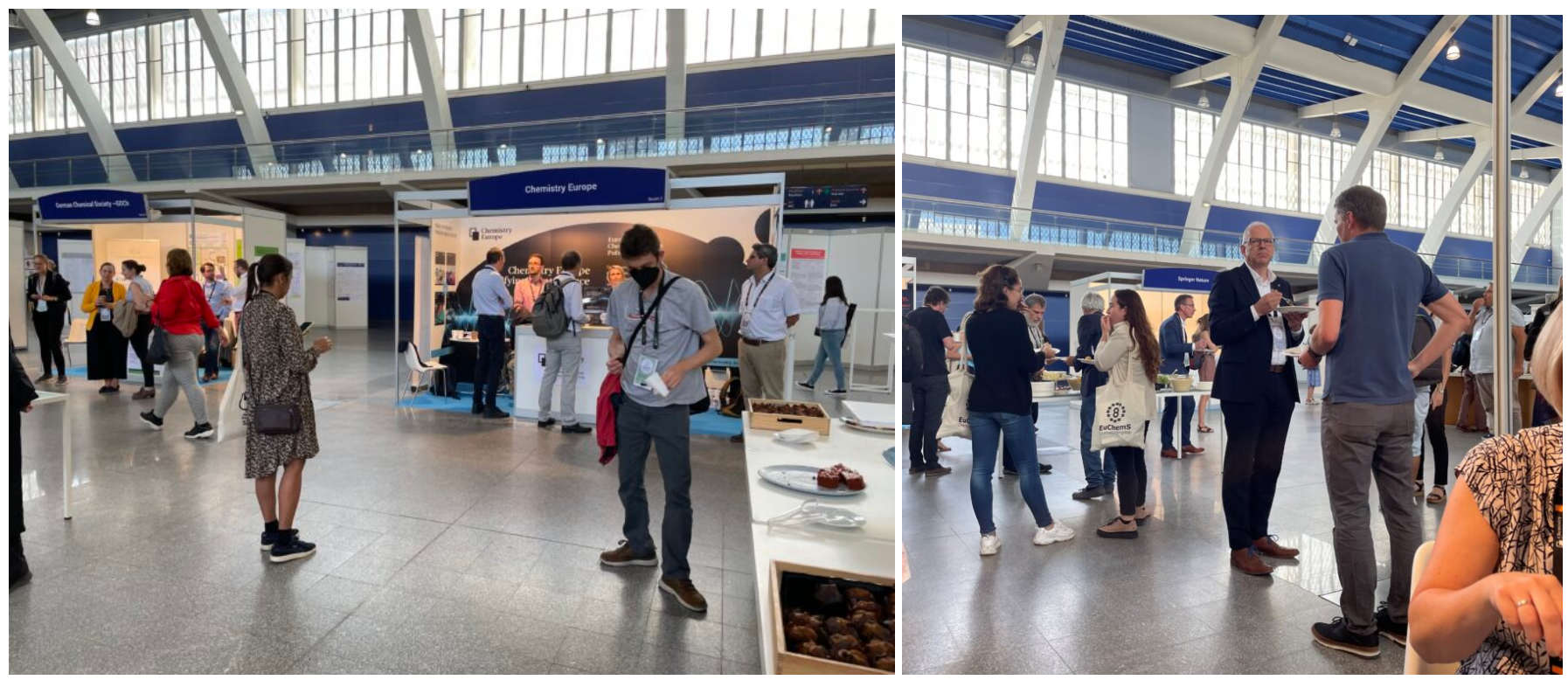 Some exhibition booths (Photos © SPQ and V. Koester).
References
[1] T. N. Huan, G. Rousse, S. Zanna, I. T. Lucas, X. Xu, N. Menguy, V. Mougel, M. Fontecave, A Dendritic Nanostructured Copper Oxide Electrocatalyst for the Oxygen Evolution Reaction, Angew. Chem. Int. Ed., 2017, 56, 4792–4796. https://doi.org/10.1002/anie.201700388
[2] Subal Dey, Tanya K. Todorova, Marc Fontecave, Victor Mougel, Electroreduction of CO2 to Formate with Low Overpotential using Cobalt Pyridine Thiolate Complexes, Angew. Chem. Int. Ed. 2020. https://doi.org/10.1002/anie.202006269
[3] Chiara Anselmi, Manuela Vagnini, Claudio Seccaroni, Michela Azzarelli, Tommaso Frizzi, Roberto Alberti, Mallio Falcioni, Antonio Sgamellotti, Imaging the antique: unexpected Egyptian blue in Raphael's Galatea by non-invasive mapping, Rend. Fis. Acc. Lincei 2020, 31, 913–917. https://doi.org/10.1007/s12210-020-00960-4
[4] Chemistry Europe Symposium as Part of the ECC8, ChemistryViews 2022.
[5] Vera Koester, Javier García-Martínez, Can I Become an Entrepreneur and If So, How? (Interview), ChemistryViews 2022. https://doi.org/10.1002/chemv.202200014
[6] Chemistry Entrepreneurship (Eds: Javier Garcia-Martinez, Kunhao Li), Wiley-VCH, Weinheim, Germany, 2021.ISBN: 3527345442
[7] Launch of Chemistry Europe, a New Fully Open Access Journal, ChemistryViews 2022.
[9] Chemistry Europe Fellows 2018/2019, ChemistryViews 2020.
[10] Vera Koester, A European Chemist, If Not A World Citizen, ChemistryViews 2021. https://doi.org/10.1002/chemv.202100002
[11] Chemistry Europe Fellows 2020/2021, ChemistryViews 2022.
[12] Peter Gölitz, Cutting a Gordian Knot: The Founding of Chemistry—A European Journal, Chemistry – A European Journal 2020, 26, 9–10. https://doi.org/10.1002/chem.201905081
[13] August Wilhelm von Hofmann Medal for Paul Anastas and John Warner, ChemistryViews 2022.
[14] EuChemS Awards for Service Presented, ChemistryViews 2022.
Also of Interest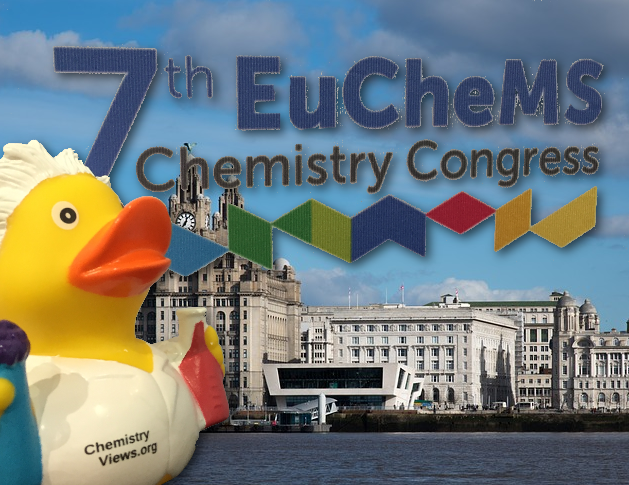 Event Highlight: A Sense of Belonging for European Chemists
7th EuChemS Chemistry Congress (7ECC) brought scientists from Europe and around the world to Liverpool, UK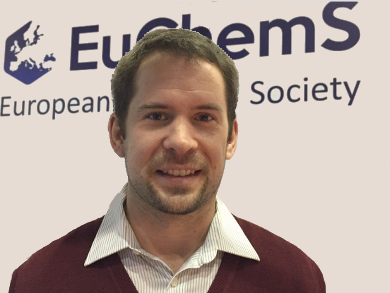 Dr. Jan Mehlich has recorded a unique online class on ethics in chemistry

Dr. João Borges on his research, his motivation, and how to determine what the community needs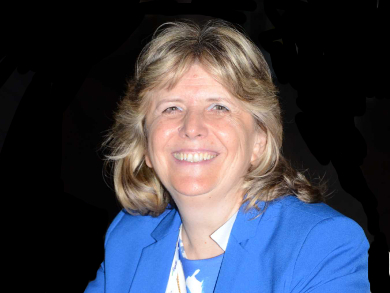 Newly re-elected President, Livia Sarkadi, about chemistry in Hungary, her experience in societal work, and women in chemistry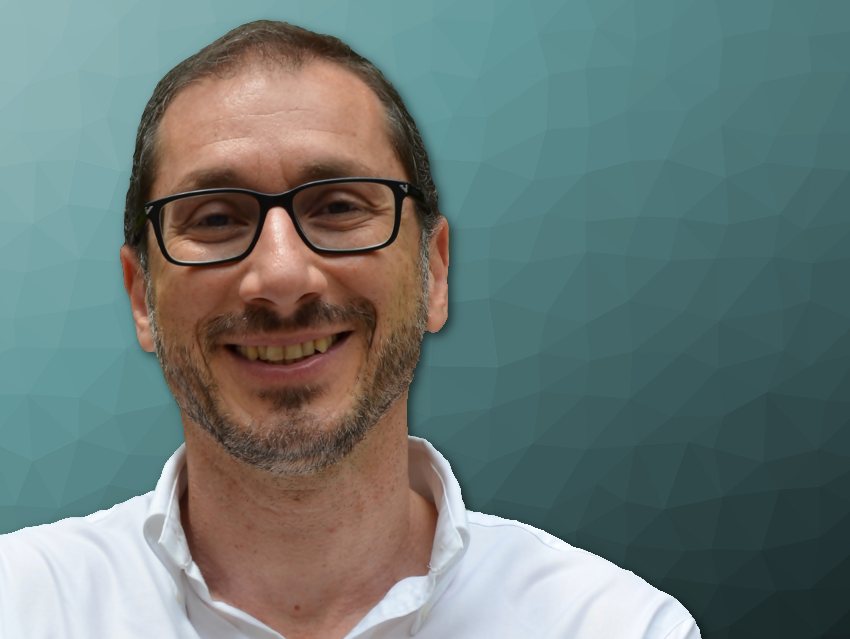 EuChemS Organic Division President Gianluca Farinola about his fascination for organic chemistry and the importance of young scientists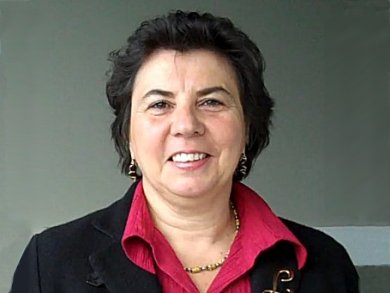 Luisa De Cola, ISIS, France, talks about her research on nanomaterials, the increasing role of the internet in teaching, and her love of chocolate