The event had been postponed from 2020 to 2022 due to concerns about COVID-19.  

The EuChemS Chemistry Congress is the largest European chemistry congress. It is held every other year in a different European country. Events so far have taken place in Budapest, Torino, Nuremberg, Prague, Istanbul, Seville, Liverpool, and now in Lisbon.
This year's unifying theme will be "Chemistry the Central Science", focusing on the central role of chemistry at the interfaces with biology, materials, and environmental sciences.

Topics
Advances in Synthetic Organic Methodologies
Metal Containing Compounds and Solids: Properties and Applications
Chemistry meets Biology
Colloids and Materials
Biomaterials and Medicinal Chemistry
Catalysis
Spectroscopic and Analytical Tools / Advanced Physical Chemistry
Chemistry and Society
Functional Materials
Food Chemistry
Molecules in Motion
Energy, Environment, and Sustainability
Imaging
Plenary Speakers
Hanadi Sleiman, McGill University, Canada
Chemistry and Biology
Cristina Nevado, University of Zurich, Switzerland
Organic Synthesis/Medicinal Chemistry
João Rocha, University of Aveiro, Portugal
Materials and Solids
Lutz Ackermann, University of Gottingen, Germany
Catalysis
Nicola Armaroli, National Research Council, Bologna, Italy
Energy and Sustainability
Joanna Aizenberg, Harvard University, USA
Materials
Takuzo Aida, The University of Tokyo, Japan
Polymer and Supramolecular Chemistry
Dame Carol Robinson, University of Oxford, UK
EuChemS Gold Medal 2022
Michele Parrinello, Eidgenössische Technische Hochschule Zürich (EWTH), Switzerland
EuChemS Gold Medal 2020
Paul Anastas, Yale University, USA
August Wilhelm von Hofmann Denkmünze 2022
John C. Warner, Warner Babcock Institute for Green Chemistry, USA
August Wilhelm von Hofmann Denkmünze 2022
Preliminary Program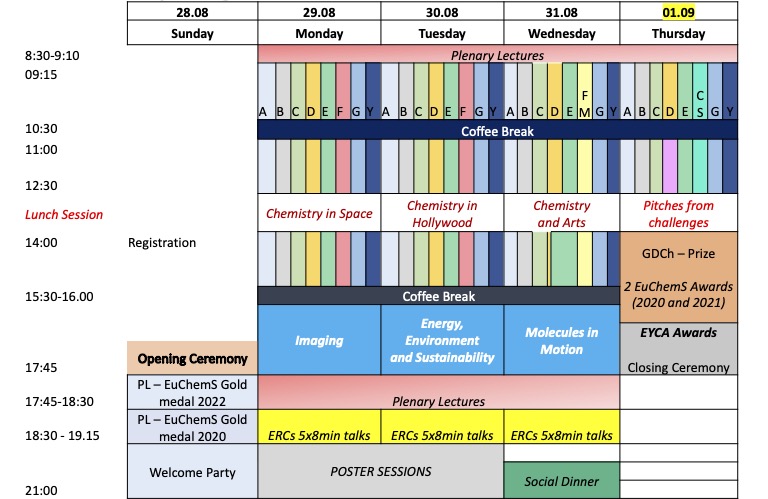 Special Events
Chemistry Europe is planning a special symposium as part of the ECC8 covering research and entrepreneurship to celebrate the 10th anniversaries of ChemistryOpen and ChemPlusChem as well as marking the launch of Chemistry-Methods and Analysis & Sensing and the re-launch of ChemistryViews.
The Chemistry Europe Symposium will take place on Monday August 29th from 9:15-12:30 (Room 3c).
Speakers include Professor Javier García-Martínez, president of IUPAC, professor of inorganic chemistry at the University of Alicante, Spain, and founder of the company Rive Technology based in Monmouth Junction, NJ, USA. He will talk in the ChemistryViews lecture about Entrepreneurship.
Event Details