Claudia Felser, Max Planck Institute for Chemical Physics of Solids, Dresden, Germany, has received the Liebig Memorial Medal 2022 from the Gesellschaft Deutscher Chemiker (GDCh, German Chemical Society) for outstanding work on the theoretical prediction of the physical properties of inorganic solids and their experimental confirmation.
Here we talk with her about Heusler compounds, topological quantum chemistry, supporting schoolkids, in particular girls, and her career path.
Claudia Felser studied chemistry and physics at the University of Cologne, Germany, where she received her Ph.D. in physical chemistry in 1994. After postdoctoral fellowships at the Max Planck Institute for Solid State Research, Stuttgart, Germany, and the Centre national de la recherche scientifique (CNRS), Nantes, France, she became an Assistant Professor at the University of Mainz, Germany, in 1996. Claudia Felser was promoted to Full Professor there in 2003. Since 2011, she has served as a Scientific Member and Director at the Max Planck Institute for Chemical Physics of Solids.
---
Also of Interest

Outstanding work on the prediction of the properties of inorganic solids honored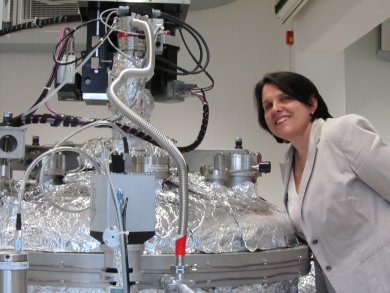 Claudia Felser discusses the fascinating functionalities of Heusler compounds and what needs to be done to develop new materials for energy technology