Impressions from the 241st ACS National Meeting & Exposition March 27–31, 2011 in Anaheim, California, USA .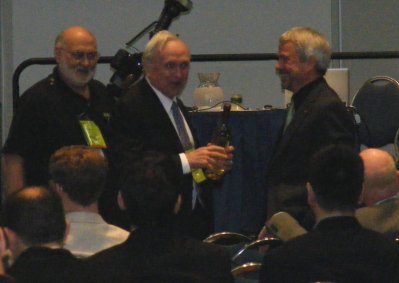 A. Berkessel (right), Köln, Germany, presents Ron Breslow (middle) with a bottle of Blanc de Noir wine from the Mosel on the occasion of his 80th birthday.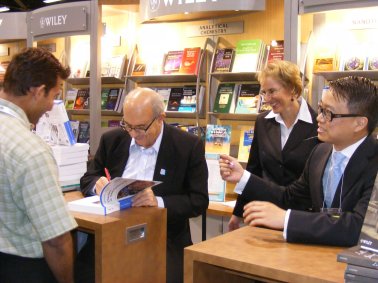 Nicolaou's book signing at the Wiley booth (Classics in Total Synthesis III: Further Targets, Strategies, Methods); from left to right: K. C. Nicolaou, University of California and The Scripps Research Insitute, USA, Gudrun Walter, Wiley-VCH, Germany, and Jason Chen; co-author and research associate in K.C. Nicolaous laboratory.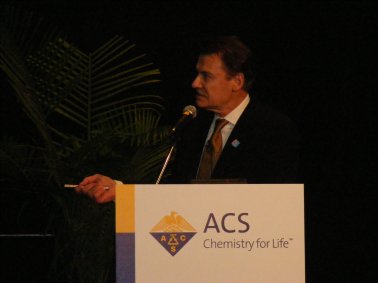 Virgil Percec, University of Pennsylvania, USA, talked about Mimicking Mother Nature yields promising materials for drug delivery and other applications.
Richard Schmidt, former member of the International Advisory Board of European Journal of Organic Chemistry (1994–2004), was given the Claude S. Hudson Award in Carbohydrate Chemistry. A symposium in his honor was held. The picture shows (from left to right) Editor Haymo Ross next to three renowned carbohydrate chemists, the award winner Richard Schmidt, Advisory Board Member Geert-Jan Boons, and former Advisory Board Member Johannes F. G. Vliegenthart. (Photo: Valentin Wittmann)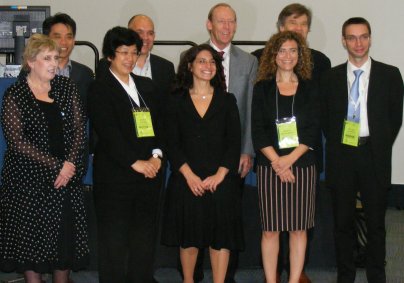 Picture taken after the afternoon session "Celebration of International Organic Chemistry"; front row, from left to right: Margaret Brimble, New Zealand, Kyoko Nozaki, Japan, Hanadi Sleiman, Canada, S. C. Pellegrinet, Argentina, O. Baudoin, France,
Back row, from left to right: Chulbom Lee, USA, Antonio Echavarren, Spain, Gary Molander, USA (Organizer), Victor Snieckus, Canada (Session Chairman).
---
Other articles related to the ACS meeting