2011 is the International Year of Chemistry (IYC 2011) and the centenary of Marie Curie's Nobel prize in Chemistry. Therefore, ChemViews will introduce interesting women throughout the year.
Zeinab Shaaban Abd El-Ati Abou El-Naga is a lecturer at the Zoology Department at Mansoura University, Mansoura City, Egypt. By making the unusual combination of zoology and chemistry, she has developed a career with natural products from organisms to find new targets for environmentally friendly insecticides.
Please tell us a bit about how your career has developed?
I was born in January 1980 in Egypt and graduated in May 2000 from the Chemistry/Zoology double program of Science at Mansoura University, Mansoura, Egypt. The course was in English. I received my Masters and PhD Degrees in the field of Chemical Insect Pest Management.
I finished my PhD by the end of 2007. Since then, I have had a great feeling of scientific freedom. At the beginning of 2008, I had traveled to Germany to take up a post doctoral fellowship at Jacob's University, Bremen, in the lab of Professor Nikolai Kuhnert working on natural product chemistry. I attended some international scientific meetings at different German Universities, as well as many international and national conferences.
Since 2008, I have been a lecturer at Mansoura University and soon I hope I will be promoted from lecturer to assistant professor — this is my next career goal.
What do you enjoy most about your career?
Actually, I like both research and teaching which gives me the sense of contributing to my community. In research, I enjoy working in teams for a specific goal. Dealing with natural product chemistry is very exciting for me. Moreover, my career gives me the opportunity to travel abroad to attend international scientific meetings and conferences. I enjoy getting in contact with scientists from around the world, exchanging ideas and experiencing different cultures. All of these enjoyable things in my life as scientist make me satisfied and very happy with my career.
When did your interest in sciences begin?
In general, when I was a child I was attracted to some scientific TV programs: I was crazy about them. My father noticed that and encouraged me by bringing me scientific books about the role of Arabia in science during the Middle Ages. He always said to me words which I've never forgot: "Your book is your honest friend, who will give without asking for anything back."
When I was in secondary school, I mentioned to my father that I wanted to study science at the university. He said to me, "It's up to you; but I should inform you that it will be hard for you as a woman". But, I decided to try to achieve what was my goal at that time.
In the faculty of science, I found that I enjoyed studying chemistry and biology together. I believe that chemistry is the secret of our life. I can't deal with chemistry separately from life or living organisms. This is the reason I specialized in the field of chemistry and zoology.
What has been your biggest motivation?
Professor Nikolai Kuhnert, who I spent my post doc with in Bremen, Germany, impressed me with his kindness and intelligence. He gave me the chance to deal with the advanced technology of natural product chemistry which was not available at my university in Egypt.
I was further motivated when I met Professor Müfit Bahadir and Professor Henning Hopf, at TU Braunschweig, Germany, during my first term in a DAAD (Deutscher Akademischer Austausch Dienst, German Academic Exchange Service) summer school. Here I was also chosen to be the group speaker at a UNESCO conference for the NOP (Nachhaltiges Organisches Praktikum – Sustainability in the Organic Chemistry Lab Course) project.
My biggest motivation is to become a skilled and well known scientist.
Do you think there are still differences between men and women in chemistry?
There are no differences between men and women if they have the same motivation and are given equal opportunities in pursuing education.
In life, there are duties only women can perform, like pregnancy, but these are short periods of time in which women have to stop dealing with chemicals. But that doesn't stop them thinking about chemistry!
How do you combine family and job?
Thanks to God, I am lucky that I have strong support from my family. I have only one child. My daughter now is in primary school. I am following her education carefully because she is very smart. When I travel, she accepts staying with my mother and father: She loves them very much.
Have you experienced any personal struggles typical for women in sciences?
I sometimes find it hard being away from my daughter during collaborations with other labs or during conferences. But as I said, my parents take good care of my daughter. I think experiences abroad and good opportunities not only have a good impact on my career, but also on my family and community. And I enjoy getting in contact with scientists around the world.
What do you do in your spare time?
I spend most of my spare time with my family. I like cooking for them and we watch action movies together. Moreover, I enjoy participating in student and community activities.
What would you like to be doing ten years from now?
I would like "Insha'Allah" to be a professor in the field of environmental or green chemistry, to travel, to participate in more and more scientific activities, and to have a great number of valuable scientific publications. Moreover, I am looking forward to being involved in international scientific projects and community activities.
In my personal life, I look forward to having more children.
What else would you like readers of ChemViews to know about you, your experiences, or women in sciences in your country or in general?
Actually, in Egypt women and men have equal opportunities in science education.
I would like to say that in our country there is a problem with scientific research not with women, because of insufficient equipment and availability of chemicals. There are very low budgets for research. We as scientists suffer a lot from this.
After the Egyptian revolution we predict a change of the governmental strategy towards scientific research which is the most important factor for the development of our country.
Thank you very much for this interview.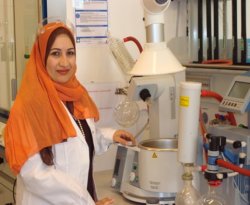 Zeinab Shaaban Abd El-Ati Abou El-Naga, born in 1980, studied chemistry and zoology at Mansoura University, Mansoura City, Egypt. After her PhD, she performed a post-doc at Jacob's University, Bremen, Germany. Since 2008, she has been a lecturer in the faculty of science at Mansoura University.
Dr. Abd El-Ati studies the relationship between the chemical structure of the isolated natural compounds and their biological activity in order to illustrate their mode of action as insecticides. She looks for new biological insecticides, originating from different organisms, such as plants and microorganisms, which will be used for the development of new environmentally safe insecticidal products.
Selected Publications
Insecticidal activities of Zingiber officinalis and Cynbopogon nardus
Z. Abo Elnaga, N. Kuhnert , M. Abdel-Mogib,
Pharmaceutical Biol. 2009, 47, 27.
Super-course lecture entitled "Green chemistry and its role for sustainability"
Insecticidal Metabolites from the Green Alga Caulerpa racemosa
W. M. Alarif, Z. S. Abou-Elnaga, S. N. Ayyad, S. S. Al-lihaibi,
Clean Soil Air Water 2010, 38 (5-6), 548–557.
DOI: 10.1002/clen.201000033
Chemical constituents and insecticidal activities of the non-polar extract of Curcuma longa against Tribolium confusum
Z. Abou-ElNaga, A. El Demerdash, E. M. Keshk, A. M. Dawidar, and M. Abdel-Mogib,
J. Egypt. Ger. Soc. Zool. 2011, 63E, 50-67.
New Larvicidal Acetogenin from the red alga Laurencia papillosa
Z. S. Abou-Elnaga, W. M. Alarif, S. S. Al-lihaibi,
Clean Soil Air Water 2011.
DOI: 10.1002/clen.201000597
---
---

European Women in Chemistry
Published: 11 November 2010
ISBN: 978-3-527-32956-4
Author: Jan Apotheker, Livia Simon Sarkadi