Stefanie Dehnen, University of Marburg, Germany, has received the Alfred Stock Memorial Award 2020 from the Gesellschaft Deutscher Chemiker (GDCh, German Chemical Society). The award honors outstanding scientific work in the field of inorganic chemistry and is endowed with EUR 7,500. It was presented at the GDCh Wissenschaftsforum 2021 on August 31, 2021.
Stefanie Dehnen receives the award for her research on cluster chemistry. The GDCh particularly recognizes her work on  the synthesis, structure elucidation, and application of innovative heteronuclear cluster- and network compounds, which either consist of purely inorganic components or are inorganic–organic hybrid compounds.
Stefanie Dehnen studied chemistry at the University of Karlsruhe (today Karlsruhe Institute of Technology or KIT), Germany, where she received her Ph.D. in 1996. After postdoctoral research in theoretical chemistry at the University of Karlsruhe, she completed her habilitation in inorganic chemistry there in 2004. Since 2006, she serves as Professor of Inorganic Chemistry at the University of Marburg. She also is the Chair of the Wöhler Association for Inorganic Chemistry in the GDCh and serves as Vice-President of the GDCh (since 2020).
Among many other honors, Dehnen has received the Wöhler Young Investigator Prize from the GDCh in 2004, a Heisenberg Fellowship from the German Research Foundation (Deutsche Forschungsgemeinschaft, DFG) in 2005, the Philipps University of Marburg Award for the Promotion of Women in Science in 2018, and the Margot Becke Lectureship at the University of Heidelberg in 2020. She is a Member of the Göttingen Academy of Sciences and Humanity, Germany, the Academy of Sciences and Literature, Mainz, Germany, the European Academy of Sciences (EurASc), and the German National Academy of Sciences Leopoldina. She serves as Associate Editor of Inorganic Chemistry and as Editorial Board Member or Advisory Board Member of several other scientific journals.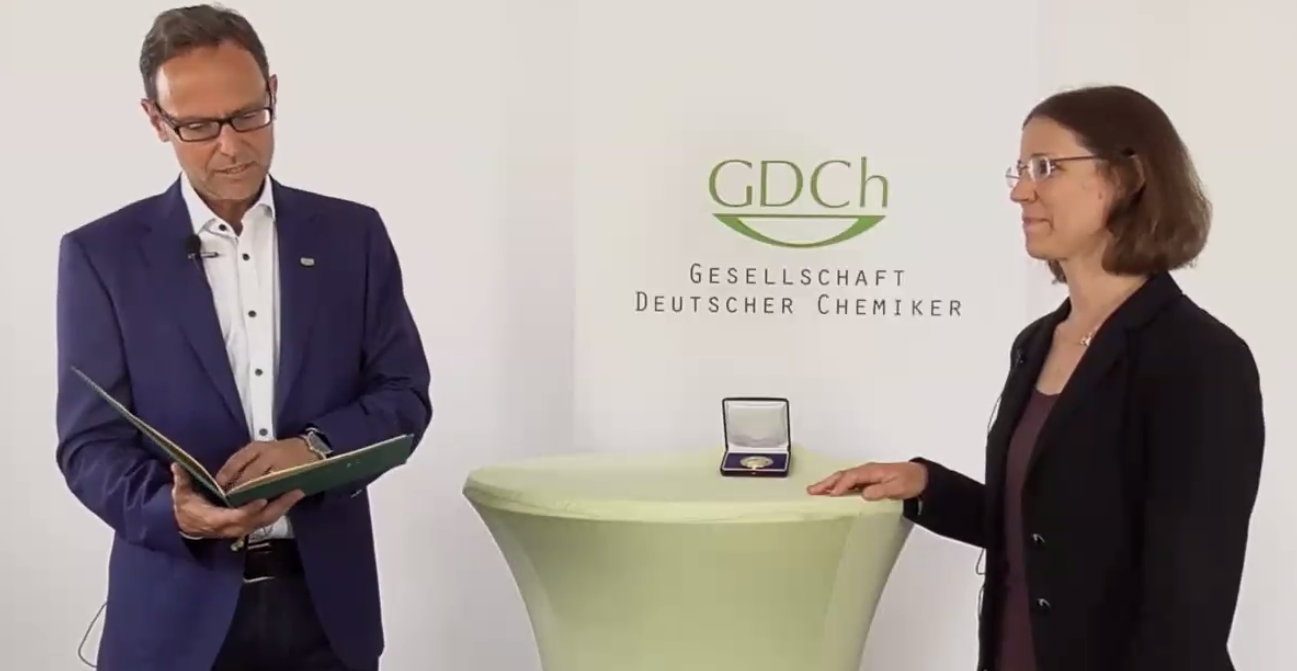 Award ceremony: Peter R. Schneider, President of the GDCh, reads out the award certificate.
---
Selected Publications
Also of Interest