Angewandte Chemie, the flagship journal of the German Chemical Society (Gesellschaft Deutscher Chemiker; GDCh) and one of the most renowned chemistry journals in the world, celebrates its 125th anniversary this year. This is two years after celebrating the 50th birthday of the English edition of the journal.
A highlight of the 125th anniversary celebration was the Angewandte Symposium held on March 12, 2013 in Berlin at the Freie Universität. ChemistryViews.org broadcast the event live over the internet. So in addition to the roughly 1500 attendees in Berlin, more than 3500 people from around the globe watched the event on their computer or in lecture rooms.
This exciting and inspiring day had a packed program of the highest caliber which started with welcome addresses from Dr. Peter Gölitz, Editor-in-Chief of Angewandte Chemie, Professor Barbara Albert, President of the German Chemical Society which owns the Angewandte, and Professor Peter-André Alt, President of the Freie Universität of Berlin and host of the event.
Dr. Peter Gölitz, Editor-in-Chief Angewandte Chemie, and Cover of the Symposium issue.
The first talk was given by Professor François Diederich, ETH Zurich, Switzerland, and Chair of the Editorial Board of Angewandte Chemie. In his lecture – 125 Years of Chemistry in the Mirror of Angewandte Chemie – he discussed the development of the journal since its launch in 1887. He showed that its content nicely reflects the major topics in chemical research in industry and at tertiary institutions over the past 125 years. Diederich also showed that the role of the editor-in-chief has been significant throughout these 125 years. With each change in leadership came new innovations, and the nature and style of the journal also changed.

Professors Ahmed Zewail, Pasadena, USA, and Susumu Kitagawa, Kyoto, Japan, during their talks Science and Beyond and Welcome to a World of Small Spaces, respectively.


Frank Schirrmacher, Frankfurt, Germany, and Dr. Andreas Kreimeyer, Ludwigshafen, Germany, during their talks.
Frank Schirrmacher (above left), one of the five publishers who are responsible for one of the most well-known newspapers in Germany, the FAZ – Frankfurter Allgemeine Zeitung, was the only non-scientist to speak at the event. He studied German and English, literature, and philosophy at the Universities of Heidelberg, Germany, and Cambridge, UK, and also stayed at Montpellier and Yale Universities, in France and the US, respectively.
Schirrmacher talked about Language as a Resource. Scientific language is a special form of communication. And he sees us at the beginning of a new era of scientific communication.
Science does not only improve our lives through insight, results, and products of research, but through language itself. According to Jean-Paul Satre, language is directed creation. This means the chemist's native language is the creation of a new reality. So in Schirrmacher's eyes Angewandte Chemie – in English, Applied Chemistry – is also a title for applied language – and therefore for applied thinking.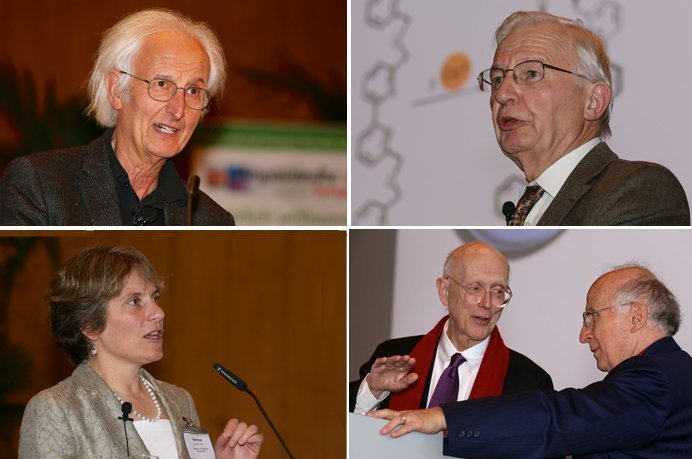 Professors Helmut Schwarz, Berlin, Germany, Jean-Marie Lehn, Strasbourg, France, Carolyn R. Bertozzi, Berkeley, USA, and George M. Whitesides, Cambridge, USA, and Roald Hoffmann, Ithaca, USA, at the speakers podium.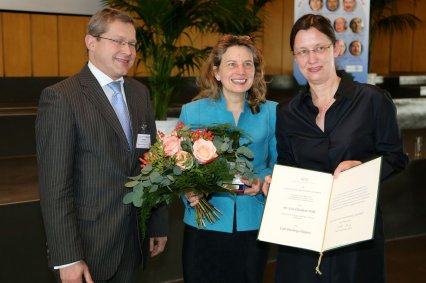 Dr. Eva E. Wille (middle), Weinheim, Germany, was awarded the Carl Duisberg Plaque from the GDCh's President, Professor Barbara Albert, and the Executive Director of the GDCh, Professor Wolfram Koch.
Not only was the day's program outstanding, but the breaks also held nice surprises. Gas-filled balloons tied to autographed beer mats or coasters gave many participants the opportunity to collect their favorite speaker's signature. This also lead to some amusing incidents, for example, people taking their balloon everywhere with them, even to the restroom.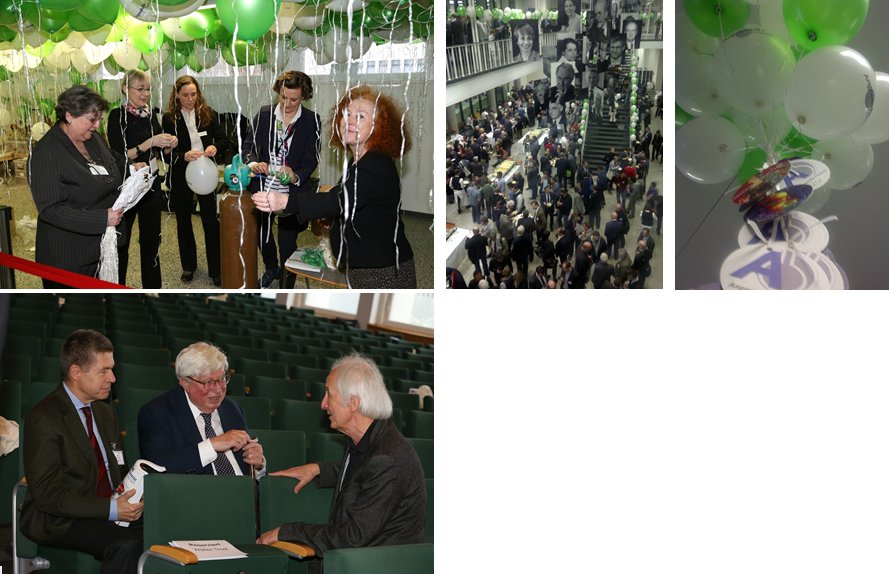 Of course, the breaks also offered speakers and participants time for discussions like above (left to right) Professors Joachim Sauer, Gerhard Ertl, and Helmut Schwarz, all Berlin, Germany.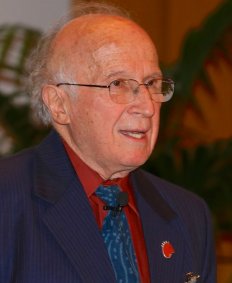 In the final talk, Professor Roald Hoffmann, Ithaca, USA, showed under the title Protochemistries as a Bridge, that people did chemistry before there were even "chemists". In extracting metals from their ores, in preparing and preserving food, in cosmetics, medicines, ceramics, in tanning leather, in dyes, in cleansing and mummification, craftsmen and women in every culture came up with excellent experimental chemistry.
Today chemistry, as well as other sciences, seems to be a profession for experts. It is separated from human culture and everyday things that normal people do.
At the press conference this topic was taken up again. Professors George M. Whitesides and Roald Hoffmann said that many of the big problems the world is facing, such as climate change and medical supply for everyone, are dependent on chemistry for solutions. In their opinion chemists should not take it too seriously that the press seems to always relate chemistry with toxic substances and environmental incidents. Like humans themselves, chemistry is ambivalent: Every molecule can have a good and a bad side, can heal or can hurt you. For example, morphine can make you addicted, but also relieves pain.
Professor François Diederich noted that, when the Angewandte Chemie was founded, it had a very broad portfolio, focusing on the problems of society. This became a bit stagnant in the 1970s, but is now coming back. With a broad range of sections like Editorials, Essays, and News, Angewandte Chemie approaches different readers and communicates the excitement of chemistry also to the next generation. This communication is faciliated through still having a German language version of the journal.
---