The most recent and so far most successful mutant of the SARS-CoV-2 coronavirus is the Omicron variant. It was first detected in South Africa in November 2021 and differs from the wild-type virus by 50 mutations. As a result, Omicron had increased infectivity and partial immunity to the immune defenses that had previously emerged in humans, enabling it to displace the previously dominant Delta variant worldwide within a few weeks.
Until now, Omikron was thought to have evolved by the SARS-CoV-2 virus transmitted from a human to an animal in Africa and accumulating its mutations there before "jumping" back to humans. According to another theory, the variant developed in a human with a severely weakened immune system, giving the virus extra time and opportunity to adapt optimally.
Jan Felix Drexler, Charité – Universitätsmedizin Berlin, Berlin, Germany, and colleagues tested 13,097 COVID-19 patients sampled between mid-2021 to early 2022 from 22 African countries for Omicron (BA.1) by real-time Reverse transcription polymerase chain reaction (RT-PCR). The team learned from PCR and near-full genome sequencing data that genetically diverse Omicron ancestors already existed across Africa by August 2021.
These omicron ancestors circulated simultaneously in different regions of the continent. They already had between 38.3 and 66.7% of the mutations that later characterized the first Omicron variant BA.1. The data thus clearly refute previous assumptions about the origin of the Omicron variant. Instead, Omicron is the result of a gradual evolution from several independently evolved precursor forms.
The sudden appearance of Omicron indicates a diagnostic blind spot in large parts of Africa, the researchers say. Here, only a fraction of SARS-CoV-2 infections are likely to be registered, and so the evolution of Omicron was simply overlooked. For the future, the researchers recommend significantly strengthening diagnostic surveillance systems on the African continent and in comparable regions of the global South, and facilitating data sharing worldwide. Travel bans are only effective if undetected and widespread infection can be ruled out.
---
Gradual emergence followed by exponential spread of the SARS-CoV-2 Omicron variant in Africa,
Carlo Fischer, Tongai Gibson Maponga, Anges Yadouleton, Nuro Abílio, Emmanuel Aboce, Praise Adewumi, Pedro Afonso, Jewelna Akorli, Soa Fy Andriamandimby, Latifa Anga, Yvonne Ashong, Mohamed Amine Beloufa, Aicha Bensalem, Richard Birtles, Anicet Luc Magloire Boumba, Freddie Bwanga, Mike Chaponda, Paradzai Chibukira, R. Matthew Chico, Justin Chileshe, Gershom Chongwe, Assana Cissé, Umberto D'Alessandro, Xavier Nicolas de Lamballerie, Joana F. M. de Morais, Fawzi Derrar, Ndongo Dia, Youssouf Diarra, Lassina Doumbia, Christian Drosten, Philippe Dussart, Richard Echodu, Yannik Eggers, Abdelmajid Eloualid, Ousmane Faye, Torsten Feldt, Anna Frühauf, Afiwa Halatoko, Pauliana-Vanessa Ilouga, Nalia Ismael, Ronan Jambou, Sheikh Jarju, Antje Kamprad, Ben Katowa, John Kayiwa, Leonard King'wara, Ousmane Koita, Vincent Lacoste, Adamou Lagare, Olfert Landt, Sonia Etenna Lekana-Douki, Jean-Bernard Lekana-Douki, Etuhole Iipumbu, Hugues Loemba, Julius Lutwama, Santou Mamadou, Issaka Maman, Brendon Manyisa, Pedro A. Martinez, Japhet Matoba, Lusia Mhuulu, Andres Moreira-Soto, Judy Mwangi, Nadine N´dilimabaka, Charity Angella Nassuna, Mamadou Ousmane Ndiath, Emmanuel Nepolo, Richard Njouom, Jalal Nourlil, Steven Ger Nyanjom, Eddy Okoth Odari, Alfred Okeng, Jean Bienvenue Ouoba, Michael Owusu, Irene Owusu Donkor, Karabo Kristen Phadu, Richard Odame Phillips, Wolfgang Preiser, Vurayai Ruhanya, Fortune Salah, Sourakatou Salifou, Amadou Alpha Sall, Augustina Angelina Sylverken, Paul Alain Tagnouokam-Ngoupo, Zekiba Tarnagda, Francis Olivier Tchikaya, Tafese Beyene Tufa, Jan Felix Drexler,
Science 2022.
https://doi.org/10.1126/science.add8737
Also of Interest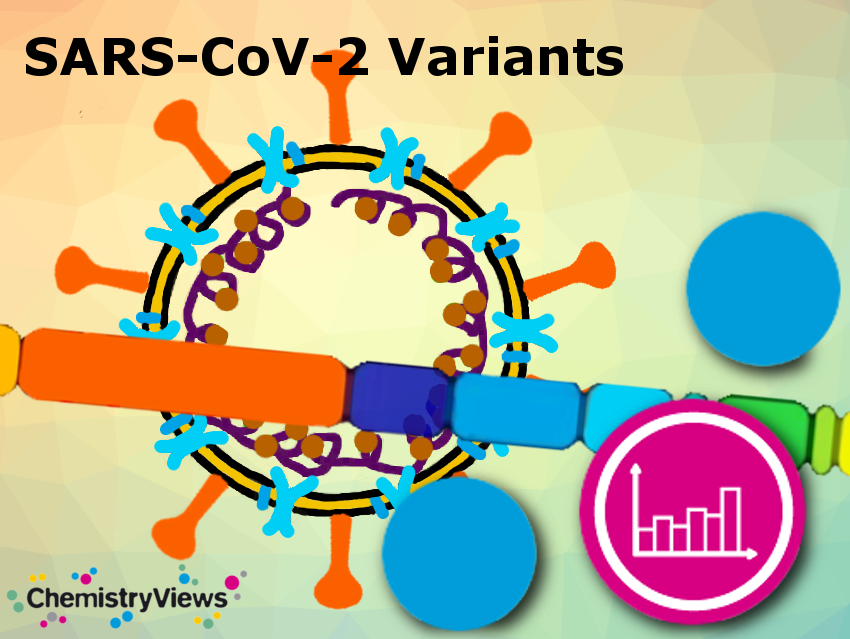 Clever Picture: Overview of Coronavirus Variants,
Most mutations of SARS-CoV-2 do not have a noticeable impact on us, but some do – we look at which ones and why