With a share of 11.2 % in the global chemical export market, Germany was the world export champion for the ninth consecutive time in 2011. It is followed by the USA (9.9 %), Belgium (7.4 %), and China (5.4 %).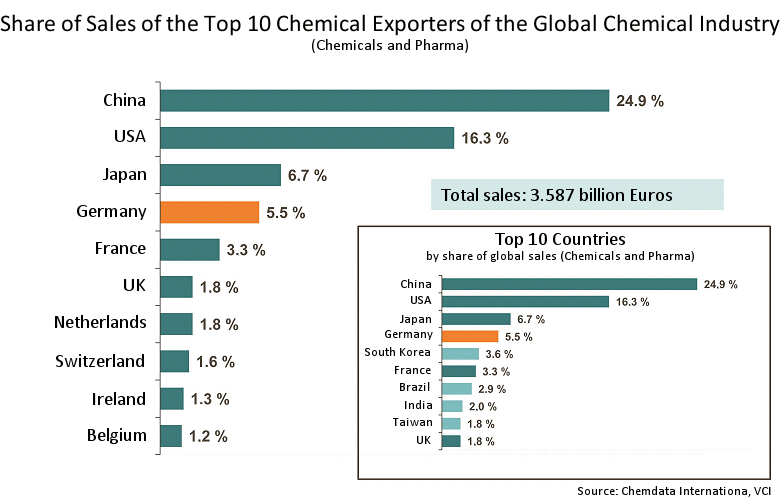 At the ACHEMA, Dr. Utz Tillmann, Director General of the German chemical industry association (VCI; Verband der Chemischen Industrie), emphasized seven factors which are particularly important for the continually good position of German chemistry in international competition.
The chemical industry plays a central role in the close network of industries. Over 80 % of products from German chemical companies go to industrial customers. This makes the industry the starting point and the innovation driver for many value chains at home and abroad. 5.6 million people work in industry and account for nearly 22 % of the gross value added. In 2011, this corresponded to over 500 billion euros. In no other OECD industrial nation is the share in the economic performance so high and so stable.

Germany is the third largest research location for chemistry and pharma worldwide, after the USA and Japan.

Roughly one third of the ca. 2,000 chemical companies in Germany cooperate with universities and public research institutes.

The large DAX-listed companies are the flagships of German industry, but the vast majority of the altogether 2,000 chemical companies are small or mid-sized enterprises (SMEs or Mittelstand). Over 90 % of them do not have more than 500 staff. They contribute roughly 30 % to the total sales of our industry. Many are highly specialized and among the global market leaders in their specific fields of activity.

The chemical-pharmaceutical industry in Germany is a central innovation driver in the large global challenges like energy, raw materials, food, clean water, medicines, communication and mobility.

The only strike in the chemical industry in German history took place over 40 years ago. Instead of confrontation, the bargaining partners rely on social partnership and pragmatism. Collective agreements in are considered models in terms of flexibility, innovation, and modernity.

Last but not least, the chemical park concept ranks among the great success factors of German industry. Some 60 chemical parks with over 250,000 staff offer synergies and a full range of services to their companies.
Images: © VCI
---
Also of interest