This year the so called ACHEMA reporter will report for the first time from the ACHEMA in Frankfurt for Wiley-VCH. Process technology, chemistry or biotechnology students will talk to the exhibitors to find out the most interesting news on behalf of the journals Chemie Ingenieur Technik (CIT), CITplus, and CHEManager. Their German language reports appear daily at CHEManager.
Several German universities actively support the ACHEMA reporter project. The students come from the universities of Albstadt-Sigmaringen (Professor Ingrid Müller), Merseburg (Professor Ulf Schubert) and Münster (Professor Horst Altenburg), from the universities of Krakow and Katowice, Poland, as well as from the German chemical society's (GDCh) young chemists forums (JCF) at the University of Münster and the University of Applied Sciences Steinfurt. The students are supervised by expert scouts of these universities and include Ph.D. students and master's graduates.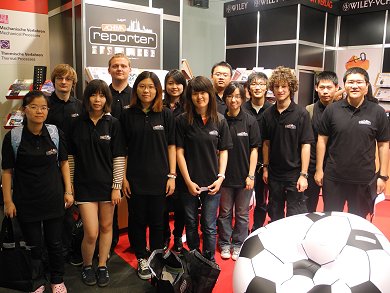 In addition to gaining knowledge and experience, as well as the opportunity to present themselves to future employers in a positive light, the participating students may also win valuable prizes if their article is among the most read.
Interested students from other universities are welcome to participate. Just show up at the Wiley-VCH booth in 5.1/6.1 B2/B6
---
Also of interest