ACHEMA is the technology summit for chemical engineering, environmental protection and biotechnology of the DECHEMA Gesellschaft für Chemische Technik und Biotechnologie e. V. (Society for Chemical Engineering and Biotechnology). It is held every three years and the 30th ACHEMA, June 18–22, 2012, currently taking place in Frankfurt, Germany, is expected to attract around 180,000 participants from 100 countries.
The event began on the Sunday evening before the main exhibition opened, with a welcoming address by Dr. Hans Jürgen Wernicke, Chairman, DECHEMA e.V., and a speech by Günther Oettinger, Energy Commissioner, European Union.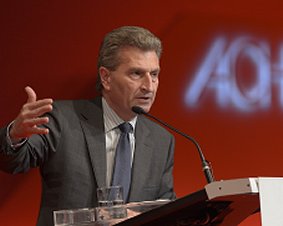 Left: Dr. Hans Jürgen Wernicke, Chairman, DECHEMA e.V. Right: Günther Oettinger, Energy Commissioner, European Union.
In his talk, Günther Oettinger stated that the German economy has never been as strong as it is today. But with only 1 % of the world population, he made very clear that Germany would be powerless without a well-functioning European Union. Germany's recent change in energy policy, which moves away from nuclear power, can only be successful, if it is compatible within the rest of Europe. Energy intensive industries might use Germany's high energy prices – the highest worldwide – together with the insecure future situation due to the energy policy change, as a reason to move production out of Germany. This might lead to a deindustrialization if Germany can not stay competitive with regard to energy prices.
Dr. h.c. Petra Roth (above), Lord Mayor of the City of Frankfurt, also gave an address at the opening session, which was followed by presentation of the DECHEMAX awards for the winners of the Alltag 2050 competition for German schools. The winners were:
Team Fluchtweg, Klassenstufe 7, Eschborn
Team JADE, Klassenstufe 10, Dachau
Team Doctori, Klassenstufe 11, Hoya
A special prize was presented to Team thetwo, Klassenstufe 9, Stuhr.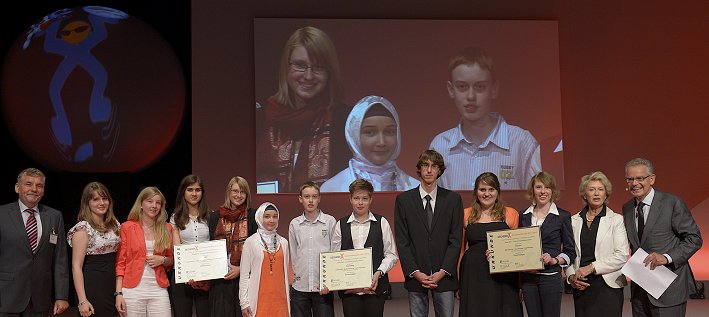 Winners of the DECHEMAX Alltag 2050 competition for German schools.
Overall, the competition was a great success, with 2,800 student teams entering and 680 teams getting the six correct answers necessary for progress to the second, experiment-based round of the competition.
Professor Ferdi Schüth, Director of the Max Planck Institute for Coal Research, Mülheim an der Ruhr, Germany, presented a talk about Energy Supply Post-Fukushima, which encompassed how important chemistry is for being able to use renewable energies, and the fact that research is still needed, as at the moment we rely on research results from about 1990.
This was followed by a panel discussion entitled 'The Energy Turnaround and the Chemical Industry – Opportunity or Threat?'.
It was moderated by Michael Opoczynski, ZDF, Mainz, Germany, and included contributions from Dr. Tony can Osselaer, member of the Board, Bayer MaterialScience AG, Professor Rudolf Staudigl, President & CEO, Wacker Chemie AG, Professor Fritz Vahrenholt, CEO, RWE GmbH, and Professor Uwe Schneidewind, President, Wuppertal Institute for Climate, Environment, and Energy.

After the close of the panel discussion, participants and spectators were invited to a buffet dinner in CongressCenter Messe Frankfurt, where the finishing touches were being added to the exhibition stands for the following day.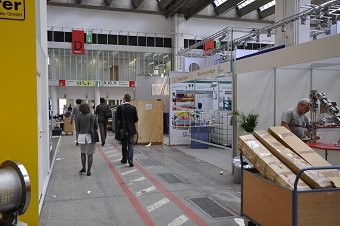 Construction work and finishing touches for ACHEMA2012 the day before it opens.
The exhibition opened on Monday morning, with the lecture program getting under way and demonstrations of the latest technologies.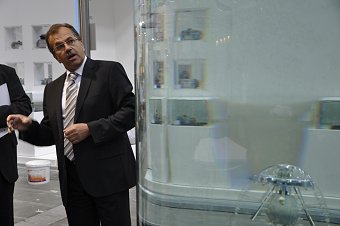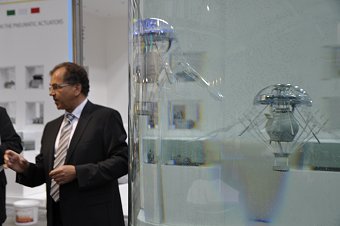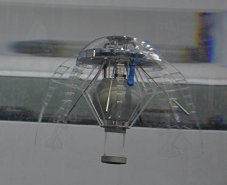 Dr. Eckhard Roos, FESTO, Esslingen am Neckar, Germany, presents AquaJellies. These are artificial, autonomous jellyfishes with electric drive and an intelligent, adaptive mechanical system. They consist of a translucent hemisphere and eight tentacles which provide forward thrust and a watertight, pressure hull that encloses a central electric drive, two rechargeable lithium-ion-polymer batteries, a charging controller, and servomotors for the swash plate. Its peristaltic drive, which is based upon the recoil principle and contracts in a wave-like fashion, is similar to that of its biological model and provides the AquaJelly with the ability to move around.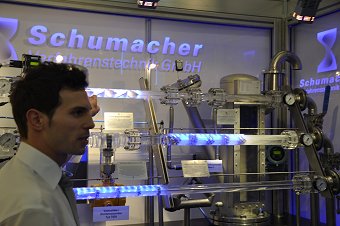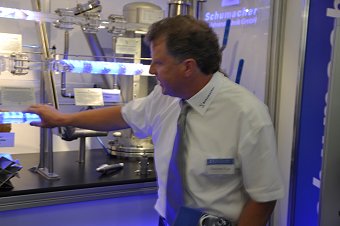 Christian Heim (left) and Eckhard Klug (right) show the latest mixing solutions from Schumacher Verfahrenstechnik GmbH, Nümbrecht, Germany.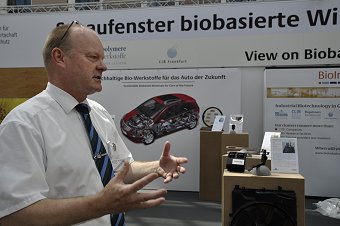 Dr. Ralf Kindvater, CEO of BIOPRO Baden Württemberg GmBH, Stuttgart, Germany.
ACHEMA2012 continues tomorrow with a panel discussion on Waste as a Strategic Resource of the Future and a plenary lecture on Brighter Living with Enzymes by Oliver May, DSM Pharmaceutical Products, Geleen, The Netherlands.
---
This article will be updated throughout the week, so check back for the latest on what's happening at ACHEMA2012.
Also of interest