Today is the 1000 day anniversary of ChemistryViews.org and its associated magazine ChemViews. We would like to take this occasion to thank you and to celebrate with you – our readers, our visitors, our authors, our society partners and our advisors – the very successful start of this online service and the ChemPubSoc Europe magazine. And we would like to take this oportunity to offer a book prize to the 100th person who shares his/her ideas on ChemistryViews.org with us.
1,000 days … that is
1,000 days that is two years and eight months. That is the broadcasting of two spectacular virtual events with four Nobel laureates in each case. The planning for the next one in March is in full swing. … Sending out approx. 150 newsletters, launching and continuing six ChemViews magazine series and three in the Education Section. … Writing and publishing 3,000 news articles on research, industry and people, as well as 6,000 magazine and education articles, and producing 100 videos and webinars. It also included our International Year of Chemistry (IYC) Video Competition and 19 quizzes. In summary, 1,000 days full of excitement, fun, experimenting, and great contacts, but also hard work, lots of learning, and some struggles to get things ready in time.
This also meant 1,000 days of news and information carefully selected together with our in-house editorial journal offices, book editors, society partners, and authors from the science community. 1,000 days when 16 European societies with different histories have moved closer together with the joint aim to benefit the chemical community worldwide.
1,000 days with more than 2,000,000 page views and 1,000,000 visitors, 1,000 days where many of you followed, e.g., the Wonderlab Cartoon characters through the ups and downs of life as a chemist. 1,000 days with 1,000 comments and also feedback, e-mail, and phone calls from you.
1,000 days of … – what do you think? I would be very happy to hear from you. And, as mentioned above, we will send a book prize to the person posting or sending the 100th comment.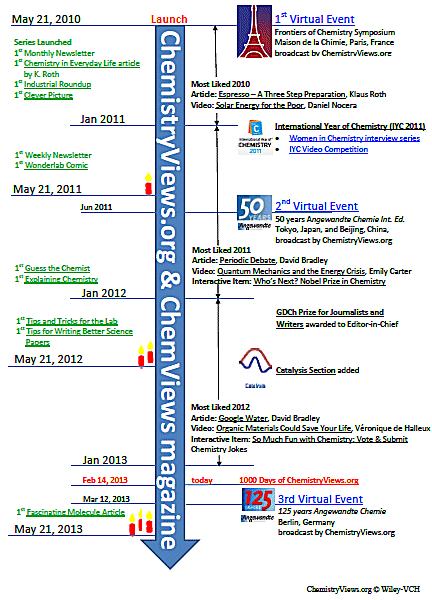 Most popular content
From all the items published so far, the most viewed and also most discussed was the article Periodic Debate by David Bradley, UK. This Research Highlight on the nature of the periodic table from 2011 has stimulated a debate among those arguing as to whether or not there is a definitive format for this iconic tool. The article is closely followed by Chemistry of a Hangover — Alcohol and its Consequences from 2011 by Klaus Roth, Berlin, Germany, and which was translated by William Russey, USA. Roth describes in a humorous way how a tiny molecule like ethanol can be at the root of so much human misery.
Shampoo Science from 2013, the graphically shown composition of a typical shampoo and how it works, is the most viewed Clever Picture. The most viewed video Organic Materials Could Save Your Life! also won the first prize of our ChemistryView.org International Year of Chemistry (IYC 2011) Video Competition. Veronique de Halleux, Université Libre De Bruxelles, Belgium, describes in her video some of the many uses of organic materials.
During the IYC 2011, marking the centenary of Marie Curie's Nobel prize in Chemistry, we introduced interesting women from around the world. These interviews, e.g., with Yamuna Krishnan, NCBS, India, are among the most popular articles and give a unique overview on similarities and differences in the careers and lives of very different scientists.
I could go on with this list, for example, for education articles and interviews, but instead would like to direct you to a detailed list also for the highlights of the individual years.
Two years, eight months & the future
For us it feels like it was only yesterday that ChemistryViews.org was launched at the Maison de la Chimie in the heart of Paris at the Frontiers of Chemistry Symposium. However, when looking at what has happened since, it is indeed further in the past.
The first 1,000 days from a woman's pregnancy to a child's second birthday are called the "window of opportunity". It is said that during this time good nutrition matters most to give a child the right start to grow up healthily and to reach its full potential. Maybe this is true for a young online service, as well.
We believe our diet was very healthy! I am grateful to all of you who were involved in the success of the first 1,000 days for using ChemistryViews.org, for cooperating with us, or writing for us. And I am looking forward to continuing the successes of the last 1,000 days into an exciting future with you.
Maybe we will meet in March in Berlin. If not, you are welcome to join us via the free Virtual Event.
Best wishes,
Dr. Vera Koester
Editor-in-Chief