One year ago ChemistryViews.org, the news and information site by ChemPubSoc Europe for scientists around the world, was launched at the magnificent Maison de la Chimie in the heart of Paris at the Frontiers of Chemistry Symposium. 
After a successful and exciting first year – which started with a well received live broadcast of the Frontiers of Chemistry Symposium – we would like to say thank you to our Society Advisory Board members and to all of our contributors who have helped to get ChemistryViews.org off to a flying start for which we are very grateful.
We look forward to continue to bringing you all the very best in latest research, industry news, education and entertainment from the world of chemistry. And to keep up with tradition, in June we will again broadcast two symposia. Participation in these virtual events, each with ten eminent speakers including four Nobel Prize winners, is free. You may find more information at www.chemistryviews.org/asiaevent2011.
Enjoy browsing – ChemistryViews.org and last year's highlights below – and feel free to contact us with ideas and information.
Dr. Vera Köster
Editor-in-Chief
Celebrate the first Birthday of ChemistryViews.org with us!



Meet interesting people like Paul Anastas, father of green chemistry, Zuriati Zakaria, Professor at Universiti Kebangsaan Malaysia (UKM) and first Malay woman from Malaysia to receive a PhD in chemistry, Hee Yoon Lee, Professor at KAIST, Korea, and our December winner of the campaign: Register for ChemViews Newsletter & Win an iPad, and Fridolin E. Coli, talking about his more than one hundred years of experience in research.

We talk about Jet Fuel from Waste Cellulose, Molding Metallic Glass, Oil and Natural Gas Distribution and Production, Chemoselective Reduction of Esters to Alcohols, or Chemistry as Innovation Driver.
Gerhard Hilt cooks a very special mushroom with cannelloni dish while talking about Noyoris laboratory and
Klaus Roth serves Chocolate, Champagne and Espresso, always mixed with some chemistry, — and takes care of your hangover.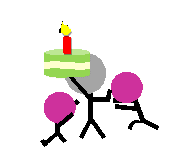 Join us &
– Volunteer to become a text or video blogger,
– Publish your own 3 min video,
– Inform us about your upcoming publication you would like to see covered on ChemistryViews.org, or
– Register for monthly or weekly newsletter.