Dear Reader,
Everybody who attended – physically or virtually – has certainly not forgotten the one-day symposium Frontiers of Chemistry with four Nobel laureates, the magnificent Maison de la Chimie in the heart of Paris, and the spectacular launch of ChemistryViews.org. Two very exciting years have passed since then which include a stellar growth in visitors and the award of the German Chemical Society (GDCh) Prize for Journalists and Writers to the Editorial Office. For two years now, ChemistryViews.org proves with its content updates at least every 24 hours how lively and broad the chemistry community worldwide is and keeps you at the center of science.
Together with ChemPubSoc Europe two years ago the comprehensive free news and information site ChemistryViews.org with the associated online magazine, ChemViews.org, was launched. ChemPubSoc Europe is the name for the successful group of 16 European chemical societies that are the owners and co-owners of and responsible for the continuously growing portfolio of highly successful and relevant chemistry journals like Chemistry – A European Journal and ChemSusChem.
ChemistryViews.org keeps you informed with the latest news, interviews with leading scientists, personalized Early View article feeds, expert commentaries, research highlights, events listings, free newsletters, and much more. It delivers educational material and shows that science is also lots of fun with the famous Wonderlab cartoon series and articles on topics like Chemistry of a Hangover.
Looking back, the last year brought us several highlights. We, for example, started the well-received quiz Guess the Chemist. By describing biographic or research details of a well-known chemist, we ask you to guess who we are looking for. I am very grateful for all your answers, especially those who send us more details or even personal experiences related to the person we are looking for.
Our most viewed and also most discussed article in the last year was Periodic Debate by David Bradley, UK. This Research Highlight on the nature of the Periodic Table has stimulated an ongoing debate among those arguing as to whether or not there is a definitive format for this iconic tool.
ChemistryViews.org planned several activities to tie in with the International Year of Chemistry (IYC 2011), for example, the special interview series Women in Chemistry looking at interesting women from around the globe, and the IYC Video Competition where we invited scientists and non-scientists to submit a video on chemistry in everyday life.
We started a free monthly newsletter in 2010 which informs you about the highlights published on the site as well as a list of the most recent events from our events calendar. From your feedback we have learned that a weekly newsletter containing all published news, articles, and videos to keep you informed of what is happening in the community and in your research field is a great addition and we installed this in May 2011.
ChemistryViews.org is made in Europe for the world. Figure 1 serves as an example of the international nature of the ChemistryViews.org usage which comes about equally from the Americas, Asia, and Europe. The top five countries in terms of usage are the USA and Germany, followed by UK, India, and PR China.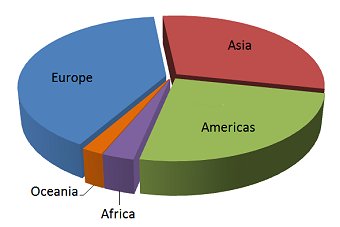 Figure 1. Visits by continent from May 2010 till today.
We saw enormous growth in unique visitors last year of 230%. Compared to similar sites this is extremely good.
Table 1 shows the most-viewed content, measured from the start of ChemistryViews.org until now. It also shows the interdisciplinary and broad range of our content. The high-quality content is written or commissioned from international leading scientists in their field by the in-house Editorial Office. A very special honor for the Editorial Office this year was being awarded the German Chemical Society (GDCh) Prize for Journalists and Writers.
You may already be familiar with some of the most-viewed content listed in the table below, but in case you overlooked something that is of interest to you, just click the link. Content is available for free.
Table 1. Most-viewed content, measured from the start of ChemistryViews.org until now.
ChemistryViews.org
ChemViews magazine
However, looking at this great success, we will not lie back now and relax, but take it as a solid basis for our joint emphasis together with the 16 societies from ChemPubSoc Europe to further develop ChemistryViews.org. Besides continuing with well-established services and content items, we plan to publish more education-related material, and we are very keen to experiment with new ideas. And we invite you to keep commenting on our site, contacting us via e-mail or at conferences to exchange ideas, recommend interesting research or scientists, and continue to build a lively service that is of most use to you. I am excited by the possibilities an online service offers to bring scientists worldwide closer together, to show students the joy chemistry brings, and to communicate sciences to the public.
Last but not least, we would like to say thank you to our Society Advisory Board members and society partners and to all of our contributors and readers who have helped to get ChemistryViews.org off to a flying start for which we are very grateful. To celebrate the exciting and successful first two years we give you the chance to win an iPad. By registering for one of our newsletters before May 31st, 2012, you'll be entered into our raffle to win an iPad. We wish you good luck!
And before you now return to your daily routine, please browse through ChemistryViews.org, have a look at the latest news from research as well as from industry and national societies, personalize your list of Early View articles from 160 chemistry journals to keep-up-to date with the most recent research in your field as soon as a new article is published online, or learn what drives top scientists and where fields are heading through interviews, commentaries, and videos. And we all know that chemistry is also fun, so don't miss the Wonderlab cartoons or the lighter articles to be prepared for the next party.
Enjoy browsing and let's keep in touch,
Dr. Vera Köster
Editor-in-Chief ChemViews magazine